Pioneer CDJ-500s Professional Compact CD Player (discontinued)
Submitted by
Lead

on 13-04-2003 @ 06:12
This content is © 2003-2020 The DJResource...

Vote :
Anti Vibration
The revolutionary oil-dampened floating suspension prevents sound skipping, even when the unit is subjected to impact during use or vibrations from high music volume. The case also incorporates a specially insulated disc compartment to withstand the explosive sound pressure of club environments.
Compact design
The
CDJ-500S
's compact design means that it will fit in any DJ booth, radio or recording studio, no matter how small the available space is. All controls are big and well laid out for easy tactile operation.
Easy Installation
The CDJ-500S can be mounted at any angle up to 45o towards the DJ, for maximum flexibility. What's more, putting two units together gives you a standard 19" width; so they will fit in standard industry rack. There's also an optional installation bracket available, so the CDJ-500S will fit in the most difficult locations.
Sensitive Jog Dial
The extra large, quick-response Jog Dial makes it very easy searching the music frame-by-frame and selecting precise cue points. The Jog Dial is also used to synchronize beats, once having been matched, and to correct the Loop-Out point in real-time. The degree of sensitivity gives you closer to vinyl (turntable) feel.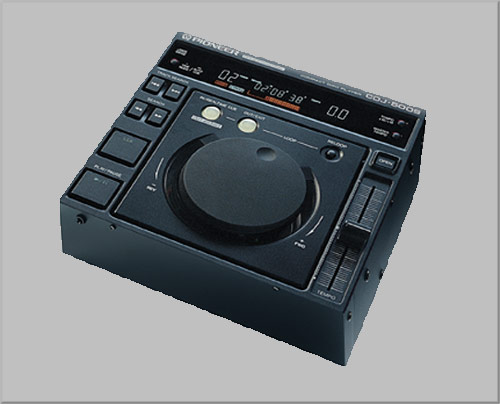 Specifications
Product Type
CD Player for DJ's
Type of Discs
12 & 8cm
Disc Format
Frequency Response
4Hz ~ 20kHz
Distortion
0.004 % (JEITA)
Signal to Noise Ratio line
106 dB
Dynamic Range
96 dB
Channel Separation
98 dB or less
Power Supply
AC 220-240V, 50/60Hz
Power Consumption
21 W
Dimensions
217 x 227 x 98 mm ( WxDxH )
Net Weight
3,9 kg
Accessories
Operating Manual, Power Cord, Control cord
---
Flat Top Design
DJs used to working with vinyl turntables will have no problem switching to the top-mounted controls of the CDJ-500S.
Quick Start
There is no time lag when you hit the play (<0.01 sec.). The CDJ-500S starts the music instantly so you can match the rhythm with pinpoint accuracy.
Playing Address
A light bar graphically shows the track's elapsed or remaining playing time, just like a tone arm moving across a record.
Tempo Control
A DJ-standard long-stroke slide controls pitch and speed within a range of +10%. The digital display gives a readout in 0.1% increments. The response time of the Tempo Control has also been improved dramatically.
Headphone Output
The headphone output, with volume control on the rear panel, allows you to monitor the sound at any time and in any situation.
Master Tempo
An industry first! The Master Tempo control locks in the music's pitch even when the tempo is changed. You can speed up or slow down the beat without any change in vocal or instrumental tone. A new way of mixing to the DJ world!
Seamless Loop
Any phrase of the CD can be sampled and seamlessly looped as many times as desired. When the loop is released, the song continues without any pause. The loop start is memorized so you can return any time.
Real-Time Loop
Setting the start point of a desired phrase on the CD can now be done in real-time during live performance. The end point is also set in real-time: when the loop is released, the music continues without any pause.
Loop-Out Adjust
Pressing the Loop-Out Adjust button during a loop brings you into the Loop-Out correction mode. In this mode, you can fine-tune the Loop-Out point in real-time by spinning the Jog Dial. The correct Out point is then confirmed by pushing the Loop Out button.
Long Loop
Up to
10 minutes
of music can be seamlessly looped as many times as you want.
Short Loop
Looping half beats and phrases s short as one frame is possible
Reloop
Even after releasing a loop, a push of the Reloop button will return you to the loop start point.
---
What do you think about Pioneer CDJ-500s ??
Vote :
OK we understand you don't like ads (so don't we) but,


Please consider supporting us by disabling your Ad Blocker.


Or become a Gold Member, they don't see ads.
OK we understand you don't like ads (so don't we) but,


Please consider supporting us by disabling your Ad Blocker.


Or become a Gold Member, they don't see ads.
There are 5 Comments

czure
wrote on
09-08-2004
@ 13:11
The CDJ 500S is still by far the best CDJ so far. It takes a beating and still holds its owm. for an affordable 900.00-1200.00 it is well worth it! Dj Czure www.djczure.com

bkdj
wrote on
14-08-2005
@ 21:29
Where does the disc go??


the-melody
wrote on
20-07-2006
@ 07:27
below the jog i think.


rbluerreload
wrote on
24-03-2009
@ 10:45
I love this cdj's they're very reliable and I love the size, I got two of them second hand some months ago and I'm very happy with them and the priced I payed

djspob
wrote on
07-09-2010
@ 23:16
ohh my first mix i did wose on the CDJ 500s & CDJ 500II
small, cheap, tipical
Create your FREE ACCOUNT now !
Using an account on DJResource has a lot of advantages such as:
Adding Content, getting Notifications, Like content, Downloading and Uploading Images and much more.
Sign Up
Create your account to get involved with the Community