Submitted by
Lead

on 11-11-2014 @ 15:11
This content is © 2014-2020 The DJResource...

Vote :
Pioneer fills in the gab between the starting and the professional DJ with the new XDJ-1000 single deck USB/Rekordbox player. The XDJ-1000 is featurewise a step up from CDJ-850 and CDJ-900, and from the XDJ-1000 its a small step up to the industry standard CDJ-2000NXS.
The Pioneer XDJ-1000 offers most features that can be found on it's big brothers and some very nice new ones and plays tracks from a USB Device (Rekordbox supported) or straight from a LAN connected computer that's running Rekordbox.
New is the large 7 inch LCD screen that is all touch-sensitive so it offers an easy operation and control. Also new is the lack of a disc drive unit inside, as the market is evolving, the demand for drives in home-use equipment is not as high as it used to be. A lot of DJs dont even have a large amount of discs or records anymore, instead their music collection is now for the majority digital files.
The XDJ also offers Quantize Beat Skip, a feature introduced in Rekordbox 3.0 and it can now finally be used on a player. It makes it possible to skip forwards/backwards while keeping in sync with the tempo, a QWERTY on-screen keyboard to make searching easy. Features on the XDJ1000 that can also be found on other players are: the large 206mm jog wheel, Slip Mode, Quantize, Beat Sync, Reverse, Hot Cue/Loops.
Digital music files can be managed with Pioneer Rekordbox Music Management software so make use of all the benefits that modern technology offer (Quantize, Sync, Cue/Loop Memory, Waveform, etc.). Rekordbox is basically iTunes for DJs and the USB device resembles an i-device. You can use it with iTunes, but when using iTunes you can use all benefits. Rekordbox is about the same, you can use Pioneer equipment perfectly without it, but with it you get back a lot of additional tricks.
More info about Rekordbox can be found here in a short introduction video I made : Video: Pioneer Rekordbox Workflow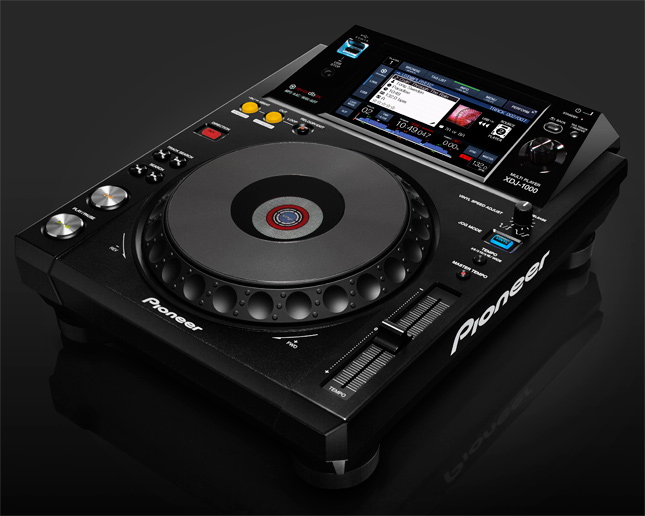 Specifications
Product Type
Digital Media Player for DJs
Playable Formats
MP3, AAC, WAV, AIFF
Supported File Systems
FAT, FAT32, HFS+
Frequency Range
4Hz ~ 20kHz
Audio Output
2.0 Vrms
ProDJ Link (LAN)
100Base-TX
Distortion (THD)
0.003 % (JEITA)
Signal to Noise Ratio line
115 dB
Power Supply
AC 220-240V, 50/60Hz
Power Consumption
21 W
Dimensions
305 x 382.5 x 110 mm ( WxDxH )
Net Weight
3,3 kg
Accessories
Operating Manual, Power Cord, Control cord, signal cord, USB cord
---

Pioneer Rekordbox
(Music Management Software)
Supplied with each XDJ-1000 is a piece of software called Rekordbox. Please carefully read this DJ Topic about
Pioneer Rekordbox Software
as this software unlocks lots of possibilities on the XDJ.
Rekordbox works as the central storage location and database for your entire music collection. Make a selection (complete genre, playlists or single tracks) and export them to a USB device for your gigs. Just as if you would be selecting records from your shelves to put them in the record box to take with you for the night. Connect the USB device to the XDJ when you perform and you see the same playlists on the XDJ as you've prepared at home on Rekordbox. You can play that playlist or change it's order or add track as you feel like. There are so much things to do, just read the
dedicated Rekordbox topic
.

The features marked with this icon have have benefits from usage of Rekordbox software. As Rekordbox will be compatible with all future Pioneer decks this might be a reason to start using it. Rekordbox software will be supplied with each compatible decks. Functionality might be different when Rekordbox is not used.

---

Large 7'' Touch sensitive display
The large 7 inch display, 1 inch larger than the display on CDJ-2000NXS, is fully touch control and with the 3 purposes of the screen it never gets over crowded with information as it only shows the information needed. Using the XDJ-1000 at first takes a little time to get used to. Most feature/functions buttons are now part of the touch screen, I noticed a certain amount of habits during the first hour of use that made me search for buttons on the deck. But most stuff you search for is now presented in the display.
Layout
The general layout around the display is identical to the large decks : a top row of 4 buttons that switches the function of the display, the new 5th Performance button brings you to all performance type of functions. Remember that the Menu button offers different stuff at when pressed at certain times. When browsing it pops up the Sort menu, when adjusting the Beat Grid it brings up the Beat grid menu and it can be used to remove Playlists from your USB device.
A column on the left to select the input and just below that you can activate the Loop Mode buttons or the Slip Mode.
A large center section showing the Waveform and playing information like the Memory Countdown and the Phase meter. Below the suspected information is the Waveform. You can touch anywhere on the waveform to use the Needle Search to skip to any point on the waveform (when holding the platter or setting the player to Pause mode)
The right hand side of the display shows a column where you can find most of the frequently used functions : Call and store Cue/Loop Memory, Quantize and Sync/Master selector
Browsing
If you drag files to a USB Device you can browse them by folder like you used to do with your computer. Once Rekordbox is used, the XDJ offers you much more ways to browse and sort your tracks (Artist, Title, Album, Genre, BPM, Key, etc). In basics, the screen layout is similar to what you are used to from other CDJs. When browsing a group of tracks (genre, album, artist) you can sort the overview by shortly pressing the Menu button to bring up the Sort options. The options for sorting can be set with Rekordbox on forehand, like on the Nexus. You move the 'cursor' like normal with the Rotary knob.
Searching
When compared to a not-touch-sensitive method the new on screen QWERTY keyboard is great as it makes inputting your search query just as easy as on a computer keyboard. It remembers your query when the Search screen is left so the next time your Search query selection is still being displayed.
When a search query is entered after each letter the display is updated and shows you the results of the search on the device. It will bring up everything that contains the search query like : Artist, Title, Album, Genre, etc/ Basically, any ID3 tag containing the query will be shown here.
Loop Mode

You can set a loop quickly with the Loop Mode or manually by pressing the Loop In and Loop Out buttons at the desired place. Once set, it can be looped continuously until the Reloop/Exit button is used. When released, the track continues without a pause. You can use the jog/pause mode to get the exact position. Remember that the CUE point you set is the same as the Loop-In point. You can also use the Loop-In button to set a CUE point on-the-fly.
Fine-tune loops quickly and easily by adjusting both the In and Out points. The result will be save to USB.
Hit the Reloop button for instant access to the beginning of the loop stored in internal memory. This can be done while the loop is playing, or at any time during the play out of the current track, allowing DJs to create amazing sample effects. The same loop is always stored in memory until replaced with a new loop.
The Loop mode display is shown when the Loop Mode button is pressed, this will show you a bar instead of the small Waveform with buttons for pre-set timing intervals (1/4, 1/2, 1, 2, 4, etc). When pressed, instantly a loop of the desired length is being made and activated. You can always make a loop manual by pressing the Loop In and Loop Out buttons. The Loop Mode will then act like a Loop Divider, chopping the loop from the original length to the requested length of the button.
Slip Mode

This mode will, when activated, let the track being played in the background when certain features are activated. So when you release that feature, playback will pick up again just like it was never interrupted. The Slip mode buttons works likewise, it brings up the Slip Mode buttons.
These buttons are similar to the Loop Mode buttons, only the timing is different (shorter). The features that work together with the Slip Mode are : Scratching, Looping, Hot Cue/Loop playback, Reverse, breakdown (Release at certain time, playback slows gently down to a halt, simulating the stopping of a vinyl record)
Performance Mode
The new Performance screen shows you all the advanced features like the Hot Cue/Loops and the all new Beat Jump and Loop Move. To gain access to these features, press the Performance button in the top right of the screen to bring up these features. When a loop is being played, the Performance tab will open the Loop Move screen, at any other moment it will bring up the Beat Jump screen. These section will appear just above the normal small Waveform in the lower section of the display. Between the Beat Jump/Loop Move buttons and the Waveform are the Hot Cue/Loop buttons, they work as you would suspect.

Quantized Beat Jump

This lets you skip the desired amount of beats (1, 2 or 4) while keeping the timing in sync, forward or backwards. This lets you live remix sections of your tracks in a way never done before. It doesn't always work perfect when there are vocals in the track but it is wicked when used during instrumental sections of your tracks.

Quantized Loop Move

The first row of buttons are different from the Beat Jump when a Loop is running. When it is, instead of the Beat Jump buttons the first row of buttons will be used to move a Loop forwards or backwards by 1, 2 or 4 beats. This again is a nice live remixing tool that offers some nice new possibilities to your mix.

Hot Cue/Loop

The Hot Cues are displayed at the second row of Performance buttons, they will be stored on your Device, ready to be imported into Rekordbox for future use. The Hot Cue Rec and Call buttons are also on the touch screen, and so are the loop divide and multiply buttons.
Millisecond Accurate Cue Point
As the XDJ-1000 us a true media file player it has an incredible accuracy, you can set your Cue or Loop point at millisecond accuracy.

To set a Cue Point you just hold the platter down while playing and search for the right spot by rotating it (assuming you've got Vinyl Mode activated!). Then press the Cue button to set the Cue Point to that location. To move the Cue Point a frame forwards or backwards you need to press the Search buttons

/

. The first time you press it, only the white ring on the Jog Display will light up, indicating the Cue Set mode is activated. The following presses of the Search buttons

/

move the Cue Point in small steps forwards or backwards.
Pioneer ProDJ Link

Via a RJ45 connector on the back, a network cable can be used to hook up multiple XDJ-1000's so they can share their music collections. It's possible to connect 2 XDJs directly to each other with a network cable. These XDJs or CDJs don't even need to be of the same model, you can connect a XDJ-1000 to a CDJ-2000. You can connect 3-4 XDJs with a network switch/hub.
All players with a network connection support the newly introduced KUVO Club System.
MIDI/HID Interface
To use the MIDI from the XDJ-1000 you need to connect the USB cable to your computer as this information is NOT transmitted via the network cable. As the XDJ supports the HID protocol, you can use the XDJ directly to a Timecode software system if you still need to use software in the DJ Booth. But with the easy-to-use browse system there's hardly a need for that. Serato HID support is planned for late 2014.
Build in Sound Card
When connected to a computer, it will recognize an audio device and install the proper drivers. When using mix software you can now select the sound card of the XDJ-1000 as output device. This means that you do not need to connect your laptop/computer to the mixer, but use the output of the XDJ instead.
Quantize your Hot Cues and Loops

This function only works when you've got your tracks in the USB device with Rekordbox software. Rekordbox stores a beat-grid with each track, which can be adjusted in Rekordbox. Once this is done and the Quantize function is activated on the XDJ the setting of Real time Cue (Loop In), Loop Out and the Hot Cue's will be synced with the Beat Grid that Rekordbox has prepared. This makes sure that all your loops are in sync (if your beat map is).

While playing and Quantize active, press Loop In to set a Cue Point on-the-fly, You can recall this Cue Point by pressing the Cue Button. A loop-in point is always the same as your Cue Point (Pioneer standard feature). You'll notice that when you make a normal Cue Point the Loop In button flashes meaning a Loop In point has been set.
Tempo Control
This 100 mm linear high-precision slider is connected to a adjustment indicator on the display panel to give DJs total control and ensure that tempo adjustment is easy and accurate.

The accuracy declines when a higher pitch scale is selected:

+/- 6% : 0.02%
+/- 10%: 0.05%
+/- 16%: 0.05%
+/- 100% (WIDE) : 0.5%
Pitch Bend
Move the Jog Dial forwards or backwards to either speed up or slow down the tempo of a track. When the player is in Vinyl mode only the outer ring of the jog gives you this feature.
Jog Mode
The XDJ-1000 can be set in either Vinyl or CDJ mode. In CDJ mode, the Jog Dial still functions, but without the touch sensitivity.
'Wide' Pitch Control
The pitch control function has an incredible range of +100/- 100%. This means that you can use new sound effects from opposite ends of the sound spectrum and also match the BPM of their played track with virtually any other music. When combined with the Master Tempo functionality of the XDJ the digital effect can be used to uplift your performance even more.
Master Tempo
This famous Pioneer invented function that locks the pitch of a track, even when its speed is changed. DJs can speed up or slow down the beat, without any difference to the sound of the vocals and instruments. The pitch-bends that you do while cueing up your record will be unnoticeable for the audience.
This function also makes it possible to mix-in an acapella tracks to a beat, you can pitch-bend the accapella live without anyone noticing it.
Play with this function in WIDE pitch range and using the Master Tempo with extreme low pitch (-90%).
Auto Cue
This is the fastest way for DJs to find the first beat of a track, although it can be turned off for manual cueing. Also new is that the level where the Auto-Cue sets its point can be adjusted in a wide range of positions.
BPM Counter
Indicates BPM for the current track. The BPM counter also reads and displays the BPM when the player is in Pause. Without an headphone you can use it to cue up the tracks with an accuracy of 1 BPM, the rest is done with your headphone on your head.
Fader Start / Back Cue Start
A track on the XDJ-1000 can be started by sliding the cross fader, if the deck is connected to any Pioneer mixer. Sliding the fader back will return the
File Compatibility
You can playback music files stored as MP3, WAV, AAC and AIFF files. These files can be stored on any of the above discs or on an SD card or USB device. A larger folder tree means more time is needed for the XDJ to read the folders, keep this as tidy as possible. In all three situations the following file limitations apply :



Folder tree is max. 8 levels deep



Max. number of folders on media (USB) : 10.000


Max. files on media per folder (USB) : 10.000
Format Compatibility
CBR & VBR MP3 files [.mp3]

MPEG-1
Audio Layer-3 sampling with frequencies 32 kHz, 44.1 kHz, 48 kHz and a bit rate from 32 Kbps to 320 Kbps

MPEG-2
Audio Layer-3 sampling with frequencies 16 kHz, 22.05 kHz, 24 kHz and a bit rate from 16 Kbps (stereo) to 160 Kbps

AAC files [.aac .m4a .mp4]

MPEG-4 AAC LC
Sampling frequencies of 16kHz, 22.05kHz, 24kHz, 32kHz, 44.1 kHz, 48 kHz and a bit rate from 16 Kbps to 320 Kbps
ID3 Tags :
Versions 1.0 / 1.1 / 2.2 / 2.3 / 2.4. Display will show Title, Album , etc. JPEG image embedded in ID3 tag is displayed as jacket photo.
WAV files [.wav]
Uncompressed
16-/24bit non compressed PCM format and sampling frequencies of 44.1kHz and 48kHz

AIFF files [.aif .aiff]
Uncompressed
16-/24bit non compressed PCM format and sampling frequencies of 44.1kHz and 48kHz
---
What do you think about Pioneer XDJ-1000 ??
Vote :
OK we understand you don't like ads (so don't we) but,


Please consider supporting us by disabling your Ad Blocker.


Or become a Gold Member, they don't see ads.
There are 4 Comments

RAS
wrote on
13-11-2014
@ 13:25
Dit zat er natuurlijk aan te komen. cdj's zonder cd functie. Het touchscreen met qwerty-toetsenbord is ook een grote vooruitgang en dit had natuurlijk al lang op de cdj-2000nxs moeten zitten. Beter laat dan nooit zullen we maar zeggen.

Wat me vooral in negatieve zin opvalt is dat ze nu ook echt alles maar gelijk in het touchscreen willen onderbrengen en dat is niet altijd even prettig. Voor een qwerty-toetsenbord is het geweldig en voor wat instellingen die je een enkele keer moet gebruiken en geen timing vereisen ook geen probleem, maar voor hotcue's is onscreen bediening niet bepaald prettig door o.a. gebrek aan feedback. Hopelijk is dit alleen zo bij het midrange model en zal het topmodel toch nog iets meer fysieke (zelf te mappen?) knoppen hebben.

Wel bijzonder: Een midrange speler met hotcue's, terwijl dit voorheen altijd was voorbehouden aan het topmodel. Ik denk dat ze er door de druk vanuit de midi-controller-markt niet langer onderuit konden.

Chloro
wrote on
15-07-2016
@ 17:54
wewwwwwwwwwwwwwwwwwwwwwwwwwwwwwww

TexDj1973
wrote on
15-04-2018
@ 13:14
Hallo kan iemand mij helpen. Mijn cdj 1000 MK3 heeft geen knop verlichting meer. Speelt wel gewoon muziek af. Wat kan dit zijn en is het makkelijk en goedkoop op te lossen

Lead
wrote on
28-05-2018
@ 01:35
@TexDj1973 Nee dit is niet gemakkelijk te herstellen, het kan een kabeltje zijn, of de printplaat is defect, of een combinatie, of iets anders. Dat is zo niet te zeggen zonder het ding open te schroeven. Je kunt ervoor het beste naar een winkel toe gaan.
Create your FREE ACCOUNT now !
Using an account on DJResource has a lot of advantages such as:
Adding Content, getting Notifications, Like content, Downloading and Uploading Images and much more.
Sign Up
Create your account to get involved with the Community