Submitted by
Lead

on 13-04-2003

07:36
This content is © 2003-2023 The DJResource
This changes everything
Pioneer's CDJ-1000 revolutionizes the way to play with CD's, just like vinyl you can stop the digital sound with your fingers and cue up in exactly the same way. Even bending the sound or scratching with no sound latency is possible. Never before has digital so successfully reproduced the sounds, feel and creativity of analogue. Thorough research and close communication with professional DJ's has provided Pioneer with the impetus and challenge to develop the first ever digital deck to feature such integrally analogue features in a purely digital environment.

The CDJ-1000 is changing the face of Djing - stimulating and inspiring the DJ to be more creative behind the decks, providing you with more funky features to play,use and experiment with. No longer do you need to spend years learning the 'Cut and Paste' DJ techniques nor gain experience scratching, cutting and defining the 'Rewind' technique. It has never been easier.

The CDJ-1000 was the first of a new breed CD players and was imitated very often by a lot of brands. The CDJ-1000 is followed up by the CDJ-1000MK2. And the MK2 is on it's turn replaced by the CDJ-1000mk3. In late 2009 the CDJ2000 was introduced, taking over the top-level position. Feature wise you could say that the CDJ-1000mk3 is replaced by the CDJ-900.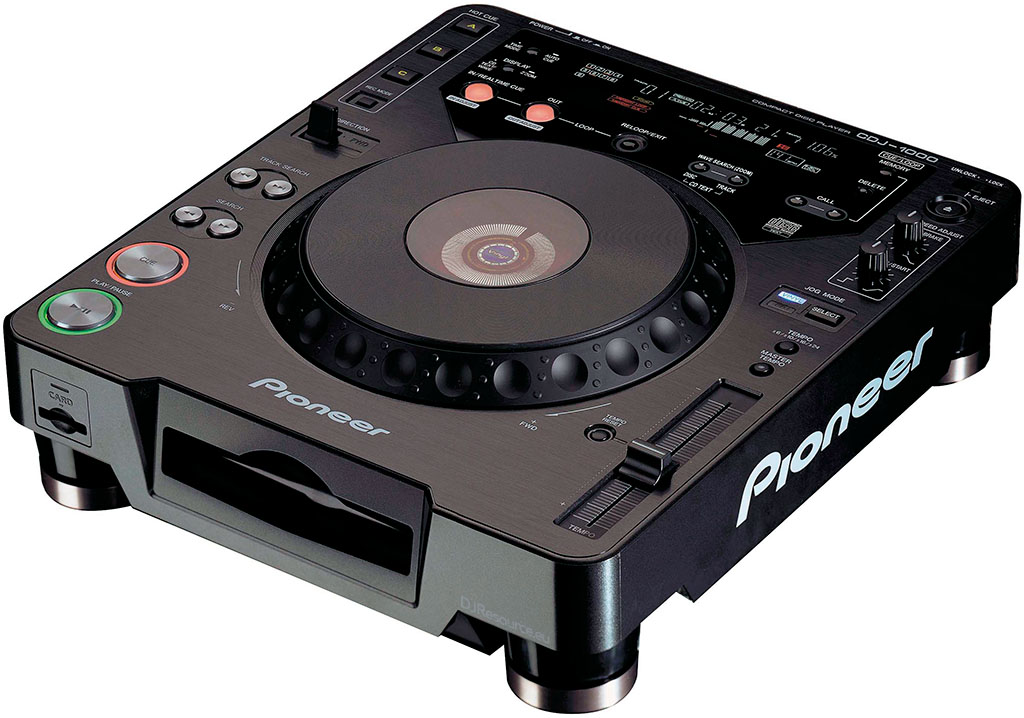 Specifications
Product Type
CD Player for DJ's
Type of Discs
12 & 8cm
Disc Format
Frequency Response
4Hz ~ 20kHz
Distortion
0.006 % (JEITA)
Signal to Noise Ratio line
115 dB
Power Supply
AC 220-240V, 50/60Hz
Power Consumption
31 W
Dimensions
320 x 370 x 105 mm
( WxDxH )
Net Weight
4.2 kg
Accessories
Operating Manual, Power Cord, Control cord, Forced Eject Pin, Signal Cable

Main Display
The main display gives you most information that you might need during your performances. A music-calendar, track-time information, cue/loop information, pitch and BPM info.
Waveform information
Brand new is the Wave Display that makes it possible to read the CD visually like you would see the contrast of the groove of a vinyl record. Finding a cue / break point is quick and easy.
The Waveform information is loaded from MMC card or read and displayed every time you load a CD (takes around 10-20 seconds to display a full track). If you use a MMC (MultiMedia Card) the Waveform is stored on the card and will appear instantly every time you insert the CD again. There is space for 10.000 waveforms on the card.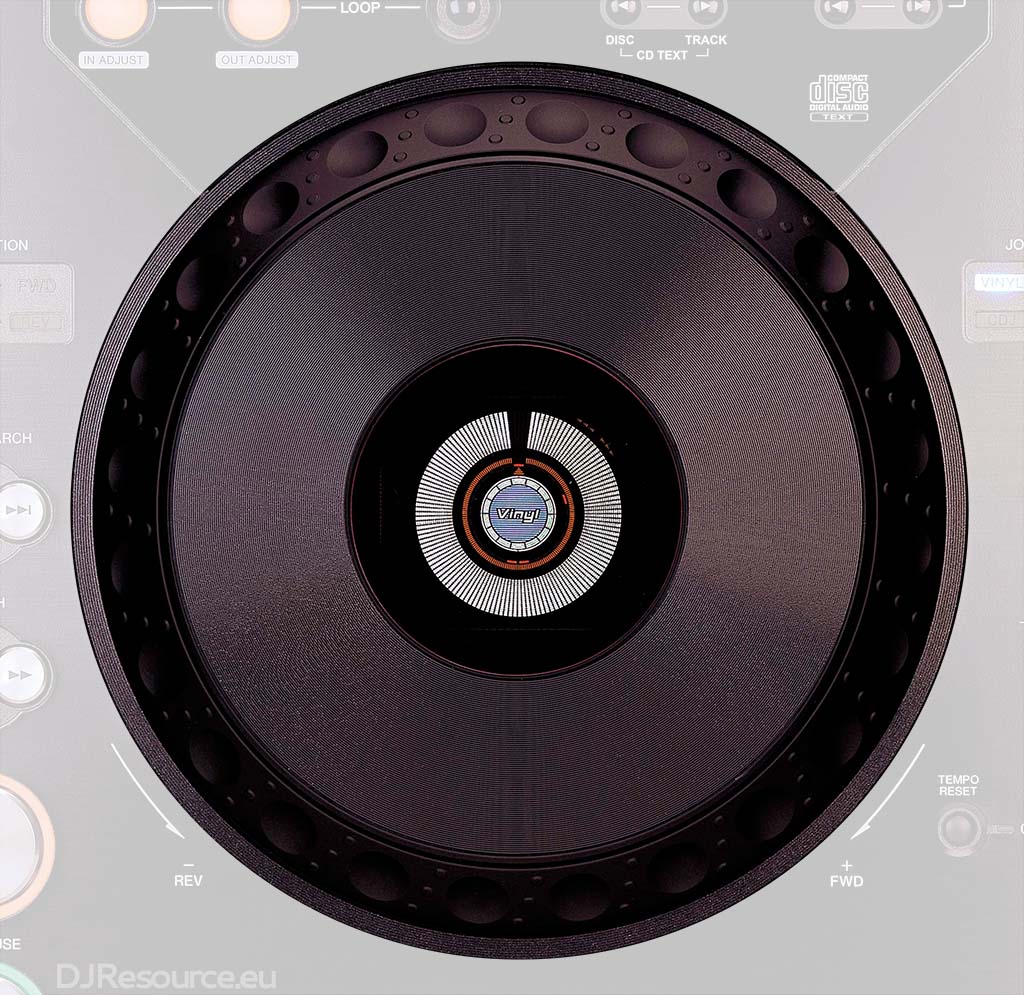 Jog Dial
Cue your CDs with currently the worlds largest Touch Sensitive jog dial (7'' /206mm diameter) designed to emulate the control characteristics of a Vinyl Deck, together with all the features from Pioneers industry standard CDJ range of CD players. The Jog resolution for both Vinyl and CDJ modes is 135 frames per revolution. 75 frames =1 second.
The Jog Dial features a touch sensitive top surface that can be used to scratch with a CD like you would with a vinyl record. The outer rim of the Jog Dial is for applying pitch bends. You can also use the Touch sensitive to to hold a track and simultaneously press the Cue button to set a Cue Point.


JOG display
Indicates current play position in frames 135 frames for a full rotation. The display is animated showing the direction of play -either forward or reverse. The speed of the animations is about the same as a record that is playing at 33 RPM.


Pitch Bend
Is used to either speed up or slow down he tempo of he music depending the direction the jog dial is rotated either forward or reverse.


Jog Mode
The CDJ-1000 can be set in either Vinyl or CDJ mode. In CDJ mode the jog dial functions just like a Pioneer CDJ player,but without the touch sensitivity.
When the CDJ-1000 is in vinyl mode the top of the jog dial works just like a Vinyl Deck. Pressing down stops the music and allows you to scratch or cue your rack by rotating the jog dial in either direction.


Vinyl Speed Adjust Touch/Break & Release/Start
This allows adjustment in the speed at which he CD slows down until it stops or speed up until it reaches the right tempo.
There are 2 rotary controls, one to adjust the braking time (just like you turn of the power of an analogue turntable) and one for the start-up time (like when you have a belt driver turntable, it takes some time before it is up to the proper speed).
I prefer the start-up time to be as short as possible, it is a CD player at the end of the day and that is an advantage of that. In some occasions I might want to mimic the slowdown of a vinyl disc and then I open up the brake time. But by default I would leave both as short as possible (rotate the knobs as far anti-clockwise as possible).
True vinyl simulation
The large Jog, the waveform display in combination with the Vinyl Speed adjustments makes it so that the CDJ is perfectly capable of mimicking an analogue vinyl turntable with the accuracy of a modern CD player.


MMC MultiMedia Card
The CDJ-1000 has a new memory feature that let s you store Wave Data as well as Cue and Loop points. The data can be stored on a removable memory card (MMC)or the players internal memory. The removable MMC card can also be used in any CDJ-1000, so once you've stored your favorite cue and loop points they are there until you reach the 10.000 limit.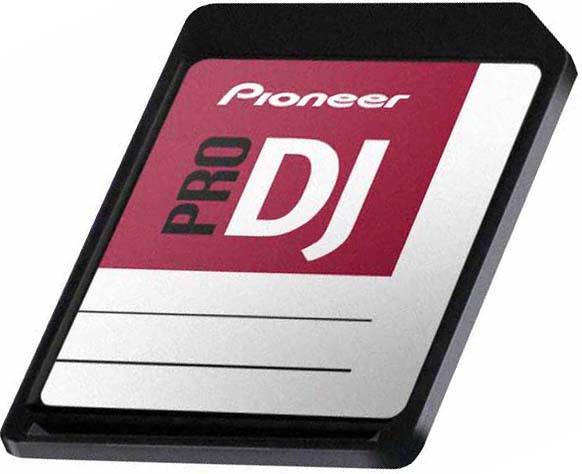 The CDJ-1000 also has a feature that allows you to duplicate MMC cards. Or you can use an 3rd party piece of software (MMC Merger)
If a Multimedia Card (MMC)is inserted into the CDJ-1000, the cue points are automatically stored in the cards memory.
Cue/Loop Memory
Once you set a cue or loop point you can save it to either the internal memory or MMC card by hitting a button.
Delete MMC Data offers the possibility to get rid of those Cue or Loop points that you don't want.
Call MMC data is a quick and easy way to scroll through saved cue and loop points.



Looping Features
CDJ-1000 has various Loop features that have been part of Pioneers previous generation CDJs but is still working like it was on the CDJ-500s.
Real Time Seamless Loop
A quick and simple way to set a loop while a rack is playing. Once the loop is set, it can then be looped continuously or until the Reloop /Exit button is pressed. When released the track continues playing without any pause. The loop can be re-trigged at any time by hitting the Reloop button.
Loop In /Out Adjust
Another world first from Pioneer -is the ability to adjust both the In and Out points of a loop stored in memory. So now fine tuning a loop is both quick and easy.Loop-In adjust is only available on the CDJ-1000.
Reloop
Hitting the Reloop button instantly takes you back to the beginning of the loop stored in the CDJ-1000 s memory. This can be done either while the loop is playing or at any time while he current track is playing. Clever use of Reloop can create cool sample effects.The same loop is always stored in memory until replaced with a new loop.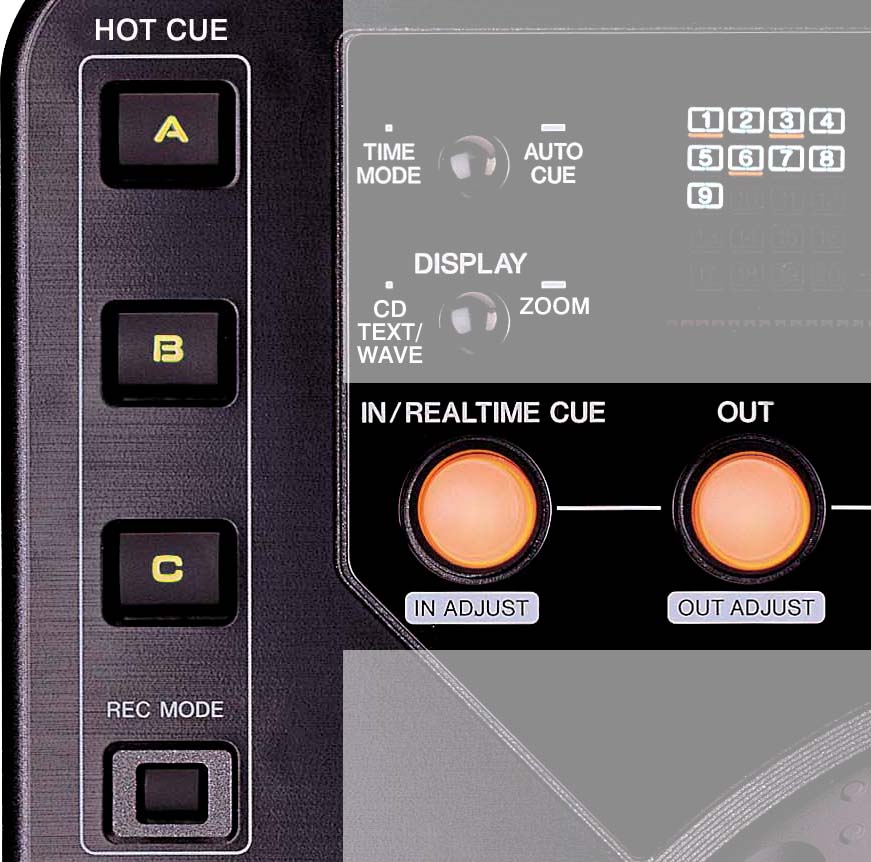 Real Time Cue
A cue point can be set on the fly and stored into the internal memory by just simply hitting the In/Real-time cue button.
Manual Cue
Cue points can be set anywhere on the CD using either the Vinyl or CDJ mode. Adjustment is made by using either the jog dial or manual search buttons. The cue point is automatically stored in the internal memory when MEMORY button is pressed until it is overwritten with a new cue point.


Hot Cue/Loop
Memorizes up to 3 cue points per CD. These points can then be recalled by hitting either of the A,B or C buttons. This function can also be used like a mini sampler for vocals, stabs or breaks, adding that touch of creativity to any DJ set.
Hot Cue/Loop works in tandem with the regular Loop features. You can create a loop with Loop In/Out, then make your adjustments so it loops perfectly. If you have a Loop active and you press an empty Hot Cue button, it will record a Hot Loop instead of a Hot Cue. A Hot Loop will illuminate the Hot Cue button orange, a regular Hot Cue will lite up green.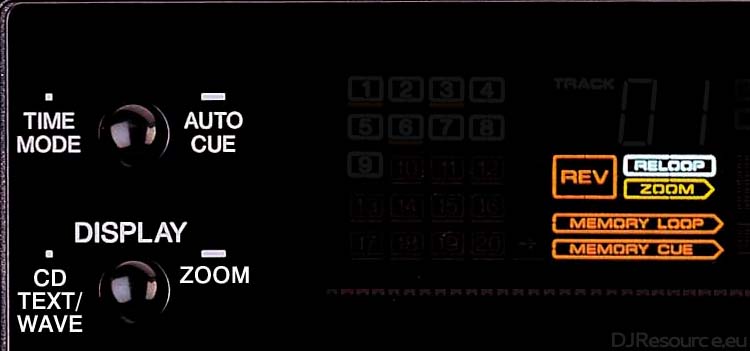 Display Functions
With the two buttons on the left of the display you can toggle display options. A dot next to the button indicates a short press, a bar indicates a press of at least 1.5 seconds.
Time Mode toggles remaining or elapsed time
Auto Cue toggles Auto Cue on/off
CD Text/Wave toggles display of CD Text or the Waveform
Zoom increases the detail of wave data shown in the display (x2 Zoom).
Display Indicators
Reverse Indicator - Lights when the CDJ-1000 is in reverse mode.
Memory Loop Indicator - Displays the selected track loop memory position.
Memory Cue Indicator - Displays the selected cue memory positions stored in memory.


Pioneer Standard Features
Below is a list of features that are more or less standard features for a Pioneer CDJ player, some are slightly adjusted for the CDJ-1000 but in general below features will be present on all Pioneer CDJs.
Auto Cue
This is the fastest way to find the beginning of a track. The sound level can also be changed to suit your style of music (-36db to 78db) There is also an option to turn it off if you prefer to cue up your CD tracks manually.
Tempo Control
A new 100mm linear high precision slider connected to a 0.02% (at ±6%) adjustment indication on the display panel. This gives the DJ s that total control and ensures that the tempo adjustment is easy and accurate.
Tempo Control Range
Ranges of ±6, 10, 16 and 24% can be assigned to the Tempo Control slider to offer a greater range of adjustment than on any of the previous Pioneer CDJs.
Tempo Control Reset
Resets the tempo to 0% or original tempo of the track regardless of he slider position. The button has been recessed to prevent accidental selection.
Master Tempo
Pioneer's Master Tempo locks the pitch of the track even when you change the speed. So unlike Vinyl you can speed up or slow down the beat without any noticeable difference in how the vocal and instruments sound.
Reverse
Instant reverse is controlled by using a DJ friendly flickable switch.With no loss of tempo or pitch, it can be used immediately within any track without having o stop or star -which is common with vinyl decks. Reverse can also be used with the Hot Cue and the Loop Sampler providing endless combinations and effects.
Multi-Read Format
The CDJ-1000 can read CD, CD-R and CD-RW discs.
MP3 Playback is NOT SUPPORTED !
Front Loading Slot In Drive
Loading CDs without having to open doors or trays makes swapping discs and selecting tracks that much faster. It also helps to keep dirt and any nasty substances out of the CDs working parts.
Eject Button & CD Lock
The CDJ-1000 has a guard to prevent you from accidentally pressing the eject button. The CD can also be locked for extra security.
Legato Link Conversion
For High Quality Sound the CDJ-1000 is Equipped with Pioneer s wide range technology Legato Link Conversion, the CDJ-1000 is capable of reproducing sound frequencies above 20kHz, which are lost during normal CD-format playback. Not only does this give great and natural sound reproduction but sounds closer to the original recording.
Shock-Proof Memory
Sound jumps or skipping is prevented by using a 16 second shock-proof memory for normal CD play (minimum of 10 seconds if scratching and reading wave data at the same time in Vinyl mode).
Anti-Vibration
An oil-dampened floating suspension prevents sound skipping, even when the player is subjected to impact during use or vibrations generated from high volume music and low frequency bass.
Fader Start
When the CDJ-1000 is used with the DJM-600, DJM-500,DJM-300 or DJM-300-S mixer you can star the music by sliding the cross fader.By sliding the fader back, it will return the CDJ-1000 back to the previously selected cue point.
Relay Play
Connecting two CDJ-1000 s with a standard 3.5mm mini-plug cable allows one unit to be put on standby whilst the other plays. Relay Play automatically starts the second player enabling them to play 'back to back' to give you endless music play. Built For The Professional DJ
To prevent accidental CD ejection or loss of mains power the CDJ-1000 has safety guards around the power and eject buttons together with a locking feature.
Digital Output
The CDJ-1000 is equipped with a switchable on/off digital output (phono) which is great for studio use. Unfortunatly when the digital output is activated you loose some DJ functions.
What do you think about Pioneer CDJ-1000 ??
Vote :
1 member likes this
This content is © 2003-2023 The DJResource...
OK we understand you don't like ads (so don't we) but,


Please consider making this website possible by disabling your Ad Blocker.


Or become a Gold Member, they don't see ads.
There are 3 Comments

the-melody
wrote on
15-02-2006
@ 14:39
kun je deze kopen of is het allemaal de mk2?


jensvn
wrote on
21-03-2007
@ 16:47
wor is den tijd toen deze verkocht werd ....

nog ni zo lang gelede eigelijk nu is er al een mk 3 uit!!!

dannyrobertson
wrote on
04-04-2011
@ 16:45
ik verkoop ze
Create your FREE ACCOUNT now !
Some parts of this website require you to login. Using an account on DJResource has a lot of advantages such as:
Adding Content, getting Notifications, Like content, Downloading and Uploading Images and much more.
Sign Up
Create your account to get involved with the Community