Submitted by
Lead

on 12-11-2005 @ 02:11
This content is © 2005-2020 The DJResource...
Vote :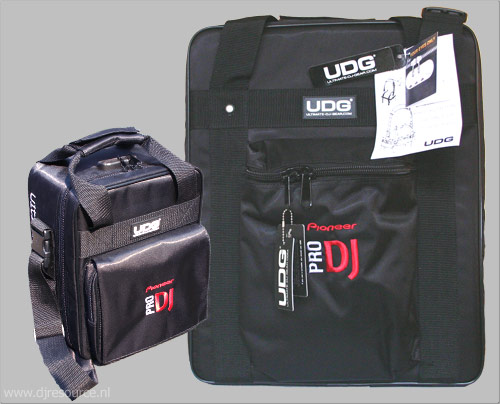 ---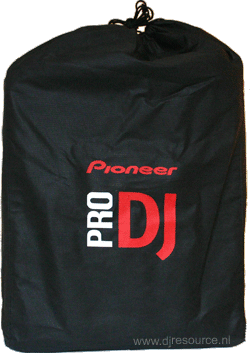 CDJ-1000(MK2) sized Bag
When you are using your Pioneer CDJ-1000(MK2)'s on the road you might want to protect the player during transportation. There are several options for you to chose from.

The best way to transport your gear is in a flightcase! You're first choice should actually always be solid cases as they will provide the most security and give maximum protection !

In some cases a flightcase can be a little overdone. For example when you only transport your gear yourself you know that you have to be careful with it. In such cases this type of bag might be just what you are looking for : The Ultimate DJ Gear CDJ-1000(MK2) Bag. (www.ultimate-dj-gear.com)

It provides a decent protection, light weight, easy to transport by hand or over your shoulder. It also has an extra compartment on the front, closed with a zipper, to hold your cables.

The bag is padded with 2 cm thick foam.

The CDJ Bag is delivered in a lightweight black sack. You probably never going to use it again but it's a nice little touch.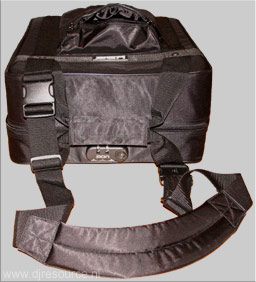 Easy Transportation
You can either choose to carry the bag by hand with a tight grip, or use the shoulder band to keep your hands free. When not in use the shoulder band can easily be removed with 2 big locks.


Lock
During travel you can lock the zipper in a code protected lock. You can program your own 3-digits-code to the lock so only you can open it. The code is re-programable and you can change it as often as needed.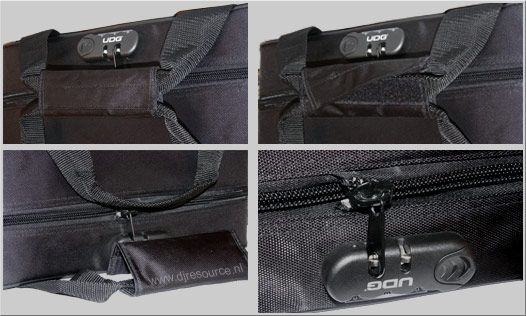 At the underside are rubber pieces that give the bag, when closed and filled, a solid stand on the ground. These will also protect your bag (and so your CDJ) against moister and liquids that are spilled on the ground.
The material of the outside of the bag is Nylon. This is a strong, synthetic fiber that has a long lifetime. It has a shiny appearance, so wear and damages of your bag will not be directly noticed by others.
The Pioneer
CDJ-1000
(
CDJ-1000
MK2 or CDJ-1000MK3) fits perfectly inside the bottom part. When inserting some of the included foam strips you can also fit it for the
CDJ-800
MK2. When all strips are removed it fits for CDJ-1000, but also for a
DJM-800
(and a
DJM-600
). Offcourse a mixer is much heavier and you need to be more carefull with it, it does fit.
Remove all plugs during transport of the CDJ to prevent possible damage!
---
The CDJ-1000 bag has a little sister: the CDJ-100/200 Bag.
Specially designed to fit a Pioneer CDJ-100s or a Pioneer
CDJ-200
CD player. It offers the same protection, grip, shoulder band and zipper-lock as the CDJ-1000bag.
Size and storage compartment on the front are different.
---
What do you think about UDG Pioneer CDJ or DJM Bag ??
Vote :
Read other Linked Topics
OK we understand you don't like ads (so don't we) but,


Please consider supporting us by disabling your Ad Blocker.


Or become a Gold Member, they don't see ads.
OK we understand you don't like ads (so don't we) but,


Please consider supporting us by disabling your Ad Blocker.


Or become a Gold Member, they don't see ads.
There are 6 Comments

RoyBeware
wrote on
01-01-2006
@ 16:44
Grappige case :P maar weet niet of t lekker tilt zoon tas... En schommeld je CDJ niet te erg?

the-melody
wrote on
14-03-2006
@ 20:23
zoon slotje voor zoon tas:d:d:d

Klonic
wrote on
05-06-2006
@ 15:27
Doe mij maar gewoon me ProDJuser CDJ-12 flightcase, anders moet je moet 2 tassen en je mixer gaan slepen...


Lapa
wrote on
04-09-2006
@ 23:54
doesnt that aplly too much pressure to the cdj pressure trigger ?

keep the forum in universal language m8s


kardon
wrote on
24-05-2007
@ 00:25
heb er 2 besteld lijkt me echt handig lekker licht

MrSound
wrote on
27-01-2012
@ 18:21
Erg handige en stevige tassen.
Gebruik ze nu al een paar jaar voor mijn cdj 800's en gues what...de cdj-850's passen er ook in.
Create your FREE ACCOUNT now !
Using an account on DJResource has a lot of advantages such as:
Adding Content, getting Notifications, Like content, Downloading and Uploading Images and much more.
Sign Up
Create your account to get involved with the Community