Submitted by
Lead

on 14-04-2003 @ 18:38
This content is © 2003-2020 The DJResource...

Vote :
Following hot on the heels of the launch of the revolutionary
CDJ-1000
Pioneer has drawn on their vast knowledge of the CD market to produce the next generation twin CD player, the CMX-3000 - pure Pioneer pedigree focused squarely at the DJ. Stylishly designed - with rubberized buttons and a black carbon finish - the
CMX-3000
boasts an unbelievable feature set.
The Wave Display, patented to Pioneer, is a visual mapping of the landscape of each track. This is graphically represented in the display panel, showing the peaks and lows in the WAVE, and thereby guaranteeing accurate cueing on CD.
A further creative highlight of the CMX-3000 is the Hot Cue/ Loop function, which memorizes up to either three cue or loop points per CD. These can be recalled by hitting any of the three buttons, great for remixing or over dubbing. All Cue and Loops can be BPM synced. Before you can actually use the Hot-cue's you have to 'arm' them, this only takes a second and then the fun begins.
Additionally, a rescue button is at hand, with the world's first Emergency Loop feature which sets a four-beat seamless loop - an indispensable feature if a track is about to end and the DJ has failed to cue up the next track. This is quit useful when the track lasts a little shorten than you think.This feature sometimes miscalculate 1 or 2 frames but the Loop-Out adjust you can make it perfect.
The presence of Pitch Bend and rubberized buttons, in particular, are a direct response to consumer feedback, and show the degree to which Pioneer has been prepared to listen, and respond to, the marketplace. This is just a small thing to show that Pioneer is really listening to the DJ's.
With their new CMX template Pioneer has also re-iterated industry issues of durability head on. Pioneer has broken free from the limitations of CD tray transports and purposely utilizes a slot-loading design which not only makes changing CD's quicker and easier, but also more importantly, is less susceptible to damage and the transfer of dirt and dust onto the laser reader.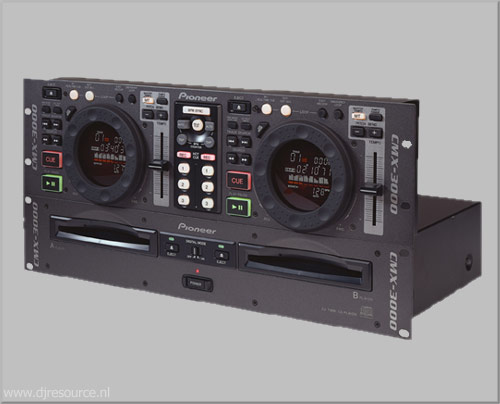 Specifications
Product Type
Twin CD Player for DJs
Frequency Response
4 ~ 20.000 Hz
Signal to Noise ratio
115 dB or more (EIAJ)
Total harmonic distortion
0.006% (EIAJ)
Audio output: Analogue
2 channels (A/B)
Audio output: Digital
2 channels (A/B)
Power consumption
40W
Dimensions Controller
482 x 132 x 82 mm (WxHxD)
Dimensions Drive
482 x 90 x 252 mm (WxHxD)
Weight Controller
2,0 kg
Weight Drive
5,6 kg
---
Operation
The new jog dial measures 11cm and is now a two-piece design to allow greater visibility of the display. Ergonomically friendly, rubber buttons have been used, with the important buttons well lit for ease of use.
Slot Loading
Designed principally for ease of CD changing, it will also reduce the risk of accidental damage and introduction of dirt to the player.
High Visibility
A new dot matrix display delivers clearer and brighter status information. Much larger than other players on the market.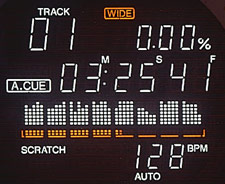 Wave Display
The CMX-3000 reads the track volume level and reproduces the data as a Wave display, which is patented to Pioneer. A visual mapping of the landscape of each track is represented in the display panel, denoting the peaks and lows, and allowing the DJ to quickly find breaks in the tracks to guarantee accurate cueing.
CD Text
CD track title information can be read on the display.
BPM Display
The CMX-3000 also displays current track BPM.
Master Tempo
Pioneer's legendary Master Tempo feature has often been copied but never bettered, offering ? 6%, 10%, 16% and a new Wide range.
Tempo Sliders
The CMX-3000 also features new improved 60mm Master Tempo sliders, with a high specification and better quality (adjustment in ? 6% is now 0.05%).
Pitch Bend
Responding to DJ feedback, pitch bending is now achievable by using the Pitch Bend buttons or the Jog Dial.
Data Memory
Like the CDJ-1000 there is a 1000-CD internal memory, and the DJ can store three cue and loop points per CD as well as Wave data for up to 20 tracks per CD. The stored data can also be copied to other CMX-3000's. When the 1000 capacity is reached the CMX deletes the CD information based on amount of usage - e.g. if a CD has not been played in the CMX for some time this will be deleted rather than more frequently played CD's.
Cue & Loops
Now even Cue/ Loops can be saved to any of the three banks available for each CD. These can be recalled instantly at the touch of a button.
BPM Sync
Hitting this button synchronizes the BPM between CD 1 and CD 2, making beat matching easy and ideal for overdubbing vocals on a track.
Emergency Loop
This is a world first, with a new patent - an innovative feature that sets a four-beat seamless loop at the touch of a button. This feature is indispensable if a track is about to end and the DJ has failed to cue up the next track.
Seamless Loop
No Pioneer CD player would be complete without a Seamless Loop, which offers the same adjustment as the legendary CDJ-500S.
Scratch Mode
A real bonus for the DJ, the CMX-3000 has been fitted with a high-quality Scratch Mode, which allows scratching, scratch cue and backspin.
Autocue
The CMX-3000 has also taken another key feature from the trailblazing
CDJ-1000
. Via Autocue the sound level can be changed to suit the style of music.
Shock Proof
The CMX-3000 has 15 seconds of shockproof memory and also the shockproof suspension for the laser assembly's to ensure skip-free playing in all conditions.
Multi-Format
The CMX-3000 will play CD, CD-R and CD-RW formats.
Legato Link
The trademark for high quality sound, only Pioneer has Legato Link technology. The CMX-3000 is capable of reproducing sound frequencies above 20kHz, which are lost during normal CD-format playback.
Other Features
Quick Start (less than 0.01 sec)
Track Search/Super Fast Track Search
Auto BPM Counter/Tap BPM Counter
Time Mode (Remain/Elapse)
Manual Cue/Auto Cue/Real-time Cue/Back Cue/Cue Point Sampler
Fader Start/Back Cue
Relay Play
Digital Outputs
---
What do you think about Pioneer CMX-3000 ??
Vote :
OK we understand you don't like ads (so don't we) but,


Please consider supporting us by disabling your Ad Blocker.


Or become a Gold Member, they don't see ads.
OK we understand you don't like ads (so don't we) but,


Please consider supporting us by disabling your Ad Blocker.


Or become a Gold Member, they don't see ads.
There are 7 Comments

djmaarten
wrote on
13-01-2007
@ 18:37

DJMixing
wrote on
29-01-2007
@ 23:00
Ik heb hier een keer mee gedraaid en ik moet zeggen dat ik helemaal weg ben van deze cdspeler. Het heeft eigenlijk alles wat ik zoek in een cdspeler.


ArCee
wrote on
06-02-2007
@ 16:29
Vind het een prachtige set en Pioneer is gewoon goed. toch zou ik liever 2 table tops hebben aangezien je die het meeste zult vinden in clubs etc. Mocht je daar dan mee geconfronteerd worden heb je misschien een aanpassings probleem? Daarom vervang ik mijn twin cd speler ook voor losse eerdaags....of neem ze erbij zodat ik er 4 heb.

djsummerlove
wrote on
14-09-2007
@ 21:54
IK heb 2 van deze apparaten staan klasse apparaten 19 inch makkelijk mee te nemen niks mis mee

Dirkvh
wrote on
21-01-2008
@ 20:15
Sinds gisteren ook eigenaar van deze speler, heerlijk ding.

W_H
wrote on
29-01-2009
@ 16:49
vorig jaar 1 keer mee gedraaid erg lekker ding al zeg ik het zelf.

Dolivieira
wrote on
25-03-2009
@ 23:32
Het zijn gewoon 2 compacte CDJ1000s Ik heb hem naast mijn twee cdj1000mk3 staan.
Create your FREE ACCOUNT now !
Using an account on DJResource has a lot of advantages such as:
Adding Content, getting Notifications, Like content, Downloading and Uploading Images and much more.
Sign Up
Create your account to get involved with the Community