Pioneer CMX-5000 Twin CD Deck with Auto-Mix (discontinued)
Submitted by
Lead

on 14-04-2003 @ 19:11
This content is © 2003-2020 The DJResource...

Vote :
Pioneer has entered the new Millennium with a product set to redefine the DJ market. The
CMX-5000
, a stylish and innovative rack mountable twin CD mixing system, is set to rock the deepest foundations of DJ/club culture. In addition to all the excellent features of the CDJ-500S the CMX-5000 has Legato Link Conversion, enhanced memory, improved anti-vibration construction, multi-read functionality, slot in CD, large easy use Jog Dials with transparent centers for clear display AND, if this wasn't enough, is equipped with the world's first automatic mixing function enabling the system to mix tracks by itself!
Regardless of whether its use is amateur or professional, super club or bar, mobile or resident the CMX-5000 will always perform to the highest standards.
The CMX-5000 provides an unparalleled platform for anyone to master the art of mixing. No matter the genre of music, the CMX-5000 chews up and spits out the opposition with its awesome array of functions and features. Loop or reloop, cut in or cross fade, house, techno, echo or zip, the machine will instantly and faultlessly match the BPM's utilizing some dazzling effects to create a seamless mix.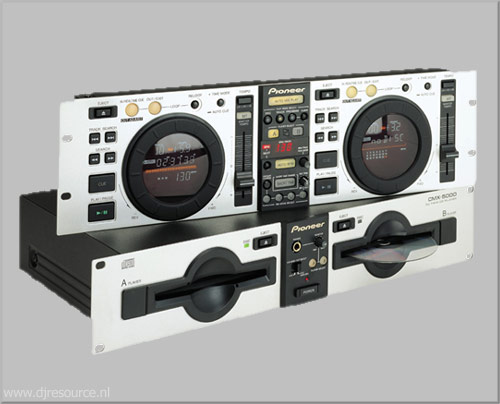 Specifications
Product Type
Total harmonic distortion
482 x 132 x 73 mm (WxHxD)
482 x 90 x 268 mm (WxHxD)
---
This revolutionary function automatically enables two tracks to be mixed together seamlessly at the push of a button! Pioneer's original search system measures the tracks' BPM and beat timing then automatically corrects the tempos to the designated BPM, matches the beats and cross fades creating a flawless, smooth mix - even for tracks on a single disc that have different tempos.
Track Mode
: Mixed playback alternating between tracks from disc A and disc B.
Disc Mode
: Mixed playback of track on a single disc in numerical order.
Program Mode
: Mixed playback of tracks (on either or both discs) in any pre-designated order.
The user can pre select any one of a choice of four mix patterns or let the CMX-5000 automatically determine the most effective mix mode. The most familiar techniques in mixing, are of course the 'cut in' and the 'cross mix' but if these mixes are not compatible with the music the CMX5000 will select a more appropriate mix. While a house beat is playing and a garage track is lined up to be mixed in, the CMX5000 will select the most compatible mix mode from Cross Fade, Cut, Echo or Zip effect.
Short Time Change
: Mixes tracks at fixed 'short' time intervals.
Instant Change
: Instantly mixes into the next track at the push of a button.
This is one of the new options and can be used in the set when so desired. It gives greater flexibility and freedom to the DJ, thus allowing the DJ to concentrate on other elements of the set. The sheer versatility and quality of the product extends the appeal of the
CMX-5000
from super clubs to mini clubs, from small music bars to mobile DJs. The CMX-5000 gains all the excellent technical specification and sound quality of a world beating twin CD system. The mini club can use the Auto Mix function to warm up the crowd before the night really starts. The music bar can recreate that club vibe at the touch of a button. The mobile DJ can divert his attention to other things and have the confidence that the mix will go on!
The CMX-5000 incorporates all the functions of Pioneer's world-renowned
CDJ-500S
- and also boasts a number of upgraded features and brand new innovations.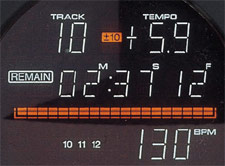 The jog wheels have transparent centers that will allow a clear display of all information and easy operation.
Instant playback with a time lag of less than 0.01 seconds from pause.
Set your own playback points using any of these functions: Cue Point, Back Cue, Auto Cue, Cue Point Sampler.
Operating any Pioneer mixer together with the CMX-5000 you can use the faders to control playback operations such as track start and return to cue points.
Three ranges of tempo control: +/-6/10/16%.
Allows you to change tempo without altering pitch.
Loop Functions
Seamless Loop : A loop is seamless so it restarts without interruption
Realtime Loop : Create a loop on the fly
Loop-Out Adjust : Adjust the Loop Out point in real time
Reloop : with the Reloop function you can return any time to a previously set loop.
Allows you to graphically check a track's playback status.BPM Counter (Gives You More! Legato Link Conversion for High Quality.
The CMX-5000 is capable of reproducing sound frequencies above 20kHz (which are lost during normal CD-format playback). Resulting in excellent sound reproduction.
The CMX-5000 boasts unbeatable vibration-resistant characteristics. Sound jumps are prevented with the double protection of an 8-second vibration proof memory and a cleverly engineered vibration-proof construction.
Thanks to this system, swapping discs is smooth yet rapid. No more worries about damaged disc trays.
This can be used even when there is only one input system, when the setup is restricted to a single amplifier, or there is no mixer-input margin.
The CMX-5000 can read CD, CD-R and CD-RW formats.
This useful monitor function enables versatile sound monitoring.
The
CMX-5000
is equipped with digital output. Unfortunately, when this is activated the player looses all it's special features and turns into a regular CD-player without pitch, pith-bend and the auto-mix feature.
---
What do you think about Pioneer CMX-5000 ??
Vote :
OK we understand you don't like ads (so don't we) but,


Please consider supporting us by disabling your Ad Blocker.


Or become a Gold Member, they don't see ads.
OK we understand you don't like ads (so don't we) but,


Please consider supporting us by disabling your Ad Blocker.


Or become a Gold Member, they don't see ads.
Create your FREE ACCOUNT now !
Using an account on DJResource has a lot of advantages such as:
Adding Content, getting Notifications, Like content, Downloading and Uploading Images and much more.
Sign Up
Create your account to get involved with the Community