Vote :
Nobody votes this as Favourite yet.
Equipment not yet in use by any of our members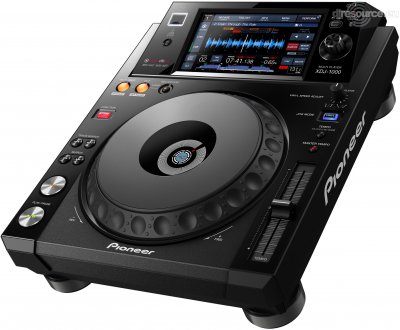 OK we understand you don't like ads (so don't we) but,


Please consider supporting us by disabling your Ad Blocker.


Or become a Gold Member, they don't see ads.
The Pioneer XDJ-1000 is a Touch Screen, USB only midrange player, it inherits a lot of things from the CDJ range.
Successor : Pioneer XDJ-1000MK2
The XDJ1000 is the first in a new line-up of digitally focused, USB-only, rekordbox-ready players. With Pioneer DJ's first ever deck to feature a touch screen, a familiar club layout and a host of pro-DJ performance features.
There is a large, full-colour LCD touch screen puts intuitive control at DJs' fingertips; its interactive GUI has tabs for Browse, Play and Perform, giving DJs instant access to the player's full armoury. Many features are inherited from the top-flight CDJ-2000NXS, including 206 mm jog wheels, Slip Mode, Quantize and Beat Sync. Plus the brand new Quantized Beat Jump/Loop Move feature means DJs can spontaneously move 1, 2 or 4 beats backwards or forwards within a loop.
The XDJ-1000 revolutionises browsing; DJs can use the Qwerty touch-screen keyboard to search for keywords, then scroll on-screen or with the large rotary dial. DJs can analyse and prepare their tracks in rekordbox (PC/Mac) or the rekordbox app (iOS/Android), and the XDJ-1000 will display at-a-glance information such as Wave Zoom, Beat Counter, Phase Meter and Key Analysis – as well as provide instant access to their pre-prepared cues, loop and customised settings. Plus DJs can colour code their playlists and the illuminated USB port will reflect that colour so they instantly know what's on each USB key.
The first Pioneer DJ player without a CD drive, the XDJ-1000 meets the growing demand for a USB-only player with all the performance pedigree of the CDJ set-up. And it's compatible with ProDJ Link and KUVO – Pioneer DJ's community, which enables DJs to provide clubbers with live set information in real time.
Features

7'' full-colour touch screen with intuitive GUI


Full Sized Jogwheel like CDJ-2000


Faster browsing with Qwerty keyboard and keyword search


List, Artwork or Custom view


Pro DJ Link


Quantized Beat Jump: enables DJs to jump backwards or forwards 1, 2 or 4 beats from the current playback position.


Quantized Loop Move: after DJs have created a loop, they can navigate 1, 2 or 4 beats backwards or forwards through the loop.


Auto loops and cues: DJs can instantly trigger loops and cues they've prepared in rekordbox.


Quantize: uses the track's beat grid to ensure loops and cues are set and triggered in time with music.


Beat Sync: looks at the rekordbox beat grids, on up to four connected players, and snaps them to the beat of the master deck.


Slip Mode: silently continues track playback after a loop, reverse or scratch and brings the music back like nothing happened


Needle search: lets DJs slide their finger along the ribbon to intuitively access any point in the track, just like with vinyl.


Active Loop: DJs can use rekordbox to set an Active Loop at the end of tracks to ensure they're never caught unprepared again.


Rekordbox Supported


Wave display with Wave Zoom: the colour-coded wave display can be zoomed x5 for even more precise loops and cues.


Beat Countdown: DJs can use rekordbox to mark key points on a track, and the XDJ-1000 will count down to them from up to 64 bars away.


Phase Meter: shows the position of the beat in the bar, enabling DJs to compare the phase of each player with the master deck at a glance.


Key Analysis Indicator: traffic light system in the browser shows which rekordbox tracks are in a compatible musical key with the master deck.


My Settings function including colour-coded USB port light


Quantize ON/OFF


Master Tempo ON/OFF


Fully MIDI compatible


Serato DJ HID (late 2014)


Built-in auto standby function


Pitch Range : ±6, 10, 16, 'Wide' 100%


Pitch Accuracy : 6% scale 0.02%, 10, 16% scale 0.05%, 100% scale 0.5%
Specifications

File Type : MP3, AAC, AIFF, WAV16bit, WAV24bit


Output : Line(RCA)


Connections : ProDJ Link(Ethernet), USB-B


Frequency Response : 4Hz - 20kHz


Distortion (THD) : 0.003 % (JEITA)


Signal to Noise Ratio : 115 dB


Power Supply : 220-240 VAC, 50/60Hz


Power Consumption : 28W


Dimensions (WxDxH) : 305 x 382.5 x 110


Weight : 3.3 kg
Do you like the Pioneer XDJ-1000 ??
DJResource / Pioneer © 2020
There are 4 Comments

RAS
wrote on
13-11-2014
@ 13:25
Dit zat er natuurlijk aan te komen. cdj's zonder cd functie. Het touchscreen met qwerty-toetsenbord is ook een grote vooruitgang en dit had natuurlijk al lang op de cdj-2000nxs moeten zitten. Beter laat dan nooit zullen we maar zeggen.

Wat me vooral in negatieve zin opvalt is dat ze nu ook echt alles maar gelijk in het touchscreen willen onderbrengen en dat is niet altijd even prettig. Voor een qwerty-toetsenbord is het geweldig en voor wat instellingen die je een enkele keer moet gebruiken en geen timing vereisen ook geen probleem, maar voor hotcue's is onscreen bediening niet bepaald prettig door o.a. gebrek aan feedback. Hopelijk is dit alleen zo bij het midrange model en zal het topmodel toch nog iets meer fysieke (zelf te mappen?) knoppen hebben.

Wel bijzonder: Een midrange speler met hotcue's, terwijl dit voorheen altijd was voorbehouden aan het topmodel. Ik denk dat ze er door de druk vanuit de midi-controller-markt niet langer onderuit konden.

Chloro
wrote on
15-07-2016
@ 17:54
wewwwwwwwwwwwwwwwwwwwwwwwwwwwwwww

TexDj1973
wrote on
15-04-2018
@ 13:14
Hallo kan iemand mij helpen. Mijn cdj 1000 MK3 heeft geen knop verlichting meer. Speelt wel gewoon muziek af. Wat kan dit zijn en is het makkelijk en goedkoop op te lossen

Lead
wrote on
28-05-2018
@ 01:35
@TexDj1973 Nee dit is niet gemakkelijk te herstellen, het kan een kabeltje zijn, of de printplaat is defect, of een combinatie, of iets anders. Dat is zo niet te zeggen zonder het ding open te schroeven. Je kunt ervoor het beste naar een winkel toe gaan.
Create your FREE ACCOUNT now !
Using an account on DJResource has a lot of advantages such as:
Adding Content, getting Notifications, Like content, Downloading and Uploading Images and much more.
Sign Up
Create your account to get involved with the Community