Pioneer DVJ-X1 Realtime DVD Video Manipulation

Submitted by

Lead

on 13-11-2003

00:25
This content is © 2003-2022 The DJResource
The future of DJing and audio-visual entertainment is here. The
Pioneer DVJ-X1
, a jaw dropping market first from Pioneer, allows users to manipulate and playback synchronized digital audio and video like never before. This ground-breaking unit combines the proven Pioneer CD Jog Dial technology with the flexibility and capacity of DVD, which has become the most popular video format in Europe in just 5 years according to industry analysts Screen Digest. From now on it's possible to manipulate you DVD video with the same handling as vinyl but with digital precision.
The phenomenal success of DVD technology proves that the future of AV entertainment is digital. And having forged the path from vinyl to CD in the world of dance music, Pioneer is now leading the way towards the creation of a completely original leisure activity and the emergence of a new breed of performer – the DVJ – combining the skills of a DJ and VJ.
The younger generation of AV-literate DJs who want to add exciting and dynamic visuals to their live performances will discover a world of extraordinary creative opportunities thanks to this innovation from Pioneer Pro DJ. And clubs, bars and other venues (many of which are already investing in visual and audio systems) will use the DVJ-X1 to amaze customers with a totally unique AV experience. The remarkable DVJ-X1 also establishes a platform for dance music labels keen to market their releases, since there are few opportunities currently available to show promotional videos from this sector.
With the world-famous Pioneer Jog Dial at its center, the DVJ-X1 looks just like the company's
CDJ-1000
MK2 CD player. And what's even more radical is that the DVJ-X1 mimics that unit's functionality – with the added capacity to playback DVD's as well as CDs. Armed with a state-of-the-art DVD drive, the DVJ-X1 has a more advanced, more reliable laser than any CD player, as the 38 million European households owning a DVD player/recorder in 2002
will testify. What's more, the DVJ-X1 is compatible with all established CD formats, as well as DVD's, so the unit truly breaks down the boundaries between the once-separate audio and video domains.
By imitating the form and functionality of the CDJ-1000MK2, the DVJ-X1 will present no problems to digital DJs used to performing live on the established club favorite. And crucially, DVJ's will be able to use Pioneer's new unit to manipulate DVD visuals in exactly the same way as they would music. So real-time digital video scratches, loops and instant cues are all possible with the awesome DVJ-X1, while the video and audio streams always stay in perfect sync, even when they're being reversed and pitched. To add yet another dimension to this mind-blowing concept, Pioneer envisages a near-future scenario where two DVJ-X1s are linked together via a fully integrated audio and visual mixer. This set-up will allow the digital sound and vision from the two separate sources to be mixed and scratched on the fly – in the same way as DJs create audio mixes in their live sets today.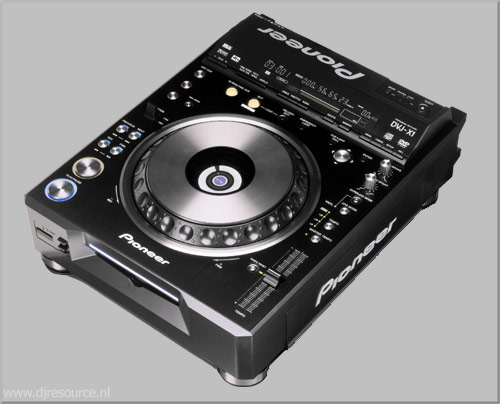 Specifications
Product Type
DVD Digital Audio/Video Player
Type of Discs
DVD Video, DVD-R(Video Mode), DVD-RW(Video Mode), CD, CD-R, CD-RW
Disc Format
MP3 CD, CD- CD-R and CD-RW
Frequency Response
CD :
4 Hz ~ 20 kHz
DVD:4 Hz ~ 44 kHz (@ 96kHz)
Distortion (THD)
< 0.006 % (JEITA)
Signal to Noise ratio
115 dB
Component Master
1x BNC
Composite Master
1x RCA, 1x BNC
S-Video Master
1x 4 pin mini-DIN
Composite Preview
1x RCA, 1x BNC
S-Video Preview
1x 4 pin mini-DIN
Audio Outputs
1x Stereo Analogue
1x Digital RCA
Power Supply
AC 220-240V, 50/60Hz
Power Consumption
47 W
Dimensions
348 x 451 x 128mm ( WxDxH )
Net Weight
2.7 kg
Accessories
Operating Manual, Power Cord, Control cord, Forced Eject Pin
---
The DVJ-X1 offers even greater flexibility in performance by including on-board memory capacity as well as a SD Card slot ? just like the
CDJ-1000
MK2. On the DVJ-X1, this allows for AV loops and cue points to be stored, either on-board or on a removable MMC (up to 500 loop or cue points on the card that?s bundled with the DVJ-X1). During playback, the saved cue and loop points can be searched, selected and previewed using an external monitor that?s connected via the preview output. Pioneer?s new unit also has an emergency loop feature, making it even more user-friendly. At the press of a button, this automatically loops four beats seamlessly, in line with the BPM, to allow a DVJ extra time to mix from one track to another. If the DVJ-X1 is to be used as a direct replacement for an installed CDJ-1000MK2, only minor changes will be needed in the DJ booth since the new unit is just 25% larger. And to gain the full benefit of the
DVJ-X1
, play-out venues will obviously need to have both an output screen (plasma or similar) and preview screen. A mixer will also be required, although Pioneer is developing a video switcher as an interim solution to interface with the Fader Start function of many professional audio mixers.
The DVJ-X1?s
audio outputs
are either digital S/PDIF or standard RCA stereo connectors, while video is either BNC (with component and composite) or S-Video and RCA composite output. S-Video and RCA composite ports are also available for hooking up to a preview monitor, while the only other connections are a fader start and a sync BNC for the video switcher. In short, the Pioneer DVJ-DVJ-X1 brings together existing AV technologies into a single unit that interfaces with currently available software and hardware to introduce a completely new form of entertainment. This unique unit delivers on two levels. Not only does the DVJ-X1 satisfy the needs of digital DJs and their dance-floor audiences right now, but even more importantly, it future-proofs all venues in setting an unprecedented standard for crowd-pleasing performance by the new generation of stars: DVJ's
Revolutionary Video Control
Real time DVD Video Manipulation is possible - anything you could do with vinyl, and more, can now be done with DVD Video.
Hot Cue (sampler)
Memorizes up to 3 cue points per DVD/CD. These points can then be recalled by hitting either of the A, B or C buttons. This function can also be used like a mini sampler adding amazing versatility to a video show.
Reverse
Instant reverse is controlled by using a flickable switch. With no loss of tempo or pitch, it can be used immediately within any track without having to stop or start. Reverse can also be used with the Hot Cue and the Loop Sampler providing endless combinations and effects.
Real Time Seamless Loop
A quick and simple way to set a loop while a track is playing. Once the loop is set, it can then be looped continuously or until the ReLoop / Exit button is pressed. When released, the track continues playing without any pause. The loop can be re-trigged at any time by hitting the ReLoop button
Loop Out Adjust
You have the ability to adjust the Out point of a loop stored in memory. So now fine tuning a loop is both quick and easy.
Reloop
Hitting the Reloop button instantly takes you back to the beginning of the loop stored in the DVJ-X1's memory. This can be done either while the loop is playing or at any time while the current track is playing. Clever use of Reloop can create some sample like effects. The same loop is always stored in memory until replaced with a new loop.
Emergency Loop
The Emergency Loop automatically creates a 4 beat loop based on the BPM of the track.
SD - SecureDigital Memory
The DVJ-X1 has a memory feature that lets you store Wave data and Cue and Loop points with a thumbnail image* (thumbnail for DVD memory points only). The data can be stored on a removable memory card (SD) or the player's internal memory. The removable SD card can also be used in any DVJ-X1, so once you've stored your favorite cue and loop points you can take them with you. (A 16MB SD card is supplied with the player which will hold 500 memory points.)
Cue / Loop Memory
Once you set a cue or loop point you can save it to either the internal memory or SD card by hitting this button.
Delete
Gets rid of those Cue or Loop points that you shouldn't have bothered saving in the first place.
Call
A quick and easy way to scroll through saved cue and loop points.
Wave Data
Audio Wave data is always saved on to the SD when inserted and then appears instantly.
Standard DVD/CD Control Buttons
High Quality Aluminum buttons – Track Search, Search, Cue and Play / Pause.

Advanced DVD Control Buttons
All the common DVD controls are available - 4 way directional control, Enter, Menu, Track Menu, Setup
Jog Dial
Cue your track with
the world's largest touch sensitive jog dial (7" / 206mm diameter)
designed to emulate the control characteristics of a Vinyl Turntable, together with all the features from Pioneer's industry standard CDJ range of CD players. The
DVJ-X1
offers a feel similar to the familiar
Pitch Bend
Is used to either speed up or slow down the tempo of the video and audio depending on the direction the jog dial is rotated – either forward or reverse.
Jog Mode
The DVJ-X1 can be set in either Vinyl or CDJ mode. In CDJ mode, the jog dial functions just like a Pioneer CDJ player, but without the touch sensitivity.

Scratch Play / Cue
When the DVJ-X1 is in vinyl mode, the top of the jog dial functions just like a Vinyl Turntable. Pressing down stops the music and allows you to scratch or cue your track by rotating the jog dial in either direction.

Vinyl Speed Adjust Touch/Brake
This allows adjustment in the speed at which the DVD/CD slows down until it stops.
Vinyl Speed Adjust Release/Start
This allows adjustment of the speed at which the CD returns to normal playback speed.
Master Tempo
Pioneer's Master Tempo locks the pitch of the audio track even when you change the speed. You can speed up or slow down the beat without any noticeable difference in how the vocal and instruments sound.
Tempo Control
A 100mm linear high precision slider connected to a 0.02% (at +/- 6% and +/- 10%) adjustment indication on the display panel. Gives the DJ's that total control and ensures that the tempo adjustment is easy and accurate.
Tempo Control Range
Ranges of +/- 6%, +/-10%, +/-16% and +/-100% can be assigned to the Tempo Control slider to offer an amazing range of adjustment for more creative mixes.
Tempo Control Reset
Resets the tempo to 0% or original tempo of the track regardless of the slider position. The button has been recessed to prevent accidental selection.
Eject Button & CD Lock
The DVJ-X1 does have a guard to prevent you from accidentally pressing it the eject button. The disc is locked until the track is stopped. This can be deactivated as well if you are looking to do quick mixes.
Multi-Read Format
The DVJ-X1 can read DVD Video, DVD-R (Video Mode), DVD-RW (Video Mode), CD, CD-R and CD-RW disks**.
Front Slot In Loading
Loading discs without having to open doors or trays makes swapping discs and selecting tracks that much faster. It also helps to keep dirt and any nasty substances out of the drive's working parts.
Auto Cue
This is the fastest way to find the beginning of a track. The sound level can also be changed to suit your style of music (-36db to –78db). There is also an option to turn it off if you prefer to cue up your CD tracks manually.
Manual Cue
Cue points can be set anywhere on the DVD/CD using either the Vinyl or CDJ mode. Adjustment is made by using either the jog dial or manual search buttons. The cue point is automatically stored in the internal memory (If SD is inserted in DVJ-X1, the cue point is automatically stored in the SD.) until it is overwritten with a new cue point. (Jog resolution for both audio for Vinyl and CDJ modes - 135 frames per revolution / 75 frames = 1 second. Resolution for video for Vinyl and CDJ modes - 135 frames per revolution / 30 frames = 1 second.)
Real Time Cue
A cue point can be set on the fly and stored into the internal memory by just simply hitting the In / Real-time cue button.

Cue Marker Display
The current cue point is indicated within the jogdial's center display to show where the cue point is relative to the current play position.

Fader Start / Back Cue
When the
DVJ-X1
is used with the
DJM-909
,
DJM-707
,
DJM-600
,
DJM-500
,
DJM-300S
or
DJM-3000 mixer
, you can start the music by sliding the cross fader. By sliding the Cross Fader out of the corners you'll send a Fader Start pulse on the terminals of the mixer.
The DVJ-X1 listens to these signals (when connected) and starts playback as soon as it gets it's pulse. When the faders is pulled back to the corner or closed position the DVJ will return to the Cue Point and waits until you send a start pulse.
For this to work you will need to activate the Auto Cue.

Built For The Professional DJ / VJ
To prevent accidental CD ejection or loss of mains power, the DVJ-X1 has safety guards around the power and eject buttons together with a locking feature.
Relay Play
Connecting two DVJ-X1's with a standard 3.5mm mini-plug cable allows one unit to be put on standby whilst the other plays. Relay Play automatically starts the second player enabling them to play 'back to back' to give you endless music play.
Legato Link Conversion For High Quality Sound (CD Audio Only)
Equipped with Pioneer's wide range technology– Legato Link Conversion. The DVJ-X1 is capable of reproducing sound frequencies above 20kHz, which are lost during normal CD-format playback. Not only does this give great sound reproduction but sounds closer to the original recording and more analog like vinyl.
Shock-Proof Memory
Sound jumps or skipping is prevented by using a 16 second shock-proof memory for normal DVD/CD play (minimum of 10 seconds if scratching and reading wave data at the same time in Vinyl mode).
Anti-Vibration
Oil-dampened floating suspension prevents sound skipping, even when the player is subjected to impact during use or vibrations generated from high volume music and low frequency bass.

Digital Output
The DVJ=X1 is equipped with full-feature digital output. This means you can keep your scratching and master tempo playback entirely in the digital domain. Users who simply want to use the digital output for archival purposes may do so via the digital mode switch on the rear of the unit.
What do you think about Pioneer DVJ-X1 ??
Vote :
This content is © 2003-2022 The DJResource...
OK we understand you don't like ads (so don't we) but,


Please consider making this website possible by disabling your Ad Blocker.


Or become a Gold Member, they don't see ads.
There are 8 Comments

Lead
wrote on
22-04-2005
@ 01:05
Allthough writen to fit CDJ or CMX model players, these players have the same technical circuits for the faderstart.

sebastiaan
wrote on
07-06-2005
@ 21:07
hoe kom je aan die beeldschermen voor die dvj's

Lead
wrote on
08-06-2005
@ 18:07
De schermen die in de demo set worden gebruikt zijn 8" schermen die Pioneer maakt om in te bouwen in bijvoorbeeld hoofdsteunen in auto's. Er zijn meerdere merken verkrijgbaar en ook meerdere uitvoeringen.
Zo heb je 19" panelen met 2 breedbeeld schermen, 3 of 4 normale schermen etc.


sebastiaan
wrote on
15-08-2005
@ 20:40
oh maar die dingen zullen ook nog wel wat kosten

robinpetrik
wrote on
23-02-2008
@ 19:59
even snel een vraag..speeld hij ook mp3`s af? al vast bedankt!

Lead
wrote on
24-02-2008
@ 14:36
Ja, je kunt er een DVD met MP3 muziek in stoppen. Tenminste als er wel de laatste versie firmware in zit.

robinpetrik
wrote on
25-02-2008
@ 20:42
maar dus niet met gewone cd`s waar mp3 op staan..?en nog een vraag...2 x dvj x1 voor 3000 is dat een goeiekoop kwa prijs?

Laidback
wrote on
22-11-2008
@ 00:42


robinpetrikwrote on 25-02-2008 20:42:22

maar dus niet met gewone cd`s waar mp3 op staan..?en nog een vraag...2 x dvj x1 voor 3000 is dat een goeiekoop kwa prijs?




dat is behoorlijk goedkoop!
(nieuw waren deze speeltjes bijna 3000 euro Per Stuk, duurder als de DVJ-1000 omdat de X1 een groter Buffer geheugen heeft)
Create your FREE ACCOUNT now !
Some parts of this website require you to login. Using an account on DJResource has a lot of advantages such as:
Adding Content, getting Notifications, Like content, Downloading and Uploading Images and much more.
Sign Up
Create your account to get involved with the Community