Submitted by
Lead

on 07-12-2005

16:12
This content is © 2005-2022 The DJResource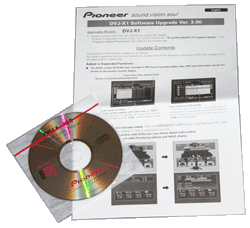 5 December 2005 : New firmware version for the Pioneer DVJ-X1: V3.00.

This firmware update is valid only if you are currently running a version lower than v3.00. Basically all DVJ's sold before January 2005 are running 2.xx.

It includes a number of nice new features :



Read MP3 from CD-R/RW


One Track Loop is added


Digital out is activated for DVD


Wave Form display in preview screen


Direct loading of Hot Cue's


Cue Point menu can be deactivated fast



Check your Firmware
You can easily check the firmware version yourself in a few seconds :

Turn on the power of the DVJ-X1.

Hold Master Tempo for 10 seconds.



Read the Firmware version
You should now be able to read the main firmware version from the dot matrix display. This information is shown on the preview screen as well.

This is what you might see. There might be several versions of the main firmware circulating. This information is only new for people using old versions.When your screen says that you have a firmware version higher than 3.00 these features should already be available for you.




Not having the (latest) 3.0 firmware ?

Contact the official Pioneer dealer where you've purchased the DVJ-X1.

They should be able to advise you what to do and help you get the upgrade.
If you check your firmware version again by holding the Master Tempo button for 10 seconds and you are reading something like this screenshot on the image.

The 3.0 upgrade is a big upgrade the addresses some issues reported by users.



Playback MP3 Audio Files from CD-R/RW
The navigation is pretty straight forward: the Title +/- buttons walk you through the folders on the CD, the Track-Search buttons will skip through the tracks.

When you use a preview screen you can get a very clear overview of it.



Navigation by using the cursor and press 'Enter'



The folder name is displayed when it is written in english characters, of others are used a numbering series of folders will be displayed, starting with F_001.

The track overview (right screen) displays the ID3 tag which is recorded for the track. If no ID3 tag is used or filled in, the filename will be displayed.



It is NOT possible to play MP3 music from a DVD(-R/RW)
MP3 functionality is for CD-R/RW only !



One Track Loop
When the DVJ-X is in playback mode and EMERGENCY LOOP Button is kept pressed for 1 second or more, the current chapter or tracks is played back as a loop. Use it with you own collection of loops, vocals, ...



Digital Out
It's now finally possible to use the digital output of the DVJ-X1 when playing with DVD's. The digital output did already work for CD playback, but now full DVD features are possible like Scratching, (Hot)Cueing, (Hot)Looping and Pitching. Perfect for use with Pioneer's DJM-1000 which features 4 digital inputs (and Midi functionality for use with a video mixer).



Wave Form Display in previews screen
Pioneer's patented Waveform Display was already available on the dot-matrix display of the DVJ-X1. Now this Waveform Display is also available on your preview output so you can more clearly see the waveform on your screen.

Also the Waveform data when a CD is played was loaded real time, but now also read-ahead capability has been added. The Waveform when a DVD is played is still read real time because there is to much information to read this ahead that needs to be processed.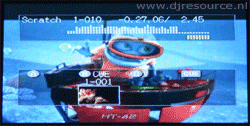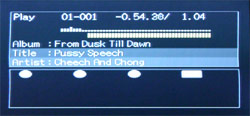 Action after last Track
Previously when a disc was played to the end, at the end position the DVJ-X1 simply stopped. With the new firmware this has been improved so that the player now enters pause-mode (stand-by) at the end of a disc playback.



Cue Point Menu
Just a small clever thing, you can now also exit the Cue Point Recall screen by pressing the Display button. With the old firmware it's only possible to exit this screen by pressing the Cue/Call Loop button.



Loading Hot Cue A/B/C
Until now the recall of B and C Hot Cue Points could not be performed until the A hot Cue Point was fully recalled. Now it is possible to recall points B and C even before loading of Hot cue A is completed.

You are now able to press the green blinking Hot Cue button directly after each other so the DVJ can load all 3 Hot Cue Points right after each other without further interference from you.
What do you think about Pioneer DVJ-X1 Firmware V3.0 ??
Vote :
Related Blog Posts
Related Downloads
This content is © 2005-2022 The DJResource...
OK we understand you don't like ads (so don't we) but,


Please consider making this website possible by disabling your Ad Blocker.


Or become a Gold Member, they don't see ads.
There are 4 Comments

Prozei
wrote on
09-12-2005
@ 10:20
deze update maakt de dvj-x1 perfect

the-melody
wrote on
12-02-2006
@ 15:57
waauw crazy frog:p

pioni-sensei
wrote on
16-10-2006
@ 09:54
DIE MOET IK HEBBEEEEEE!!!!!... ik wor gek hij is te duur.. :S


wizkid
wrote on
02-02-2008
@ 19:20
ken ik nie betale
Create your FREE ACCOUNT now !
Some parts of this website require you to login. Using an account on DJResource has a lot of advantages such as:
Adding Content, getting Notifications, Like content, Downloading and Uploading Images and much more.
Sign Up
Create your account to get involved with the Community