Submitted by
Lead

on 05-10-2005 @ 23:10
This content is © 2005-2020 The DJResource...
Ook in het

Nederlands
Vote :
Included with any Pioneer ProDJ CD-Player (currently: DMP-555, CDJ-100, 200, 800, 800MK2, 1000, MK2, MK3 or CMX-3000, 5000) you will get a Forced Eject Pin. Each player has it's own unique Pin: you should NEVER use the one from another model because they may be of different in length.

The pin is NOT included for everyday use or even for regular use. The only reason why it's included is for you to be able to get a disc out of your player without the need of any power (220/110V).


Please read this entire topic before use, it might contain useful info.


---
Forced Eject Pin
This pin should only be used in emergencies!


This pin is included so you can always remove your disc even when the power is not connected or turned on. But in normal situations there should be no need to use it, it's always better to wait until you have found a way to get some power out of a socket to activate the Eject mechanism. This pin is not for regular operation of the mechanism. When it is used too much you might damage your player and/or the mechanism!


When a disc fails to eject, you should always try this first
Power down
Wait about 5 seconds
Hold Eject
Turn the Power on and keep Eject pressed
This should solve your problems in most cases. During the Start-up sequence your CDJ will check if a disc is fully loaded, when this check fails it will perform an Eject which will bring out the disc. If you hold Eject this check will always force an Eject of the mechanism to occur. In general situations this is enough to get the disc out.


If this doesn't work ?
Now consider to bring your CD player back to the shop, it's always better if someone else is responsible for the damage. Most of the time that this method fails some parts might be wrong with your player that you cannot fix yourself and is not resolved by using the forced Eject Pin.

In the odd case that the above described method doesn't work, you can use the Forced Eject Pin. Keep in mind that it's going to be hard to claim any warranty when something goes wrong or if you break some parts of the Drive Unit or the mechanism.


---

Before inserting the Forced Eject Pin:
Turn the power down and wait 10 seconds so you give the CD enough time to stop spinning around !

Only use the Forced Eject Pin STRAIGHT !





If you use the Pin, put the pin in the hole that is right above the Slot In, make sure that you keep it horizontal and completely centred when viewed from the top.


What's inside ?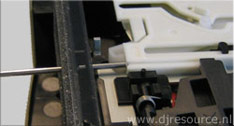 When you know what's happening inside you might understand why you should use so much caution when using the Pin. You can easily damage things when you use it in a wrong way. After you've inserted the pin it should go easy until you reach the white part (Main Cam) of the Drive Assy. This is the actual part of the eject mechanism that you are going to apply force to. When you have the pin inside the hole, like described above, and you've reached the end you should now firmly press the Pin in to force an Eject. Be aware because this will feels like you are going to break it and then some noisy 'TICK's


What's Happening ?
A normal Eject will make the axle next to the letter (A) start to rotate. This will be transferred to the main white part that will be driven to the back (direction of Arrow A). The rotation is transferred to this part by a wheel that runs over the strip next to arrow B.

When you insert the Forced Eject Pin you are manually applying force to this part. So while using the Forced Eject Pin you override the servo and push the part manually to perform an Eject. The Cog Wheel is tightly connected to the servo engine so it will not rotate. By applying force the part next to the B-arrow will bend outside so you hear and feel a 'TICK' when it skips a step.

To get the CD out you have to insert the Forced Eject Pin almost completely. Make sure that you only use the Pin included with your CD player. Each model has it's own length of the pin !! This will feel very unnatural because the whole drive is mounted in Oil Damped Suspension and it will wiggle a bit before you push it past the first step.

There need to be about 15 clicks before a full Eject is completed. If the CD does not come out very easy you have to push the pin a bit further: the CD is still under way to the exit and hold by the eject mechanism.

Remember :

This is NOT designed for everyday use !



---
What do you think about CDJ/CMX/DVJ Forced Eject Pin How to... ??
Vote :
Read other Linked Topics
OK we understand you don't like ads (so don't we) but,


Please consider supporting us by disabling your Ad Blocker.


Or become a Gold Member, they don't see ads.
OK we understand you don't like ads (so don't we) but,


Please consider supporting us by disabling your Ad Blocker.


Or become a Gold Member, they don't see ads.
There are 2 Comments

the-melody
wrote on
14-02-2006
@ 19:55
vandaag men eerste keer gebruikt

Dj_Danny
wrote on
04-06-2006
@ 21:25
Ik vandaag ook, maar wel twee keer. Ik denk dat mijn 800MkII terug moet..

Create your FREE ACCOUNT now !
Using an account on DJResource has a lot of advantages such as:
Adding Content, getting Notifications, Like content, Downloading and Uploading Images and much more.
Sign Up
Create your account to get involved with the Community