Submitted by
Lead

on 09-09-2005

02:09
This content is © 2005-2022 The DJResource
DJResource is a website that is all about DJ culture and everything that is involved with it. Professional gear and equipment are the main focus of the majority of this site's content. All information on this website is related to DJing, on stage and backstage or in the studio.
There is a lot of information related to DJs and the culture around it here which we tried to make as interactive and dynamic as possible.
We aim to be a non commercial website thou supported by a minimal amount of advertisements. We have designed the website first and later added some advertisements around it. We always tried to put adds on the page without it influencing any of it's content, so that means that you see adds below or next to the content and not on the 'hot-spots' and page breaks where most platforms insert adds.
We are Home Made
The 2 founders of DJResource (Lead & W.i.M) are also the programmers of this website. Self programming allows us to adjust the website continuously and dynamically with the content and idea's that come up over time.

We started creating our own website after a period of using open source CMS's. The downside of these systems is the lack of control and a lot of overhead (not needed stuff) is loaded each click

Also the basic layout of most systems like PHP Nuke (back in the mid 2000's) and Joomla (Mambo), are all alike and are pretty recognizable by the people visiting these sites. We wanted to be different...
We started without much fancy options and we've let the site grown with the new ideas and reactions from the members. We kept on adding new useful features and content when there is a demand for it.
A nice example is the
DJ Booths
section. When we noticed that a forum thread
'[Pics] of your DJ Booth
' was by far the most popular thread on our forums at some time. We designed a way for people to share pictures of their DJ Booth in a designated area on the website. This has became a real DJ's Showroom as there are thousands of images added.
After that we developed the Gearbase to hold all gear items that our members posted in the DJ Booth section.
What's so special ?
DJResource offers a lot of information and provides the possibility for our members to leave their comments on nearly everything like : all uploaded pictures, DJ Topics, DJ Booth pictures, Gearbase items, the News and such.
Who started it
Two DJs:
W.i.M
(Wim Broer) and
Lead
(Jeroen Groenendijk) are the Admin's on and the founders of DJResource. Both are DJs since the early 90's so there's enough DJing experience in this team.
Where are we from ?
Gouda - Holland (Netherlands)

Membership
Visitors can read ALL information on the website (accept some forums) but frequent visitors Register themselves as a member.
Members have the possibility to give comments on all content on the site, start threads (topics) in the Forums, Upload images to their own public photo album and lots more...
Membership is free and is nothing more than filling in a few things and click on the link in your mailbox.
Other places on the Web

Put us on your online desktop :

Check our videos on
Youtube

And offcourse
Facebook

Our history partly shows on :
Modules or Sections
DJResource exists out of several sections, each having it's own function and features :
DJ Topics (or just Topics)
This is the foundation of DJ-Resource, very detailed information about professional DJ equipment. These topics are written for people with some basic DJ skills. Most Site Topics are written by Lead (working on a professional level with Pro Audio since 1996, DJ Gear in special from 1997, DJing himself since 1992). These Topics give
objective information
instead of colored opinions or personal favors.
Gearbase
Started as extraction from the users input in the DJ Booths section in 2009. All information and high product resolution product images (where available) are searched for manually by Lead and the other Gearfreaks (certain member level).
DJ Booths
When we saw the great popularity of a forum topic :
[Pics] Your DJ Booth...
and we invented this module. Actually this is showing a selection of images that the members have uploaded to their own Album in the Gallery with some specific information about the equipment shown. Members can give comments and tips to these Booths.
Productions
Our members can upload their own produced tracks, for each Production a Forum topic will be created automatically to store the comments for this Production. The Productions can be rated and a Top-10 listing is shown.
Deejay's
Primarily meant so that our members, which are mostly dj, could share their profile. After the addition of the Calendar/Parties this section got inter linked these modules, meaning that links in other sections direct you to the proper page in the Deejay's module.
Overview
This modules gives you an overview of all added reactions everywhere on the site. For our frequent visitors this is a nice place to check what's going on.
Forum
These are different sections (forums) for different categories of topics (or threads). Members can give comments to the topics or start a new topic if no related one is found. Each forum is moderated by one or more moderators that make sure that postings are guided to apply the site rules, Admin's can moderate on all forums and have full control.
Gallery
Section with images sorted in different Albums. Each member can have his own User Album that holds a maximum of 50 images. to you own Album. Members can give comments to pictures and enlarge them to the original resolution of upload.
Imagedump
As DJResource grew and needed more functionality, in 2009, we've added the Imagedump as a place for our members to store images that are posted on the Forums. This is our way to make sure that the information in our archives will be visible and we're not relying on others to keep images online.
News
Our members can contribute their DJ Related news items for approval. Members can give comments and replies to previous comments below all news items.
The Wall
Here is the place where Members can leave their comment about DJResource. All postings that lead to a conversation will be deleted, these belong in the Forums..
Downloads
On DJResource the Downloads have a supporting function for the DJ Topics and serves as a Gallery for our own produced demonstration video's.
Web Links
A collection of links of our friends and links that are added by our members. After submission a link has to be approved, when the link is not in violation with our sites terms of use the link will be denied. When you've added a banner and your site links back to DJ-Resource those hits will be counted for a monthly top-10 list. The Topsites List is an overview of the website's with banner and send links back to DJResource.
The History of DJResource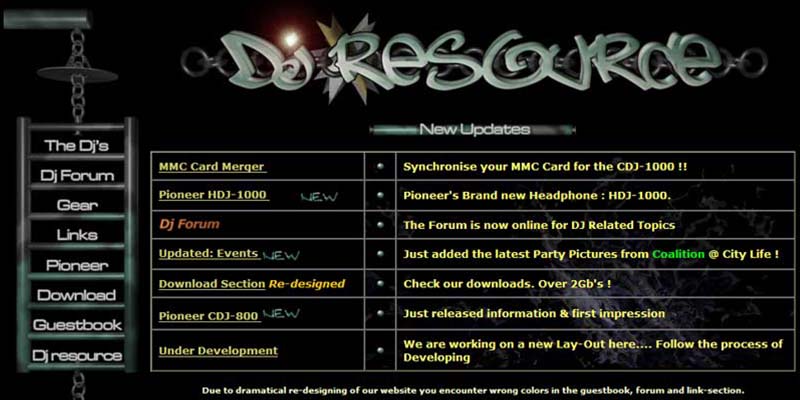 There is a dedicated Article about the complete history of how DJResource has developed over time, including the screenshot of the frontpage of every step in the process.
Our history begins in 2001 with a website that doesn't look on the current version in any way, a perfect example how a platform can adapt to modern design standards without breaking (to much) with the look'n feel we intended it to have.
DJResource History Full Timeline
Supporting DJResource
Privately Funded
DJResource has always been funded privately by the Admin's (W.i.M & Lead). With the increasing amount of visitors (which we are very happy to serve), also the traffic increases.
To help support the cost of traffic we've searched for solutions that wouldn't disturb the sites layout but could help to support it.
Google Ads
With Google Ads, the visitors can see advertisement related to the content of that particular page. Some of the things might even be interesting for you. By just loading the adds you already make a tiny contribution. We do not push clicking on these ads, but it might not harm to check out interesting ones.
Gold Membership and Donations
The final thing we can come up with is a plain donation. If you donate your memberlevel will be marked as 'Gold' member as a way to show our appriciation. There are also some perks attached to Gold Memberships,
Read more
about our reward for people that donate.
What do you think about DJResource About Us ??
Vote :
This content is © 2005-2022 The DJResource...
OK we understand you don't like ads (so don't we) but,


Please consider making this website possible by disabling your Ad Blocker.


Or become a Gold Member, they don't see ads.
There are 5 Comments

Lead
wrote on
04-05-2006
@ 21:36
If you want to support DJResource, use one of these buttons and: Install Firefox or Picasa

NielsR
wrote on
25-06-2007
@ 12:04
Hoeveel mensen die hier vroeger op zaten zitten er nu nog op


Lead
wrote on
18-06-2018
@ 02:29
Tja, wie zal het zeggen

Ik ben er nog... en W.i.M, zo is het in 2001 ook begonnen


Lead
wrote on
14-12-2021
@ 21:45
Ik moet wel zeggen dat ik over de jaren heen in het land wel vele mensen ben tegen gekomen in het echt die hier vroeger dagelijks zaten. Het zou leuk zijn als die mensen hier nog eens in zouden komen loggen. Alle accounts bestaan nog, hooguit dat je een nieuw wachtwoord moet opvragen.
Het blijft telkens wel leuk om na zoveel jaar eindelijk soms de persoon te zien en het verhaal achter de username te horen, soms verklaren die verhalen dingen die voor mij al die tijd een vraagteken waren gebleven.

Lead
wrote on
03-02-2022
@ 17:57
I've updated this topic to modernize the layout, also I've made a dedicated topic that shows the history of DJResource with all the screenshots.
The info about our history was always put in this topic, but as it has grown in the last 20+ years and it is now time it has it's own topic.
I've taken screenshots from preserved images and recaptured some with the help of the wayback Machine Internet Archive
Check out : DJResource History Timeline (counting since 2001)
Create your FREE ACCOUNT now !
Some parts of this website require you to login. Using an account on DJResource has a lot of advantages such as:
Adding Content, getting Notifications, Like content, Downloading and Uploading Images and much more.
Sign Up
Create your account to get involved with the Community