This content is © 2018 The DJResource...
Submitted by
Lead

on 09-09-2005 @ 02:09
DJResource is a website that is all about DJ culture and everything that is involved with it. Professional gear and equipment are the main focus of the majority of this site's content. All information on this website is related to DJing is also widely covered in the DJ Topics and our DJ Forums.

DJResource aims to be non commercial website with information related to DJs which we tried to make as interactive and dynamic as possible. Visitors can Read ALL information on the website (accept some forums), can make a posting in on our Wall and Register themselves.

Our members have much more rights and possibilities, read below at Membership.


Home Made
The 2 founders of DJResource (
Lead
&
W.i.M
) are also the programmers of this website. This allows us to adjust the website continuously and dynamically with the content and idea's that come up during time.
We started creating our own website after a period of using open source CMS's. The downside of these systems is the lack of control and a lot of not needed stuff happens each click that doesn't have to. Also the basic layout of most systems like PHP Nuke and Joomla (Mambo), are all alike and is pretty recognizable by the people visiting these sites.
We started without much fancy options and we have let the site grown with the new ideas and reactions from the members. We keep on adding new and useful features when there's a demand for it.
A nice example is the
DJ Booths
section. When we noticed that a forum thread
'Pic of your DJ Booth
' was by far the most popular on our forums, we found a way for people to dynamically add pictures of their DJ Booth. By uploading their images to the Gallery and filling in a list of the gear that is on the picture this has became a real DJ's Showroom.
What's so special ?
One of the nice things on DJResource offers lots of information and provides the possibility for our members to leave their comments to nearly everything that's on this website : all uploaded pictures, DJ Topics, DJ-Booth pictures the News... and probably everything we are going to add in the (near) future.
Who started it
Two DJs:
W.i.M
(Wim Broer)
and
Lead
(Jeroen Groenendijk)
are the Admin's on DJ-Resource. Both are DJs since the early 90's so there's enough DJing experience in this team.
Where are we from ?
Gouda - Holland (Netherlands)
Membership
Members have the possibility to give comments throughout the site, start threads (topics) in the forums, upload images to their own public photo album and lots more... Membership is free and is nothing more than filling in a few things and click on the link in your mailbox.
Interactivity on the Web

Feel free to join the DJResource Hyves : RIP Hyves 2013


Also check out : Aboutus.org/DJResource.eu


DJResource.blip.tv for all our demo video's


Put us on your online desktop:



Modules
DJ-Resource exists out of several sections, each having it's own function and features :
History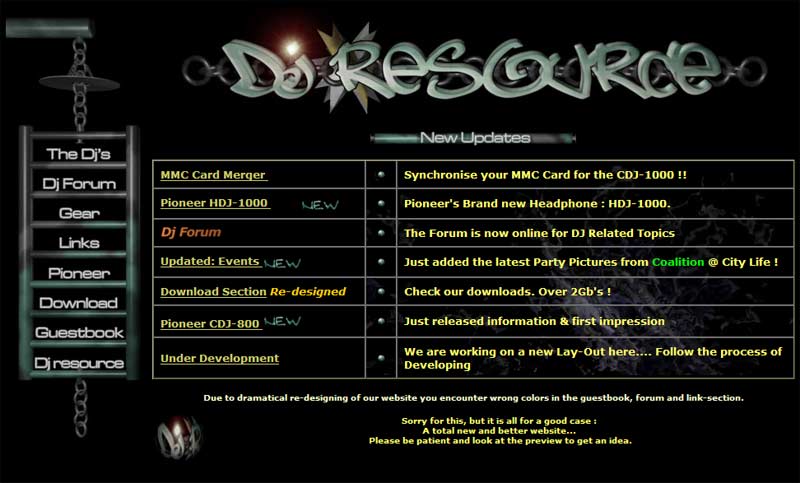 16-09-2001 : DJresource.ORG registration
We started with a nice and simple HTML website, without much content it's easy to keep navigation simple. The basic layout for the website was set and also a general idea of the content was made up.

The website was based around Lead and W.i.M as DJ's. Also a start was made to write topics about the Pioneer DJ Gear. The forum we had was an Ikonboard forum.


(we lost this domain in 2006)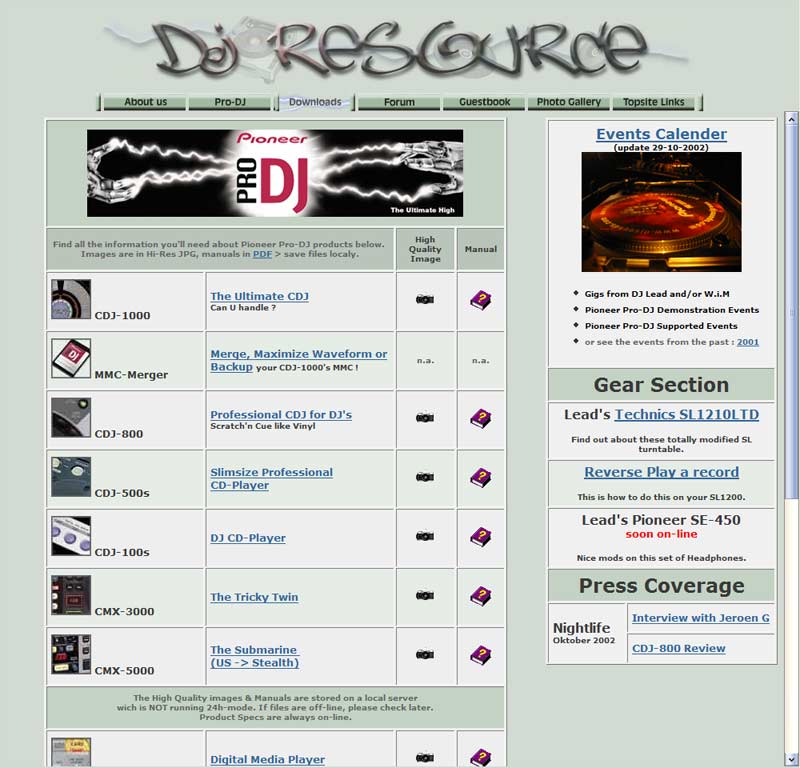 06-02-2001 : DJresource.ORG re-designed
We stepped away from the black background to make the content more readable and the overall website a more pleasant place to be. The green was very easy to read. In this concept we've experimented with Flash for the top-menu.

More and more equipment was added to the content section and a simple gallery script was installed to show some party pictures.

The Downloads started to get filled up with all Pioneer Manuals and product images. We still used the Ikonboard forum but could not migrate the postings to the new version.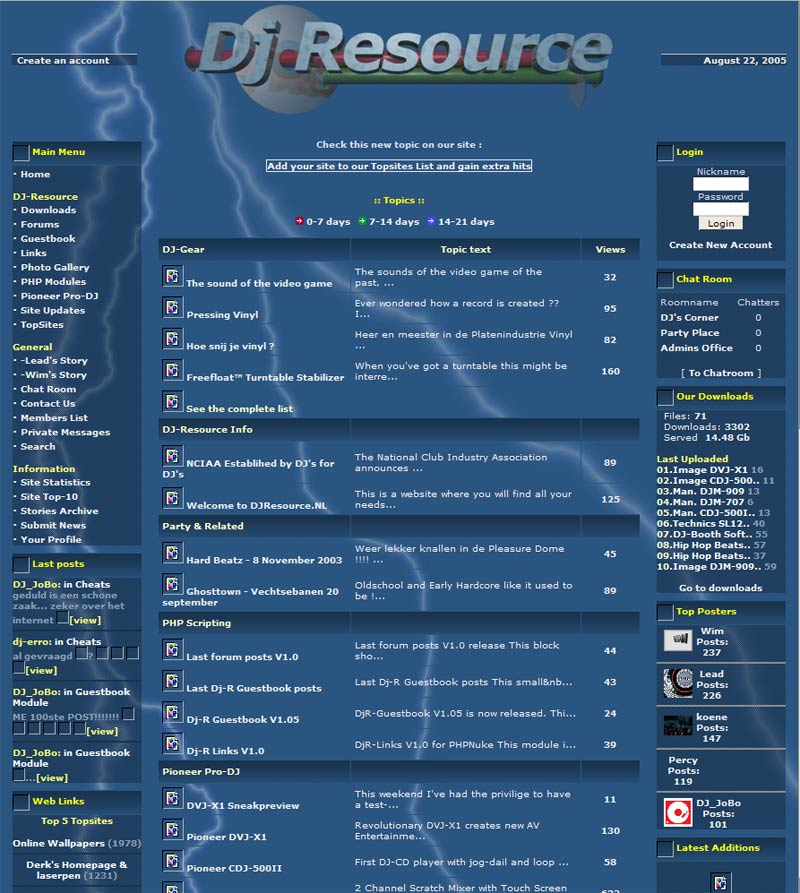 04-04-2003 : DJresource.NL registration
After a period of testing we switched our main domain to the dutch .NL extension. Because of a growing number of visitors we wanted to offer more functions and features.

At the same time we switched to a Open Source Content Management System that was called PHPNuke (v4~v6). For the time a nice solution and we started to tweak the modules of the Nuke system so it would look and function the way we wanted.

The Nuke site was the actual beginning of the DJ-Resource as you know it now.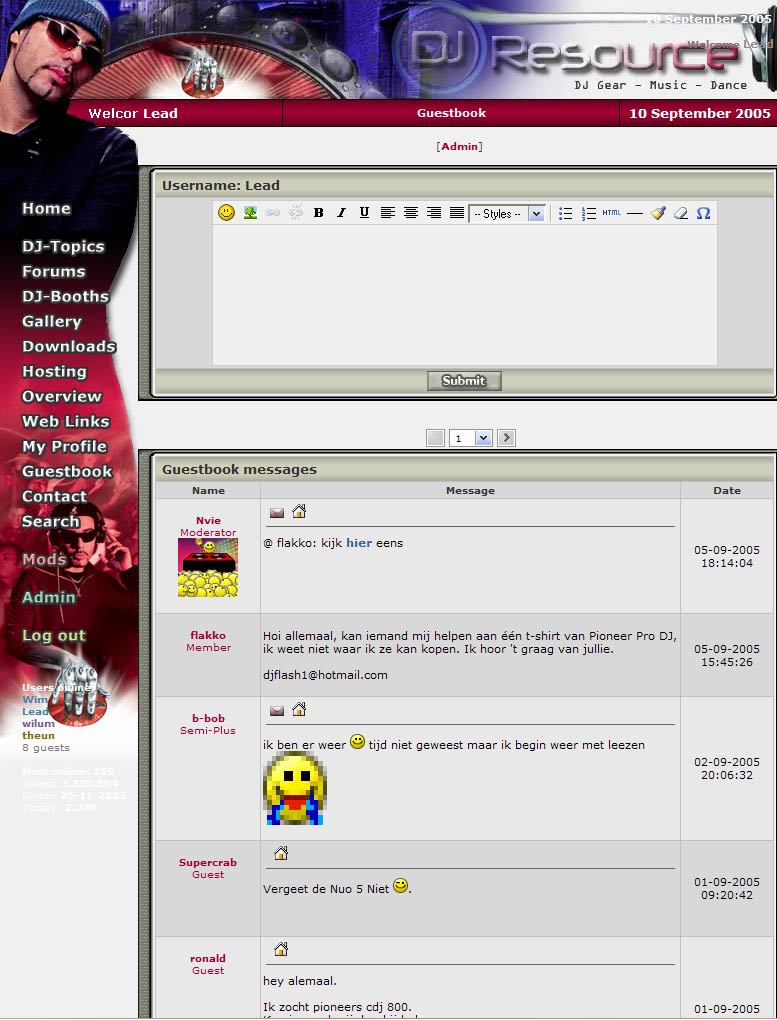 25-11-2003 : DJresource.NL own coded CMS
But because of the nature of Open Source there was to much stuff that was loaded on each mouse click that it dramatically reduced the loading speed of all the pages.

To improve the readability and click friendliness of the website we made a decision: we've started to code our own CMS (Content Management System). We started out with an empty index.php and get going designing and developing each module to our own whishes and needs.

The first version was introduced at the end of 2003, only a half year after we've started with the previous layout.

That's Fast, we know... but it was definitely worth it.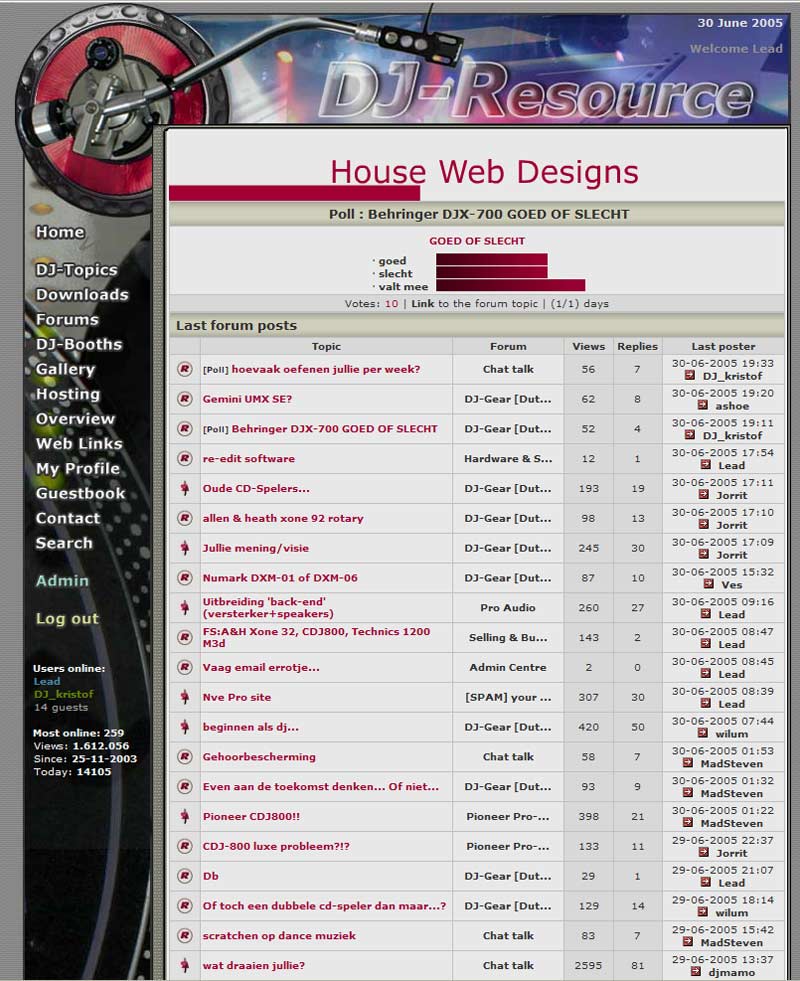 05-12-2004 : DJresource.NL Improved
For the big public the new graphics made the big difference. But as perhaps not everybody was aware, the changes behind the curtain we're pretty radical. After almost a year of constant updating and improving the site we've relaunched it with a new layout to show the change.

Besides the new artwork, which is only 20% of the improvements, most stuff happens behind the scene. A big improvement in loading speed, W3C compliant, XML feeds and more structure in our database... but who cares, it clicks about 40% faster than before, that's what counts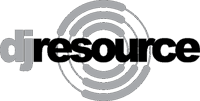 March 2006 : Logo designed
All these years DJResource was growing without having a simple clean and recognizable signature or symbol. Although most people recognized the disc-and-SL-tonearm combination as our logo but we wanted something serious. After some sketches, based around some principles this new logo was designed in collaboration with Paralizer.

The Logo explained...
The 3 discs that form the actual logo stands for the 3 major types of media a DJ can use: Vinyl, CD and DVD.
The thickened parts represents a sound symbol, like the ones you can find on remote controls ( ie. TV or Amplifier).
The letter 'O' from the word Resource is at the center of it all, shouting it out.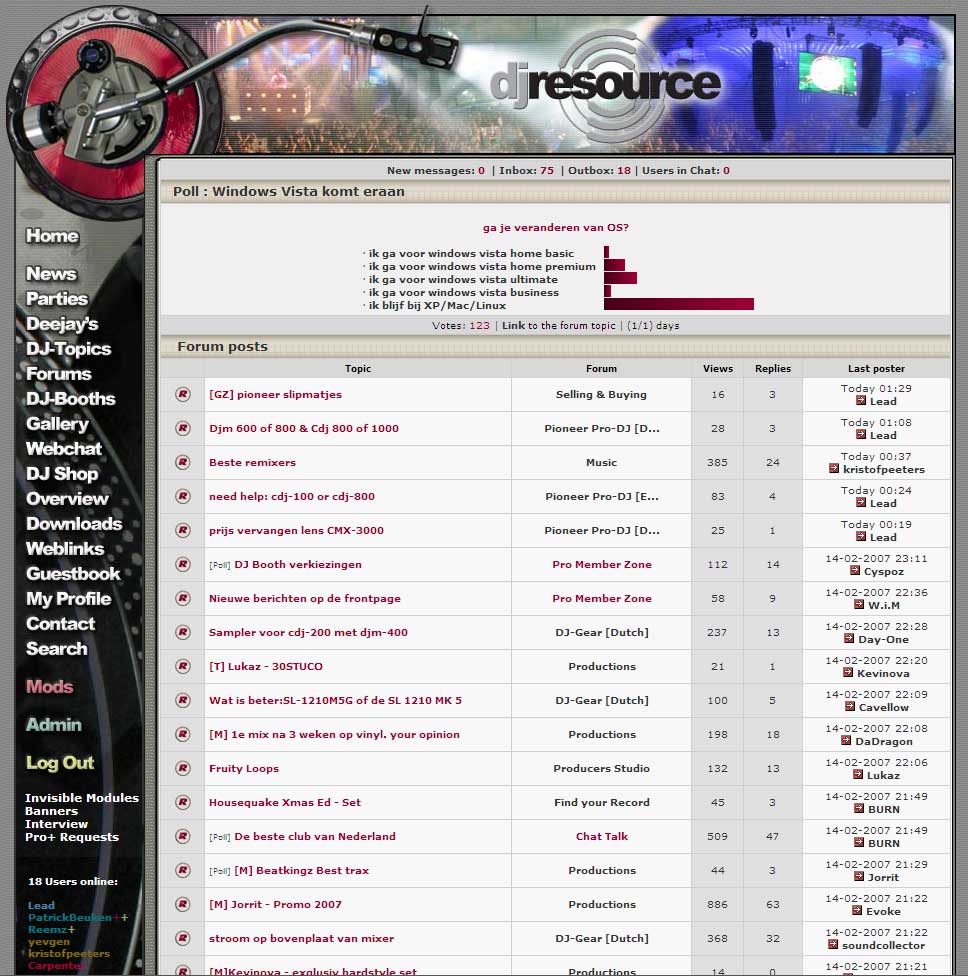 07-04-2006 : DJresource.EU goes Online
The world is getting bigger on the internet and we believed that the international character of the website now gets the attention it needs. A lot of our main content in the DJ Topics is now also available in Dutch, just hit the flag

above each topic to show this.

With out new logo we also made a new header image. Also the width of the website is not flexible anymore, but is now fixed for best viewing with at least 1024 pixels width screens.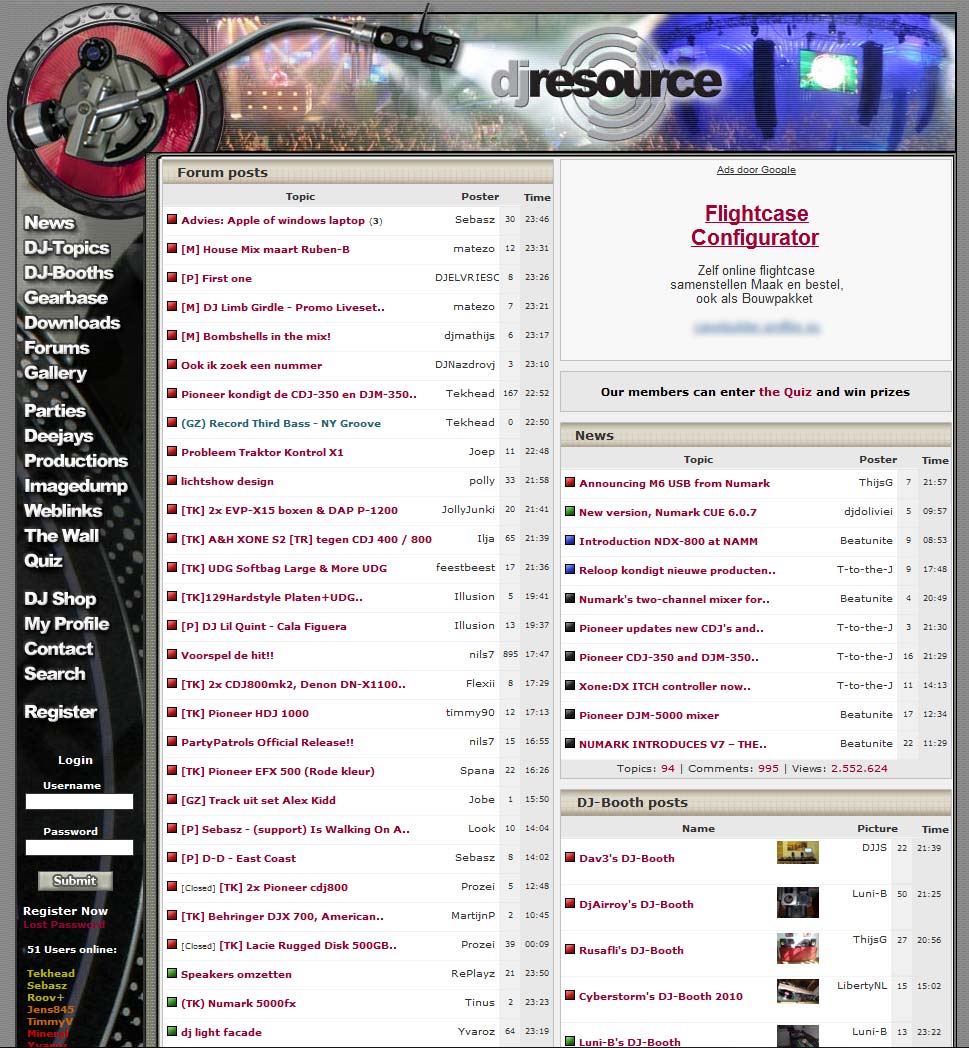 19-06-2007 : DJresource.EU reshapes the Frontpage
To store more information we've redesigned the frontpage from a 1 column design to a 2 column design. This shake our members as some had big difficulty getting used to it. But after a while everybody enjoyed the improvement.

This was not all that has happened. Also the back end was again upgraded to meet modern standards. We've also upgraded to PHP5 which we were not completely ready for.

To counter act with the amount of info, we've added a function to the member profile so members can hide postings from selected forums that they don't like to see. Also the Nieuwsdagblad project was started.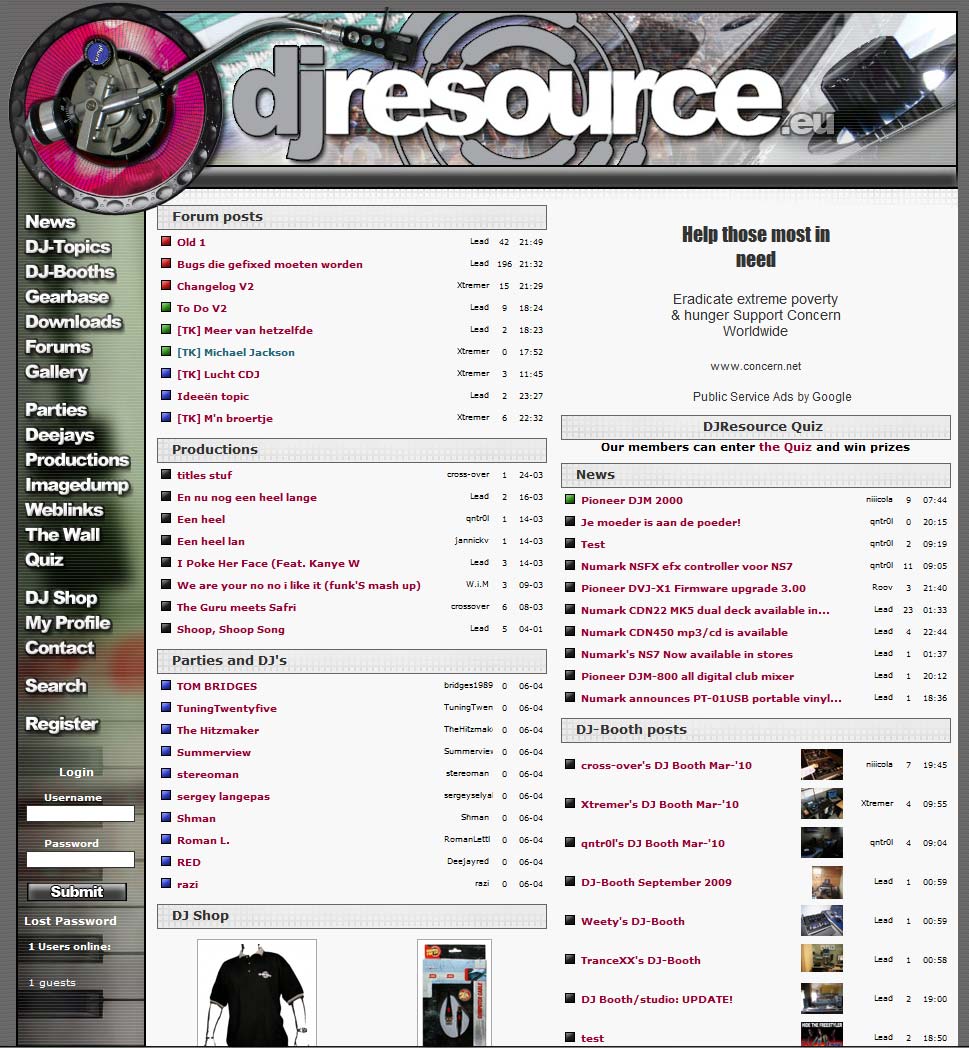 05-2010 : DJresource.EU refreshes layout and added functionality
After all these years we found that DJResource could have a facelift to keep up with time. A lot of stuff is added to the core of DJResource over a period of a few years and things needed to be in line with each other in layout and functionality.

There is a huge list of fixes and improvements that are made in the last 6 months, mainly by Lead. In general overall performance is increased, functionalities are improved (image upload resizes everywhere, popup's from jpg/pngs open in Splashbox instead of pop-up, etc.


What's Happening Now ?
At this moment DJ-Resource has an ever increasing number of visitors and more and more people take the affords to register to become a member. In order to keep up to date we enhance existing functions and add new ones, all with help from the community that's helping DJResource to grow.


But...
It all has it's price. DJResource is at this moment privately funded by the admin's (W.i.M & Lead). With the increasing amount of visitors (which we are very happy to serve), also the traffics increases. To help support the cost of traffic we've searched for solutions that wouldn't disturb the sites layout.


Google Ads
With Google Ads, the visitors can see advertisement related to the content of that particular page. Some of the things might even be interesting for you. By just loading the adds you already make a tiny contribution. We do not push clicking on these ads, it might not harm to check out interesting ones.


Advertisements
Instead of Google ads you can also see other advertisements from ie. Party's, Exhibitions etc. There are tight restrictions to the content of these advertisements. If you want to advertise on DJResource read the Advertisement Topic for more details or contact the admin's to discuss the possibilities.


Donations
The final thing we can come up with is a donation by you. All these years we are programming and write all for you. We also offer a photo album for 50 images when you register yourself, you can promote yourself in our Deejays section and you can show-off your Booth in the DJ-Booth section... Feel free to contribute to help us continuing our work for the community (and we both have a daytime job).

If you make a donation, you will get a special Userstatus (Goldmember) for a year. During this period banners and advertisements are disabled for viewing as a thank you from us.


Feel free to use Paypal.com or Bank transfer [Details] as payment method, bank transfer has our favor.



Read more about our reward for people that donate.
---
Check these Linked Downloads
There are 3 Comments

Lead
wrote on
04-05-2006
@ 21:36
If you want to support DJResource, use one of these buttons and: Install Firefox or Picasa

NielsR
wrote on
25-06-2007
@ 12:04
Hoeveel mensen die hier vroeger op zaten zitten er nu nog op


Lead
wrote on
18-06-2018
@ 02:29
Tja, wie zal het zeggen

Ik ben er nog... en W.i.M, zo is het in 2001 ook begonnen

Adding Content, Downloading and sending Messages on DJResource is for members only !
Registeration
Create your account to get involved with the Community