Submitted by
Lead

on 13-04-2003 @ 18:33
This content is © 2003-2020 The DJResource...

Vote :
Pioneer has launched an all-new effects box. Designed from a DJ-perspective and with the feel of an instrument, the EFX-500 is guaranteed to make your mixes more dynamic. With a comprehensive range of beat effects, a powerful three-band isolator and even Midi compatibility, the EFX-500 will allow you to scare your crowd with a succession of weird and wonderful sounds. The Midi sends out a syncs-pulse, equal to the measures (tempo) of the playing music.
From early 2005 the traditional EFX-500 will also be available as special edition in a firing red dark metalic finish. A very few units (200pc) are made with a transparent casing, those models are very rare and you might not see one your entire life.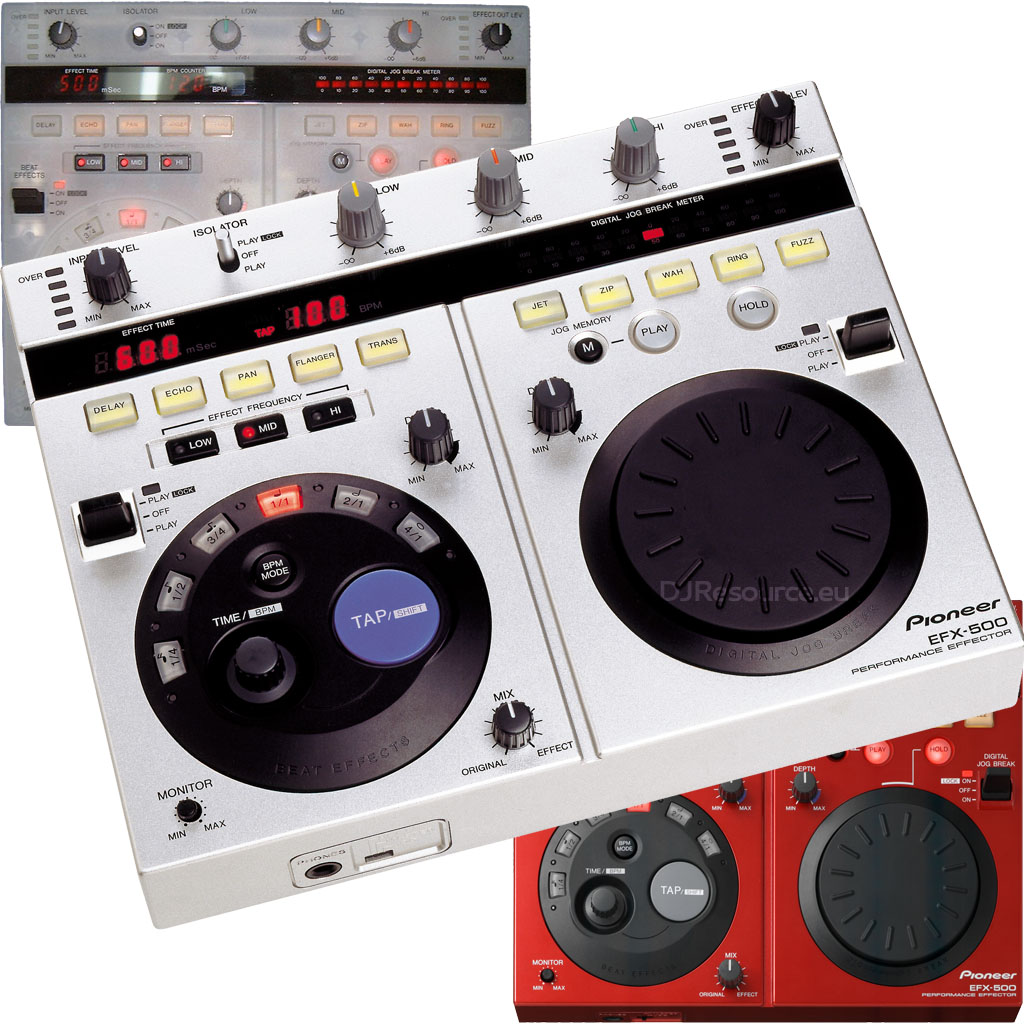 EFX-500 and with the same specifications, only another color :
EFX-500-R
(from early 2005)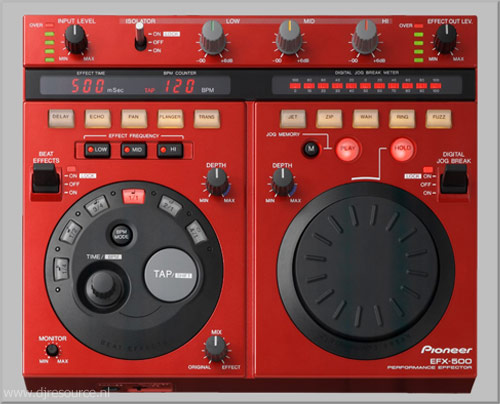 Specifications
Product Type
BPM matched Effects
5x
Manual Filter Effects
5x
Equalizers
3x infinit ~ +6dB
1x Stereo Channel (RCA or 1/4" Phone)
1x Stereo Channel (RCA or 1/4" Phone)
MIDI
IN and OUT
Frequency Response
20Hz ~ 20kHz
Signal to Noise Ratio line
80 dB
Dimensions
275 x 220 x 64mm ( WxDxH )
Net Weight
2.5 kg
---
Press on one of the AUTO BEAT EFFECT button (1/4, 1/2, 3/4, 1/1, 2/1, 4/1) to produce live effects, DELAY, ECHO, AUTO PAN, AUTO FLANGER and AUTO TRANSFORMER, in linkage with beat set in advance. This machine, with free selection of 3 bands (HI, MID, LOW), enables a wider range of performances than conventional effectors. Turn the DEPTH and MIX knobs to change the depth of effects and the balance of the original sounds and effect sounds, respectively. In addition, normal effects, not linked with BPM, are possible. You can set the beat by various methods such as AUTO, TAP, msec, BPM and MIDI BEAT. So there is no need for any restrictions in music choise.
The EFX-500 is equipped with "Digital Jog Break" for producing new digital sounds on the spot. A turn of the JOG DIAL controls 5 effects, JET, ZIP, WAH, RING MODULATION, and FUZZ. In combination with the DEPTH and MIX knobs you lift yourself in the extreme.
The 3-band Equalizer, the Beat-Effects and the Jog-Effect all work with the same type of switch to turn it constantly on or give it just a short flash of effects. The switch at the Momentary position returns to OFF when you takes your finger off the lever, allowing smooth ON-OFF changeover of effects. Also very nice to use to lift out a certain passage in the music. When turned on, only on the 'snare' in the music gives it a great punch. It's also fun to use it while flashing the switch in the rhythm or instrument line in the track. When the switch is at the LOCK ON position, it is continuesly switched ON.
---
After a few year in oktober 2000, Pioneer has released a very limited number of EFX-500's to the market that had a special color cover: Semi Transparent (or Snow White). Only 200 pieces are made so whenever you see one being used, you've just experienced a very rare situation.
Because of the limited number of pieces made and a long time since they've been release the chance of you ever finding one in a store are very slim.
---
The high quality separate 3-BAND EQUALIZER (HI, MID. LOW) cuts sounds up to -oo dB (infinit) and completely silences the sound of instruments in each band. These bands can be controlled individually becasue they all have their own control knob.

AUTO BPM COUNTER
This counter automatically measures the BPM (Beats Per Minute) of music and turns it into digital indication. You can digitally confirm the BPM of input music sources.

TAP BUTTON
You can set BPM instantly by tapping the button with your finger. Press the button twice to input the tempo as desired.

The DEPTH knob
Can be used to freely set the strength and depth of effects as well as the balance of the original sounds and effect sounds. You can enjoy a variety of DJ performances with an instrument-feel.

DELAY
You can set DELAY sounds at any tempo. A delay is a rehearsel of the original signal with a lower volume. Dependend on the DEPTH knob the fade away goes fast or last for a long time. There is always a difference in volume between the original signal and the rehearsed sound. and this is internaly mixed to the original sound after the effects module so there is no feedback ofthe rehearsed sound.


ECHO
You can set ECHO sounds at any tempo. ECHO is in many ways identical to DELAY, but differs in the way it is internally mixed. ECHO is mixed to the signal before the effects module. When opening the DEPTH knob to the max, there is a continious loop of sounds, even when the EFFECT LEVER is in the OFF position. The only way to exit this loop is to close the DEPTH know. Then the sound will rehearse one more time and then dies.


AUTO PAN
You can automatically swing sounds to the right and left in any tempo.


AUTO FLANGER
This produces a sound effect like when a jet plane ascends and descends periodically. The DEPTH knob can be used to change the strength of the waves. The wave behaves depedant the value in wich the TEMPO is set.


AUTO TRANSFORMER
This cuts sounds periodically like the transform switch on most mixers, but then so fast you can never turn that switch. Also you can quickly change from a tranform on the beat, or setting it twice that speed.



JOG EFFECT SECTION

HOLD FUNCTION
With the function on, the present state can be maintained if you stop turning the JOG DIAL. With the function off, it returns gradually to the state of the original sounds. I basicly always put this function ON because it takes to long for the EFX-500 to return to the official position, I prefer to control this manualy.

JOG DIAL MEMORY FUNCTION
This is a new function to memorize and reproduce the motion of the JOG DIAL. When you turn the JOG DIAL and simultaneously press the MEMORY button, the motion of the JOG DIAL is memorized for as long as 8 seconds. While pressing the PLAY button, you can replay the memorized action in all the 5 effects as many times as you want.

JOG BREAK METER
This optically indicates the motion of the JOG DIAL and the change of sounds, allowing you to visually confirm the motion.


JET
This is a function to add SHORT DELAY. Turn of the JOG DIAL creates wave sounds, with the FLANGER effect made by using 2 analogue turntables or a delay at 1-12ms.


ZIP
The JOG DIAL can be used to change the pitch of reproduced sounds without changing the tempo. Lowering of the pitch produces sounds resembling those made by slowing an analogue turntable. With the DEPTH knob you can control the mix between the original signal and the ZIP-ed signal.


WAH
This is a function to change cut-off frequency. Turn of the JOG DIAL makes the sound of a certain instrument strong or weak. It feels like the sound is moving.


RING MODULATION
Modulation of sounds produces a tone like the ring of a bell, providing effects such as a cosmic sound or a robot voice. Be careful because this effect is very noticible in the music, turn the DEPTH knob half as high open as you would do with a DELAYor ECHO.


FUZZ
This is a distortion effect on sounds. The JOG DIAL changes the distorted band. With this effect you even have to be more careful than the ring. Because of the very distorted sound wich is much louder than any other effect in the EFX-500 you might consider to open the DEPTH knob only for 10% for the best use with this effect.

Monitors each of BEAT EFFECT, DIGITAL JOG BREAK, and master sounds. The volume & meter controls input/effect output levels. The auto-lighting, button indicates Rear Panel the setting of each effect. The compact size makes this machine portable.
The EFX-500 is equipped with MIDI IN/OUT terminals for controlling the CLOCK signal of MIDI instruments. The BPM of input analogue sound signal is measured automatically, converted to MIDI-CLOCK signal, and output so that the beats of connected MIDI instruments can be synchronized.
---
What do you think about Pioneer EFX-500 ??
Vote :
OK we understand you don't like ads (so don't we) but,


Please consider supporting us by disabling your Ad Blocker.


Or become a Gold Member, they don't see ads.
There are 8 Comments

sebastiaan
wrote on
17-05-2005
@ 20:45
ze zeggen dat er niet zown goed geluid uit komt

the-melody
wrote on
02-03-2006
@ 13:57
wat zeg je daar gene goed geluid:s kvin van wle hoor je hoort enkel wanneer je het level in aanzet maar klaat die gewoona ltij aanstaan

DJ_Inspiration
wrote on
13-04-2006
@ 18:51
Ik ga mij waarschijnlijk ook eentje aanschaffen

Het is wel een top-effector!

Se-base
wrote on
03-10-2007
@ 18:45
Heeft zo'n effector ook nog meeraarde als je een djm-800 hebt?


Borisdekloris
wrote on
04-01-2008
@ 16:56
Hey Boys and girls,
Hoe deze aan te sluiten op een DJM 400 ?? deze heeft geen send en return ...
heb 2 cdj's die sluit ik aan op cd 1 , cd 2
wil ik de efx 500 gebruiken moet ik dan deze tussen de Master 1 out en de versterker zetten ??

Boris


Phenix
wrote on
14-04-2008
@ 21:08
@ Boris: Je kan hem ook via je master out en dan terug via je Mic 1 en 2/ Aux ingang meer naar binnen sturen (weet niet zeker of het gaat werken :S)

Stefjuuh
wrote on
29-10-2008
@ 18:45
@ Phenix, Dan stuur je hem naar binnen, en dan gaat het naar..? Master2, maar ook master 1, krijg je dus een loop van je effect die je weer effecteerd.. kortom.. niet handig om te doen!

Lead
wrote on
06-04-2010
@ 23:03
Create your FREE ACCOUNT now !
Using an account on DJResource has a lot of advantages such as:
Adding Content, getting Notifications, Like content, Downloading and Uploading Images and much more.
Sign Up
Create your account to get involved with the Community