Numark CDX Digital CD Turntable with 12'' platter
Submitted by
Lead

on 12-06-2004 @ 11:46
This content is © 2004-2021 The DJResource...
Vote :
The basic thought behind the product was that to make the CDX1 feels as close as it gets to working with a record while using a CD. The CDX1 has several modes for scratching and looping, as well as beat-synched digital effects. There is extensive cue store/recall with multiple sets for each CD.
The CDX1 has a fast, slot-load CD transport, and music can continue playing from the internal buffer after the CD is ejected. The CDX1 is MP3 compatible, and shows MP3 song titles in its display. The unit has a display that allows the user to see wave data and cue points as they approach.
A built in beatkeeper gives accurate and instant BPM readouts. The built in processor allows creativity to be maximized. Key Lock allows users to change pitch +/- 100% yet still maintain the current key. Stutter allows the user to jump around the music instantly and still control the music via the vinyl record. Cue point storage allows the user to pop in a CD and jump instantly to stored points and not spend time cuing up. MIDI make this unit fully controllable in a studio environment.
Combined these features make the Numark CDX1 the ultimate DJ tool for the ultimate DJ experience!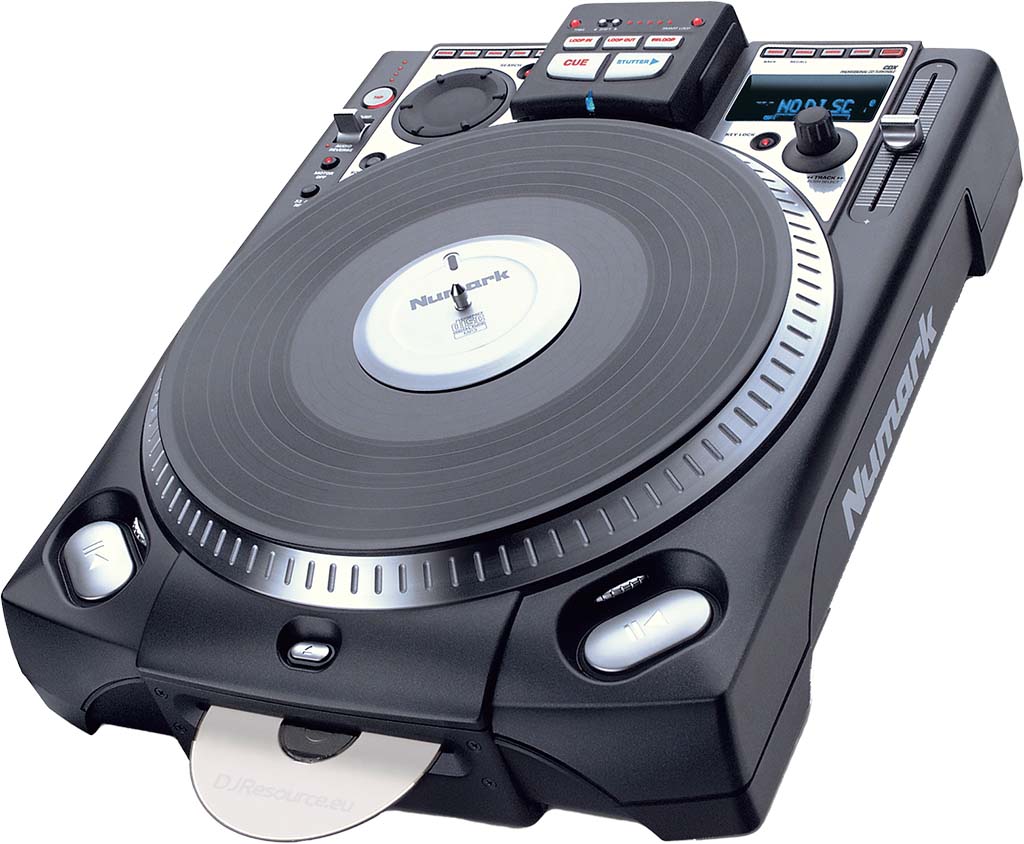 Specifications
Product Type
Compact Disc player with Analog Controls
Type of Discs
12cm
Disc Format
CD, CD-R/RW and MP3 CD
Quantzation
1-bit linear/channel, 3 beam laser
Oversampling
8x
Frequency Response
20Hz ~ 20kHz
Distortion
< 0.03 % (JEITA)
Signal to Noise Ratio line
85 dB
Output Voltage
1.3Vrms
Power Supply
AC 115-230V, 50/60Hz (voltage selector)
Dimensions
368 x 450 x 130mm (WxDxH)
Net Weight
103,9 kg

Turntable Section
Wow & Flutter
0.15% max
Speeds
33 & 45 RPM
Start- and Break Time
Adjustable 0.25 ~6 sec. (Break max 8 sec.
Torque
4.5 kg/m
---
The
Numark CDX-1
is styles on Numarks flagship TTX1 Turntable to give you the authentic turntable feel that you're used to when using an analogue turntable. The CDX1 has a full sized 12" Platter that is able to rotate at 33 AND 45 RPM. The torque is equal to the TTX1 and measures 4.5kg/cm using a direct driven engine
The record that lays on the Platter can be switched by another record when you drill just 2 holes in it. A slipmat is used to give you the exact Vinyl-feel. The CDX is as rugged and durable as the TTX turntable. All features are added that you would expect in a high quality turntable to make the user experience almost identical to the TTX.
The latest in digital technology is also added to make this modern CD players so much fun. The 48 seconds Shock Memory make sure that skipping of a tracks is nearly impossible. The CDX uses a CD Slot-In loading system so no trays or covers needs to be opened to insert a disc. This prevents also dust from getting into the CDX.
Extensive DSP Functions
The CDX has offcourse a lever for Forward/Reverse so the direction in which that track is playing can be reversed. Also the running speed of the platter can be set from No Rotations, 33 RPM and 45 RPM to match the feeling that you desire.
Included effect that are reachable by the effect buttons are :
Sonar, Slide, Filter, Echo and Chop
. All these effects can have the parameter match the BPM of the current track.
Loop & Stutter
With the press of a simple button you can let the CDX make a
loop, reloop
or start the loop over again. The CDX also has the possibility to cut the loop in parts (1/4, 1/2, 3/4 measure) just like you are used to doing this with effects.
The
Stutter
comes very close to Pioneers CUE function and works faster that the CDX's CUE function. To use a audio piece as sampler this is a good feature.
With the
Smart Loop
you own made loop (using Loop In and Loop Out) will be automatically quantisized to an accurate loop. With the + and - button this loop can be halfend or doubled in length.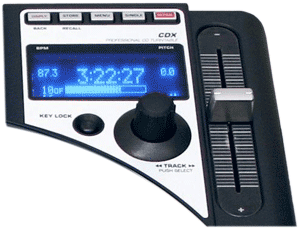 VFD Matrix Display
With this extremely
bright display
the CDX visualizes the important information on a clear way. A graphical bar shows you the Playing Address so you know exactly where you are in the current track. This display also shows you
Time Information, MP3 Song Title
and the
Function Mode
that is selected.
Next to the display is the
Pitch Fader
with which you can control the playing speed of the CDX1 and has a maximum scale of +/- 100%. Also a
Pitch Lock
makes sure that the Key of the tracks is kept to 0% position while changing the speed (by Pitch Fader or Pitch bending) can be changed. The possible pitch ranges that can be selected are 6%, 12%, 25% and 100%.
Full Feature List
Ultra–high torque (4.7 kg·cm) direct-drive motor

Full size 12" aluminum platter with vinyl record control

Slot–loading CD transport with CD–R/CD–RW compatibility

Integrated DSP effects include sonar, slide, echo, filter, chop, auto–pan, and auto–decimation

Multiple scratch modes for tricks and effects, also for MP3 files

Seamless loop with smart loop, live trim, and beat shifting

Built–in Beatkeeper™ with auto–synchronization of loops, effects, and MIDI devices

Bright VFD (Vacuum Fluorescent Display) shows BPM, time and unit status

Dedicated wheel for effects and search control

MIDI I/O for synchronization with drum machines and other MIDI devices

3,000 cue-point memory

2 hot stutter starts, with adjustable start and brake speeds

Dual "battle–style" turntable platter controls

Forward/reverse toggle with bleep

±6, 12, 25 and 100% pitch control

Key Lock at any tempo up to ±100%

Anti–shock buffer technology

S/PDIF digital output

Fader/remote start and relay play

User–updateable through Internet downloads

User–customizable slipmat

Dedicated microphone input with tone and level control

Phono/line inputs on both channels for adding additional devices
For more information : Numark CDX-1 in our Gearbase
---
What do you think about Numark CDX ??
Vote :
OK we understand you don't like ads (so don't we) but,


Please consider making this website possible by disabling your Ad Blocker.


Or become a Gold Member, they don't see ads.
There are 6 Comments

HipHopFlava
wrote on
13-08-2004
@ 07:17
SUPA !

DJ_Weiss
wrote on
22-04-2005
@ 01:33
This is truly the closest thing I have felt to a real turntable. If you
normally use the Numark TTX's it feels even closer. If you scratch alot
I suggest putting a better slipmat, and lighter weight record in place of the stock setup.
Also if you use the spindle (the pin that fits in
the hole on the record) to mix when using a turntable, you could
actually accidently unscrew the spindle when trying to adjust a mix
with this unit. I suggest you get used to mixing with the pitch
control, or carressing the platter. Numark has really shined throught
the competitors with this one.
Enjoy!!! Check out a
full Numark CDX review here

garth
wrote on
11-08-2005
@ 20:59
it looks good but i hope its not as problematic as the cdn 36 that i have

Nebula
wrote on
28-12-2005
@ 19:56
Hi guys, im having a problem with one deck reading CD tracklistings, any ideas how i can fix this ? also the same deck when ejecting a cd attempts to suck in another then reject then suck one it, in a repeated pattern. Hope you have some suggestions, Joe


Day-One
wrote on
28-04-2006
@ 08:35
wat moet ik hierop verzinnen...laten wij het op smaken verschillen houden..wat een poep ding!!
Create your FREE ACCOUNT now !
Using an account on DJResource has a lot of advantages such as:
Adding Content, getting Notifications, Like content, Downloading and Uploading Images and much more.
Sign Up
Create your account to get involved with the Community