Submitted by
Lead

on 09-05-2004 @ 15:05
This content is © 2004-2019 The DJResource...

Vote :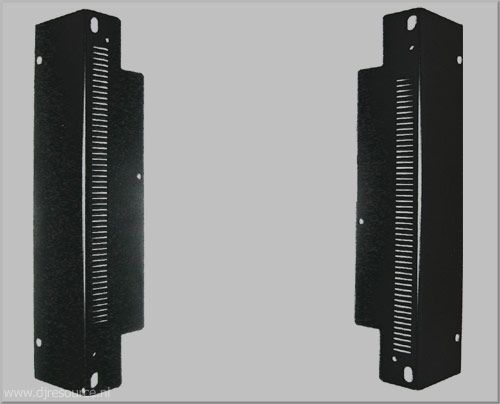 Once mounted on the mixer it looks like this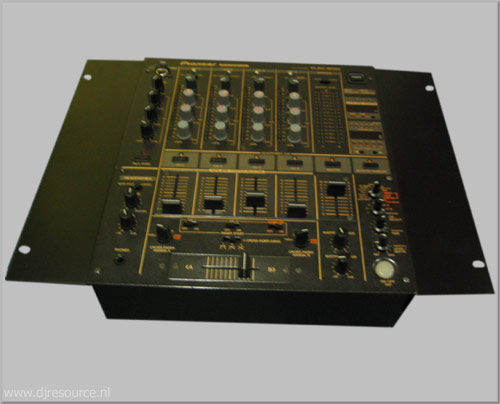 ---
| | |
| --- | --- |
| System | Adapter to make the DJM-500/600 19"width |
| Accessories | Screws and spacers that are needed |
---
You can also find this informations as a
PDF file in our downloads
.
The DJM-500 and DJM-600's depth matches the CDJ-1000(MKII)'s and Technics SL1200/1210 depth. The width does not need to be fitted to any piece of equipment because the DJM-500/600 is basically designed to be a table-top mixer. In most situations the DJM-500/600 is put on top of a table or desk to fit in between CDJ's or Turntables.
For those people that only have rackspace available or need the mixer to be mounted inside a flightcase Pioneer has developed that 19" DJM-Adapter. This kit is available as option for your mixer. Installation of this kit is very simple and can be done by yourself if you have the ability to hold a screwdriver.
A 19"rackmount is an installation rack that is exactly 19" (=48,26 centimeter) width and has a variable height. The height is measured in Units (HE) and each unit is 4.5 centimeter high.
---
The DJM-Adapter is available for both mixers. There is a very basic difference between these mixers regarding the mountability of this adapter. That air ventilation differs between the DJM-500 and the DJM-600. The ventilation slots of the DJM-500 are located on the back (gain)-side of the mixer, while the ventilation of the DJM-600 is near the font (Cross Fader)-side of the mixer. In the early days the DJM adapter was only available for the DJM-500. When mounted onto a DJM-600 the rackmount adapter blocks all air ventilation slots so the warm air couldn't escape the mixer anymore. So a new multi-useable DJM-adapter was designed with a ventilation slot that was big enough to fit onto the DJM-500 AND the DJM-600.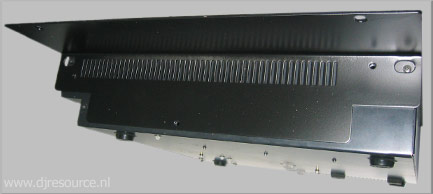 Since the DJM Adapter is useable for both models mixer this tutorial fits both. The only thing that is different is the location of the ventilation slots on the mixer. The holes in the rackmount fit the DJM-500 and also the DJM-600.
After unplugging all your equipment of the mixer you put it on a table on any of it's sides. You need to remove the special plastic plugs that are put in holes in the side panels of your mixer. These plugs are covering holes that are designed to fit on the DJM-adapter. The easiest way to do this is to put a small knife under the cab and lift it gently. You cannot damage anything if you do this in a rude way but it's a shame if you would carve your mixer when the knife slips of the plug. On the image is shown where the small plugs are located.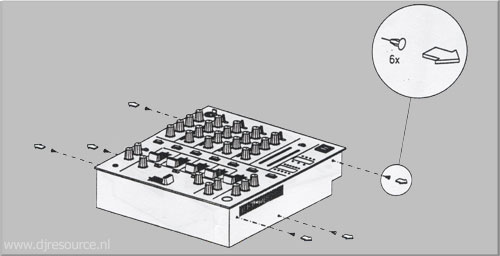 Basically it's as simple as placing the right side of the adapter to the side of the mixer and replace each plastic plug by a screw, a metal and a plastic spacer. All parts needed are included in the DJM adapter kit so there is no need to go and look for the right screws yourself. When you have some experience in doing stuff like this it wouldn't take you more then 15 minutes do perform the mounting of the adapter.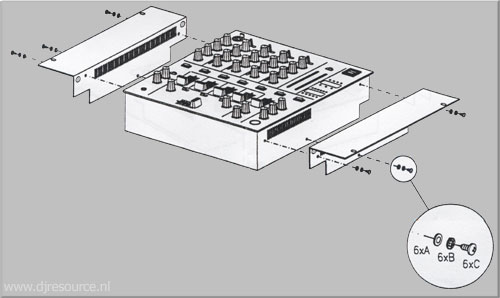 ---
What do you think about Pioneer DJM 19'' Rackmount ??
Vote :
Read other Linked Topics
OK we understand you don't like ads (so don't we) but,


Please consider supporting us by disabling your Ad Blocker.


Or become a Gold Member, they don't see ads.
OK we understand you don't like ads (so don't we) but,


Please consider supporting us by disabling your Ad Blocker.


Or become a Gold Member, they don't see ads.
There are 8 Comments

Gunner
wrote on
22-05-2005
@ 21:41
I have a question: Can I use the Pioneer DJM 19" Rackmount for a Behringer DJX 700? The DJX 700 is an exakt rebuild of the DJM 600


Lead
wrote on
14-06-2005
@ 08:40
I don't know, if they also copied the location of Pioneer screw hole, this could be done....


tairip
wrote on
26-07-2005
@ 00:16
lelijk man, maarja je moet wat als je 19'' rack hebt en je wilt de standaard!


Sicco
wrote on
31-08-2005
@ 20:26
Vind't zo idd geen gezicht.. misschien als ie ingebouwd is dat't heel nie opvalt..
Vraag me wel af of't sterk genoeg is, ma dat zal vast geen probleem zijn anders maken ze'm nie he..

the-melody
wrote on
11-03-2006
@ 21:15
is gewoon met de vijzen die in de mixer zitten dus dat is maar gewoon een "verlengstuk" zeg maar dus dat is stevig is hetzelfde als de mixer zelf buite dat het flappen heeft

DjLogan
wrote on
19-06-2006
@ 12:12
Je possede une DJX 700 de Berhingher et j'auré voulu savoir si il y'auré moyen d'dadapter un "Rackmout"


20100
wrote on
15-10-2006
@ 10:12
I'm looking for a rack mount 19" for a DJM-800?

Where can I buy one ?

Lead
wrote on
15-07-2007
@ 01:50
Yes... Also for the
DJM-800
there is a set of Rackmounts available at your local dealer (at least in Europe)
Create your FREE ACCOUNT now !
Using an account on DJResource has a lot of advantages such as:
Adding Content, getting Notifications, Like content, Downloading and Uploading Images and much more.
Sign Up
Create your account to get involved with the Community