Pioneer MA-62 6 Channel Audio Mixer (discontinued)
Submitted by
Lead

on 08-05-2004 @ 14:52
This content is © 2004-2019 The DJResource...

Vote :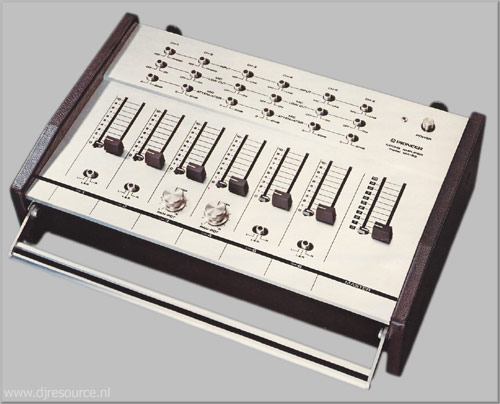 ---
System
6 Channel Audio Mixer
Power Requirements
Switchable 110, 120, 130, 220, 240V 50/60 Hz
Power Consumption
11W
Frequency Response
MIC : 20Hz ~ 15kHz
LINE : 20Hz ~ 25kHz


Signal To Noise Ratio
MIC : 52 dB
PHONO : 60 dB
LINE : 67 dB


Distortion
< 0.2%
Cross Talk
> 70 dB
Channel Seperation
> 70 dB
Channel Interference
< 1 dB
Dimensions
( WxDxH ) 400 x 264 x 132 mm
Net Weight
5.8 kg
Inputs
Mic
6 x DIN and Phone 0.25mV / 47k Ohm
Line
6 x Phone 50mV / 50k Ohm
Phono
6 x Phone 2.5mV / 47k Ohm
---
While wondering what the very first Pioneer DJ product might have been I discovered this product. Seems very basic to modern standards, but realise that this is a model that was introduced in
Februari 1974
.
The MA 62 is a 6 channel input mic/line/phono stereo mixing amplifier for use when professional quality multi channel mixing is required. It accepts up to six low impedance, high quality microphones and features two pairs of stereo outputs.
In 1976 the Pioneer MA-62(A) was released and braught into the market. Actually this is the follow up of the MA-62 and only differs in the case that the MA-62A is able to connect to 4 turntables while the MA-62 can only connect to 2 turntable at the same time.
Two of the six individually controlled input channels in the MA 62 accept phono signals as well as microphone inputs, while the remaining four are circuited for line or microphone use. This convenient arrangement means you can obtain a correctly balanced stereo or mono mixture of mic/line, mic/phono or even phono/line plus mic without changing input jack connections.
Special PAN POT (Panoramic Potentiometer) controls are provided on Channel 3 and Channel 4 to permit cross channel panning. Position selectors are provided on Channel 1, 2, 5 and 6 so that any or all can be switched to Left, Right, Left/Right (Center) output. Microphone attenuators ( 20dB) for all mic inputs, microphone low cut filters (switched for each channel) plus a master output level fader, stereo headphone monitor jack and other useful features are included.
The MA 62 is Pioneer's answer to the demands of discotheques, disc jockeys, small studios and amateur audio engineers for a versatile mixer of professional quality.

---
The Pioneer MA 62 mixer provides input facilities for up to six microphones. For extra versatility, each of these channels offers an alternative terminal for LINE or PHONO inputs. (Specifically, Channels 1 and 2 accept PHONO inputs; Channels 3 through 6 accept LINE inputs such as tape, tuner, etc) Each of the six channels is provided with a controlpanel switch to allow you instant selection of input source without changing jack panel connections.
Two of the six individually controlled input channels are equipped with simple to use panoramic potentiometers (pan pots). These continuously variable rotary pots (on Channel 3 and 4) allow free sound localization from left to right (or anywhere in between). All other channels (Channels 1, 2, 5 and 6) are equipped with location switches so that you can select Left, Right or Left/Right (Center) output individually.
Each of the six channels is provided with a switched microphone attenuator to instantly reduce signal strength by 20dB. This feature is useful in preventing saturation (clipping distortion) of microphone input signals.
Each of the six channels is also provided with a switched lowcut filter circuit for microphone input. These are useful to suppress undesirable low frequencies or "muddy" human voices.
The Pioneer MA 62 is entirely portable, operates from any AC power supply system and is engineered so that it adds absolutely no unwanted distortion or coloration to the sounds you channel through it. Its wide dynamic range and stability are totally reliable. Extra features include two stereo output terminals, pointer index markers for each of the six long throw faders (plus master volume fader), a "scratch board'' strip for jotting down reminders and a monitor jack for stereo headphones.
---
What do you think about Pioneer MA-62 ??
Vote :
Read other Linked Topics
OK we understand you don't like ads (so don't we) but,


Please consider supporting us by disabling your Ad Blocker.


Or become a Gold Member, they don't see ads.
OK we understand you don't like ads (so don't we) but,


Please consider supporting us by disabling your Ad Blocker.


Or become a Gold Member, they don't see ads.
There are 6 Comments

Luxx
wrote on
05-06-2007
@ 19:01
ziet er echt mega oud uit, en dat is et ook. maar wel tof om dit te zien zo

Rubenn
wrote on
14-11-2007
@ 21:14
OldSkool! xD

Tijnie
wrote on
13-01-2008
@ 20:52
haha toch een deftige evolutie van de pioneer gear

WalterRavensberg
wrote on
15-01-2008
@ 15:52
hoe het allemaal begon.... geen toonregeling, geen effecten, geen shit.... nee gewoon de goede plaatjes draaien.

JollyJunkie
wrote on
23-06-2008
@ 14:44
Men, als ik 2 keer zo vroeg was geboren bestond ik nog niet toen dat ding er was xD

maDJam
wrote on
31-08-2010
@ 16:05
Super cool! Never knew their DJ products go back to the mid-70s!

Create your FREE ACCOUNT now !
Using an account on DJResource has a lot of advantages such as:
Adding Content, getting Notifications, Like content, Downloading and Uploading Images and much more.
Sign Up
Create your account to get involved with the Community