Submitted by
Lead

on 19-05-2004

02:54
This content is © 2004-2022 The DJResource


Finally the time has come..... Parallel Dimension have made it possible for everybody. This is what your CDJ-1000 (MK1) is missing as feature, this is now available as software: the MMC Memory Merger.

The only thing that you need extra is a MMC/SD Card reader and this great piece of software developed by Parallel Dimension in cooperation with Ben Liebrand.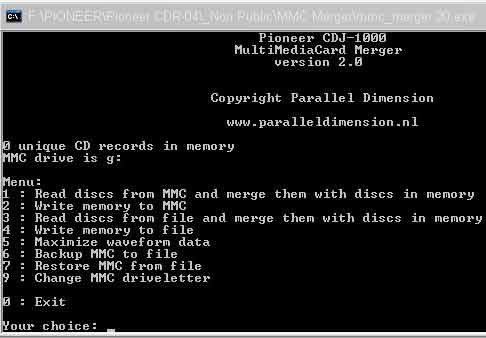 Download
MMC Merger v1.02 HERE
!
What is it ?
You know the situation : 2 CDJ-1000's and 2 cards with both different number of discs on it. With the CDJ-1000(MK2) you cannot merge them. Now your days of trouble are over. This dutch guy called Sander Cox developed a piece of software to synchronize your MMC cards with your PC:



Read multiple MMC's and synchronize : Load as many MMC's and synchronize on disc-level with the memory.


Write memory to file : Create a backup on your hard disk.


Read discs from file and synchronize them : Merge all to one file.


Maximize Waveforms : Increase the dynamic range of the displayed waveforms.

Check the Parallel Dimension website for latest updates.
What do you think about MMC Merger v2.0 for CDJ-1000(MK2) ??
Vote :
This content is © 2004-2022 The DJResource...
OK we understand you don't like ads (so don't we) but,


Please consider making this website possible by disabling your Ad Blocker.


Or become a Gold Member, they don't see ads.
There are 7 Comments

rossoday
wrote on
20-09-2005
@ 20:28
IS THIS SOFTWARE ONLY 4 PC? CAN YOU GET THIS 4 MAC








?

Lead
wrote on
21-09-2005
@ 08:37
At this moment it is only for PC. You also need a specific type of SD/MMC card reader.


banton
wrote on
31-08-2006
@ 00:50
Dus je kan 1 card kopieren naar een ander card via de pc ?

peter_white
wrote on
01-10-2006
@ 14:12
hmmm, i don`t know why, i can`t download this? what`s wrong?


Lead
wrote on
01-10-2006
@ 23:33
The download pops up. Disable your pop-up killer, or allow popups from DJResource.


DJTruth
wrote on
31-05-2009
@ 16:47
oeee super!:D Ik ga hem fftjes uittesten:D


DJ_Nos
wrote on
19-11-2010
@ 02:20
Excuse me, but what do you mean by that : 'You also need a specific type of SD/MMC card reader.' ?
Create your FREE ACCOUNT now !
Some parts of this website require you to login. Using an account on DJResource has a lot of advantages such as:
Adding Content, getting Notifications, Like content, Downloading and Uploading Images and much more.
Sign Up
Create your account to get involved with the Community