Submitted by
Lead

on 21-03-2003 @ 02:49
This content is © 2003-2019 The DJResource...
Vote :
DJ Lead
is listening to the name Jeroen Groenendijk and is born on the 18th of June 1973 in Gouda/Holland. At the time when he was still wearing his dippers, he already moved his fingers as if he was holding a pitchfader. And in his youth he molested the turntable of his father. The vinyl-fever was already beginning....
On his 19th Lead started 'for real' when he bought his first set of turntables. It was from a brand called JB Systems (
Disco 2000
). These where belt-driven turntables. For starters this is an OK-turntable: They don't cost much but will give you the opportunity to exercise around. And when you're good at these turntables you've sure going to like SL's. Finally it's a bigger art to play a good set with this kind of turntables than to play a good set on SL's. As a mixer I found the JB-Systems Pro16x a good choice. Nothing much on it accept for 4 line faders, but that's all you need to learn the basics.
When these budget-turntables didn't hold back any secrets anymore Lead was given the opportunity to play for real audience. The first gig was a small party together with
W.i.M
for friends held in a local club in Gouda (The Groove).
2 Years later, in 1996, Lead decided to buy 2 Technics SL-1200 and a Dateq mixer after DJing payed off. Added in 2001 were the Pioneer CDJ-1000's, and was always the most current MK. When in 2006 the Pioneer DJM-800 was launched the Dateq had to move out.

While his employer gave a crew-party in disco-theater
Locomotion
(Zoetermeer/NL) Lead got the chance to play a set of records. This was so much appreciate by the rest of the crew as well as to the resident DJ of Locomotion (
DJ Dennis
) that could play for the rest of the night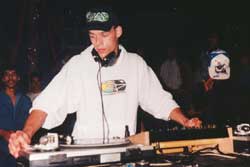 . This was in January of 1994 and was the beginning of the 4 years that Lead was a resident DJ of Locomotion on the famous 'HARDCORE FRIDAY's'. Every last Friday of the month this was the home base of a big gang of gabbers that went totally freaked out!
In July 1997 we (
DJ Paralizer
, me and some other guys) started to give our own parties in Utrecht called
Rough Cuts
. These parties were held in a boxing school called Brouwers. All arrangements were done by and Paralizer. These parties were held for 3 times. Every one of them was sold out for about 500-750 people. Offcourse there are more things that he arranged, but they are smaller for a selected few guests.
After this period there were a lot of bookings and things went quit well for Lead and his DJing. Many bookings and long weekends of playing records and followed. Bookings came from a lot of serious party organizations like :
Dance 2 Eden
(
Vechtse Banen
/ Utrecht)
Hellraiser (
Sporthallen Zuid
/ Amsterdam)
Rige Entertainment
(
Energie hal
/ Rotterdam)
Fun Factory (Amsterdam)
Hanover / Germany. Played on the
Reincarnation Rave
(300.000 people)
Pioneer
Festival Cruise on the Atlantic Ocean
Also in several disco-theaters Lead was present like :
Locomotion
/ Zoetermeer
Goldfinger / Rosmalen
Rebel / Gouda
Klaveet / Achterveld
City-Life / Reeuwijk
Schoudermantel / Odijk
In the early 90's you bought records that were labeled as 'House Music' (digital music didn't really exist yet). Because of Lead's wide interest in music his collection grew in all directions and flows.
The basics for this choice of records were made in the years that
Parkzicht (R.I.P.)
calibrated it's high-times. Finally that was the place where all basics of the House music as we know it today, was made with
Dj Rob & MC Joe
,
Paul Elstak
and the Dark Raver. If Parkzicht had not excised, it's imaginable that the music of today had a different sound.
In the late 90's music got divided into sections and if Lead's style should be described it can be in any of this genres :
Old School, Classics, Mellow, Club, Trance, Techno and (early)Hardcore
.
"What the future brings nobody knows, it is certain that in the house music there will be a new direction. The Hardcore as we know it will be redesigned to smaller locations and a more selective crowed. It will be more in the 'underground'. This does not mean that it dies..... Hardcore is in your blood... For Life.

A new direction, it doesn't have to be negative, it's what you make out of it !!"
DJ Lead - may 1998
And in 2003 Lead's still has to play quit regularly. Because of the ever changing flow of music also Lead's styles have been widened. Offcourse besides all the old-stuff Lead also likes to play then new
Hardstyle and Hardtrance
. The music industry is constantly on the move and as a good DJ one should adapt to the modern culture.
Also a DJ has got to feel the vibes from the audience and set his record-choice to what the people at that gig like best. A lot of DJ's prepare a complete set: the order of records and the places where he makes a mix are set in advance. This is NOT the way it works. Lead believes that one that prepares himself cannot work with the audience. If for some reason a specific type of music makes the dance floor empty it's time to put a different kind of records on the turntables. If a set has been prepared this involvement with the audience does not exist... And a DJ may never forget that the audience are the people he plays his records for.....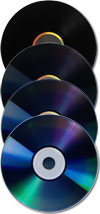 Learning the basics on vinyl is an excellent start into DJing and it's something I would recommend everybody. Until you get to the point that vinyl doesn't hold any tricks anymore. There is always that indescribable feeling of dealing with 'the-real-thing' when you play with vinyl, but other than that you cannot do much more than handling the mixers EQ's.
After Pioneer introduced their CDJ-1000-series (
MK1
,
MK2
and
MK3
) things have been changed. With a CDJ you can now handle like vinyl but don't have the disadvantages like rumble/hum, skipping, cracks on records etc. Technology today is so far that besides the show effect nothing cannot be done on a CD deck, weather this is a CDJ or perhaps a
Numark CDX
or a Denon DN-S3500.
CD offers vast advantages as it is skip proof (if you burn you CD's the proper way: slow), accurate and fast. It also has new stuff like Hot-Cue's, Loops and instant reverse (try any of these with a turntable). But the final decision to go digital was an emotional one as the feeling of running through your record cases is totally different than selecting the next track from a CD. My personal believe is that the CD decks are now at a level to offer an even match for vinyl when it goes for the basics, if you want more: CD is the way.
Lead's turntables are not much used nowadays, which is a bit of a shame as there are a lot of things tweaked about it :
Lead figured out this modification by himself, also read the DJ Topic about the
Lead's Technics SL1210LTD
.
His SL's were called masterpieces by many people that saw them. The exterior of these machine got a total renewal. The color and structure of the deck is granite. (They got the color as well as the rough feeling.) The 33/45 rpm LED's and the stroboscope changed color from standard red to blue. The pitch LED changed from green into red.
The red LED on the place of the green zero-pitch LED is also the trademark of the modification that was found by . With this modification it is possible to have a seamless pitch over the whole pitch-area. Including the area around the 0% pitch ! No more click, no more trouble, just relaxed pitching at every pitch. 's turntables were the first worldwide that were ever modified.
The SL's also got a build-in reverse-kit so it's possible to let the SL turn counter clockwise when you double-click the start/stop button.
Also there is a switch that switches between standard pitch-range and the +/- 16% pitch-range. When playing regularly the range is set to the standard pitch-range. But when a record can't be mixed because the pitch can't be reached you can switch over and mix in the bigger pitch-range.

Lead has succeeded at the MTS-Electronica (technical scholarship) and has been involved in the professional audio industry for a long time. The real first touch of it was tasted during a stage at the Stadsomroep Utrecht in 1995. After that from
1996 until 2000
Lead worked full-time for a pro-audio selling company called
Heuff Sound & Vision
. This was the place where Lead's interest was created for professional audio systems. Lead's first job was to start the sales of DJ equipment at Heuff as they we're not doing that at that time. In this company Lead started a DJ-Gear department and got all freedom when it got to purchasing and/or selling equipment. The DJ shop went really well so the job was secured. In this new position it was also necessary to learn to DJ with CD-players. Also Lead went through some audio training's and studies to improve his knowledge.

And in 2000 something changed. Lead was approached by Pioneer because they had a function free as the
Dutch sales representative and Product Specialist
for the
Pioneer Pro-DJ products
. This was an offer that could not be turned down! But it costs it price. Because of other interests and more thing to do playing records got into the second place of his life. Previously DJing was the most dedicated things that he could do, but times changes. In life it's all about priorities and now Pioneer is the highest : all bills got to be paid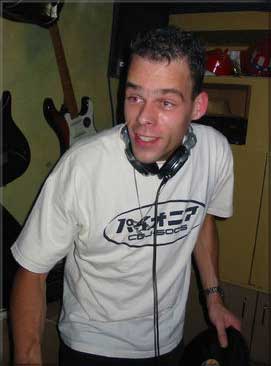 Somewhere in the beginning of the year 2002 Lead started to use a PC and programs like Cool Edit Pro, Making Waves, Wavelab and Acid Pro. The first productions are in a style you might not suspect : R 'n B ! Don't think Lead would ever mix this music on records or CD's, but in the computer this is a very good style of music to mess around with. Just check out what Lead's made of it, you just might like it..... You can find most of them in the Downloads (or click
HERE!
)
On this website I made a
Personal Gallery
with some of my pictures. You should keep an eye on the
Forums
on this site to know the gigs and also check out the Photo Gallery where you also find a party section or Lead's personal gallery.
---
What do you think about DJ Lead's Story ??
Vote :
OK we understand you don't like ads (so don't we) but,


Please consider supporting us by disabling your Ad Blocker.


Or become a Gold Member, they don't see ads.
OK we understand you don't like ads (so don't we) but,


Please consider supporting us by disabling your Ad Blocker.


Or become a Gold Member, they don't see ads.
There are 5 Comments

michel
wrote on
04-04-2004
@ 21:17
tof hoor keep it up

Lead
wrote on
10-07-2005
@ 23:59
Be sure to check
Lead's Section
in the
Downloads
!
[
11-07-2005
]
DJ Lead playing at Ghosttown :
Check it out

DjEternity
wrote on
11-07-2005
@ 23:42
zalig man ik ben ook begonnen me 2 draaitafels van jb systems en jb sys mixer


Lukaz
wrote on
17-08-2005
@ 17:44
wreed... kan je mis wat tips naar me sturen?

Cyspoz
wrote on
08-02-2007
@ 08:25
Nice Lead!
Create your FREE ACCOUNT now !
Using an account on DJResource has a lot of advantages such as:
Adding Content, getting Notifications, Like content, Downloading and Uploading Images and much more.
Sign Up
Create your account to get involved with the Community