Submitted by
Lead

on 01-08-2003 @ 00:03
This content is © 2003-2020 The DJResource...
Vote :
To play a record backward on your SL you only have 2 possibilities. You could install a Reverse Kit (like I did on my SL) or you could do this to old fashion way. The old fashion way is actually a trick that is done by DJ's for a long time. The only thing you need are :
a roll of Gaffertape
(duck-tape or cloth tape), or something else that could be used to lift the record....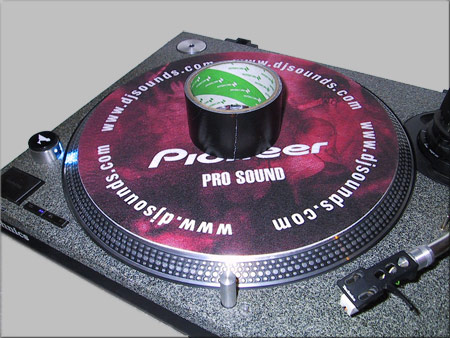 Lifting the Record
First we're going to start this little trick by grabbing something that could be used to lift the record for about 5 centimeters. The record that we're going to put on top of it should be higher than the height of the arm while it is in the arm-rest.
When I used this trick I used a roll of
Gaffertape
(cloth tape, preferably from the brand
Nichiban
). Using tape has an advantage, it's a little bit sticky on the sides so it
sticks a little bit
to the slipmats and to the record. This way we prevent it from sliding when you accidentally hit the record.
Place the Record
When you put the record on the roll of tape make sure it's exactly in the center. This is not really necessary but it make the aligning of the record, which is really import a lot easier.
When you press play on the SL the record should be in the
perfect center.
of the platter. When the record is not at the exact center. the sound will be a little bit winding and not sound as if it was played on a steady speed. There's no easy trick to do this, just exercise...
Rotate the headshell
After you've centered the record you have to rotate the headshell 180 degrees.
In order to turn the headshell you've got to loosen the ring that locks the headshell, pull the headshell out of the arm, rotate the headshell half a turn and than put it back again.
Positioning of counterweight
Next step is to put the counterweight at the back of the tone-arm all he way to the back.
Before touching the weight use the clip to secure your arm.
Now turn the weight around so it moves to the back. This was like the final step to this trick, if all went well your deck will now look something like this...
Put the needle to the record
You now only have to put the needle to the groove.
Because you want to play a record backward you'll have to start the record near the center.
Watch out not to scratch your record !
---
There are 10 Comments