Pioneer DJM-3000 4 Channel Rackmount Mixer with Effects
Submitted by
Lead

on 22-04-2003 @ 12:52
This content is © 2003-2020 The DJResource...

Vote :
To ensure the widest possible music-making flexibility, the
Pioneer DJM-3000
is equipped with an industry-first EFFECT MIX MODE that easily and accurately effects phrases in a BPM-linked operation along with an improved auto beat effector. In addition to ECHO and ZIP Pioneer has come up with another industry first effect that has been named "Roll". This runs a mix while changing the pitch of the song up the chromatic scale to the beat of the music. A new feature which allows the DJ to take his/her music to a new level!
The unique optional Rotary Fader Panel adds another handling to your mixing.
In essention the DJM-3000 is a stretched version of the
DJM-600
with these differences :
-
19" rack mountable
-
No Sampler
-
Special Effect Mix Section
-
Optional rotary kit available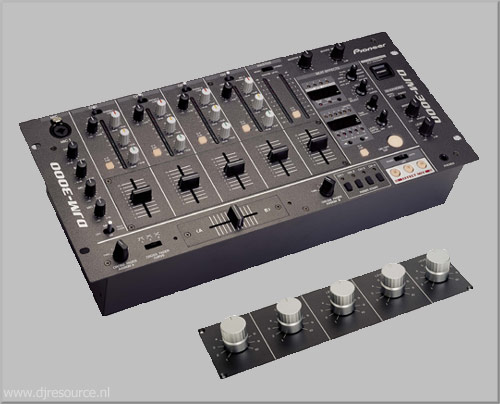 Specifications
Frequency Response
20Hz ~ 20kHz
Distortion
0.02 %
Signal to Noise Ratio line
Crosstalk
>70 dB
Power Supply
AC 220-240V, 50/60Hz
Power Consumption
34 W
Dimensions
482 x 220 x 107 ( WxDxH ) 5HE
Net Weight
6.9 kg
Input Specs & Terminals
CD
3 x (RCA)
Line
4 x (RCA)
Phono
4 x (RCA)
Mic / Sub Mic
1 x(Combi Phone/XLR)
2 x(Phone Jack 6.3)
Faderstart
4 x (mono mini JACK)
Return
2 x mono (Phone Jack 6.3mm)
Output Specs & Terminals
Master Out 1
1 x (XLR) +2 dBu / 600 Ohm
1 x (RCA) +2 dBu / 10k
Booth
1 x (RCA) 0dBv / 600 Ohm
Record
1 x (RCA) -8dBu / 10k
Send
2 x mono (Phone Jack 6.3mm)
Headphone Monitor Out
1 x (Jack 6.3mm)

Channel Equalizers

Low Frequency

-26 ~ +6 dB @ 100Hz

Mid frequency
-26 ~ +6 dB @ 1kHz
high Frequency
-26 ~ +6 dB @ 10kHz

Microphone Equalizers

Low Frequency

-12 ~ +6 dB @ 100Hz

high Frequency
-12 ~ +6 dB @ 10kHz

Sampler

Sampling Rate
44.1 kHz
Resolutions
16 bits stereo
A/D Converter
20 bit
---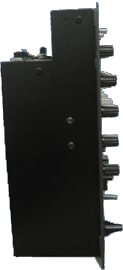 As like the
DJM-600
the DJM-3000's backside is shaped like you can see on the picture. This way the connectors in the rear are not taking another 1 HE of rackspace...
Most mixers only have analog output, so this feature increases the options by allowing DJs to connect to a digital PA system, MD or DAT player, or any other device with digital input.
Just like the DJM-600, the
DJM-3000
inherited from it's little sister all it's effects including Delay, Echo, Auto Pan, Flanger, Pitch Shifter Reverb, Auto-Transform and Auto-Frequency Filter ALL of which are auto BPM effectable!
Linked to BPM, the DJM-3000 can add effects to each input (CHANNEL, MIC and MASTER) independently. The user can produce music that makes full use of high-level DJ techniques by performing quick setting with the
BEAT UNIT SWITCH BUTTON
, adjusting the precise time parameters, or controlling the balance between the effect sounds and the original sounds by varying the mix ratio. Moreover, even when using the fader, it is possible to leave just the effect sounds without linking to BPM.
DELAY - Produces repeat beat effect.
ECHO - Repeated sounds that fade for echo effect.
PAN - Automatically switches sounds between left and right speakers.
TRANSFORMER - Cuts sounds at requested beat.
AUTO FILTER - creates effects by manipulating sound frequencies.
FILTER - Creates effects by manipulating sound frequencies.
FLANGER - Produces an electronic wave effect.
REVERB - a range of reverberation effects.
PITCH SHIFTER - Manipulates music pitch within +/- 1 octave.
SEND/RETURN - Connects available peripherals (external effects input/output).
AUTO BPM - Beat measurement, from 70-180 BPM.
Easily and accurately effects phrases in a BPM-linked operation.
Connected to the CDJ and CMX Series, the DJM-3000 can begin playback of a track using the sliding cross fader or the channel fader. It can mix tracks without creating spaces by setting the stand-by track's cue point and performing a single-action cut-in. Since it returns to the cue point via the back fader alone, sampler-style playback is also possible. The cross fader also has a selectable fader curve to fit all styles of Dj'ing.
Pioneer now gives the DJ the option to change the faders on the DJM-3000 to rotary faders. To purchase this option just contact your local PRO DJ dealer and quote DJC-3000RV - the rotary fader option should be installed by a Pioneer approved service center. But any reasonable klever guy can do the trick...
For those Clubland purists there's an added ability to purchase an optional ROTARY volume dials for smooth club mixing. Changing the fader-panel to the rotary-panel is a fairly easy job, you can ask the shop where you buy the mixer to put it in for you...
Beat Indicator shows when the required beat is linked to Auto BPM.
Adjustable Talk Over level control - mutes all levels apart from microphone.
Mic Switch (Mic Off/Mic On/Talk Over)
7 Line Inputs
4 Turntable Inputs
Switchable Phono/Line Inputs
4 Fader Start Inputs
3 Mic Inputs (1 x Neutric, 2 x 1/4 inch)
Headphone Monitor Split/Headphone auditioning
Recording outputs
Reinforced headphone jacks
---
What do you think about Pioneer DJM-3000 ??
Vote :
OK we understand you don't like ads (so don't we) but,


Please consider supporting us by disabling your Ad Blocker.


Or become a Gold Member, they don't see ads.
There are 6 Comments

Donzie
wrote on
19-09-2006
@ 19:39

djmaarten
wrote on
13-01-2007
@ 18:40
ja maar de nagemaakte van sinq is beter uit de test gekomen en een stuk goedkoper heb hem zlef ook en werkt wel lekker

Jori
wrote on
18-04-2007
@ 13:19
Hoe duur is ie?
Ik wil graag de smfx-500 kopen maar mischien is dit een betere optie. Mja zal wel heel duur zijn

djsummerlove
wrote on
14-09-2007
@ 21:55
deze mixer gebruik thuis en voor me drive in en met twee van de cmx 3000 super set

brecht
wrote on
15-09-2007
@ 10:08
De mixer kost 1200 euro! Hij lijkt wel beetje op synq smx-1, maar dit is toch wel iets de duur

djmaarten
wrote on
05-11-2007
@ 21:26
de sinq is veeeeeeel beter..
Create your FREE ACCOUNT now !
Using an account on DJResource has a lot of advantages such as:
Adding Content, getting Notifications, Like content, Downloading and Uploading Images and much more.
Sign Up
Create your account to get involved with the Community