Submitted by
Lead

on 01-05-2007

21:05
This content is © 2007-2022 The DJResource
Prepare the Ground Wire
The best replacement Ground Wire has a copper core and a diameter of about 0.75 or 1mm. This is a lot thicker than the standard wire so it should keep up for a lot longer. Cut the ground wire at the same length as the signal wires and strip about 1cm at one end and 5mm at the other end.
At the 5mm end to need to apply some tin with the solder weld so all copper is drained with tin. This end will be mounted to the circuit board.
The other 10mm end will be used to connect to your turntable. Some prefer the open end, but there is a downside to it. When you use the open end and you need to connect the turntable to a lot of different mixer, you'll notice that the ground wire will get shorter and shorter because each time a few copper wires will break off... and at the end you'll need to strip it again.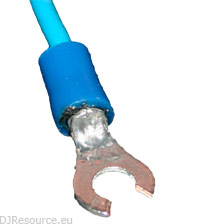 I would go for a better solution : mounting a connector to the end. I used a small round one and cut a gap in it so you can slide it over the ground screw thread of the mixer.
Fold 5mm of the 10mm end so you get a short thick end and twist this as good as you can. Get this end into the connector so that you cannot see any copper where the wire is inserted into the connector.
Now heat the connector from the from with the solder welt and apply a decent amount of tin on it. Make sure the wire is soaked with tin so the connection of held firmly on its place. Check this by trying to pull the wire out of the connector, it can better break now than at a later moment

Assembling
Now all work is done all has to be assembled again. This goes in the opposite order
Mount the Cover Plate with the 2 smallest screws.
Feed the Cinch connectors through the hole one by one, avoid cuts by the Cover plate in the Signal and Ground wires.
Mount the Cord Spacer first
Fold the wires over it
Mount the Cord Clamper and screw it firmly at it's place
Re assemble the base.
If you forgotten the location of some screws, check the image (enlarge it) that is in this topic.
There are 5 Comments