Submitted by
Lead

on 20-08-2006

21:08
This content is © 2006-2022 The DJResource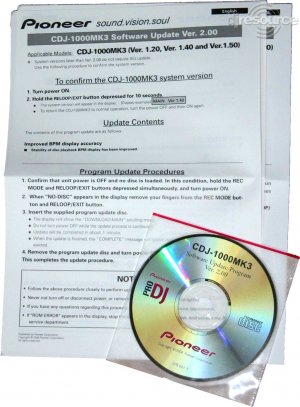 If any new firmware will be made available for Pioneer top-range (CDJ-800MK2, CDJ-1000MK3 and DVJ-1000) this is the way to handle to perfom the update. The pictures used in this topic are from an update with the CDJ-1000MK3, but it works the same way for the other models.
Always first check your current version before you try to upgrade, only upgrade if your current version is lower than the version on the official website :
Burn disc from ISO After downloading the ISO file, use your regular CD burn program to burn a proper disc. Don't put the .ISO file on a CD-R disc, but use the option : 'Burn disc from ISO'.


What does it do?

Remove any SD/MMC card (not for CDJ-800MK2) and CD.
Turn the player OFF
DVJ-1000 and CDJ-1000MK3 : Hold Rec Mode and Reloop/Exit while turning it on. CDJ-800MK2: Hold Beat-2 and Time Mode/AutoCue while turning it on. Hold both untill you see 'No Disc' in the display
Insert the Upgrade CD with the latest firmware version
The CDJ/DVJ will load the firmware. DO NOT TURN OFF while loading, this might damage the CDJ perminently.
The upgrade is done when 'COMPLETE' is indicated in the display.
Remove the upgrade disc and turn the power off.
There are 14 Comments