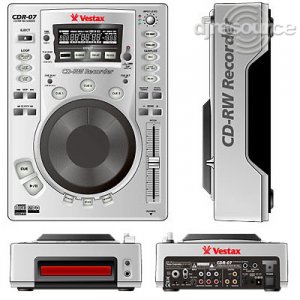 The world's first professional rewritable audio DJ CD recorder. Full spec DJ functions combined with a high-grade recording system, allowing DJs and musicians to record real time in the studio, at home and on stage.
The Vestax CDR-07 can record any kind of music and sound to CDs, with the world's most diffused digital media, using only one cable in real time and with DJ beloved features such as +/-100% tempo control, master tempo, scratch mode, cue mode, sampler, mp3 readable and built-in effects. Play, record and copy, all in one to enjoy and create music on the go.
INPUT
• LINE/PHONO STEREO × 1 RCA
• MIC/INST × 1 1/4inch HEADPHONE
OUTPUT
• LINE OUT STEREO × 1 RCA
• MONITOR STEREO × 1 RCA
• DIGITAL OUT × 1 RCA
• DIGITAL THROUGH × 1 RCA
FOOT SW JACK
• TRACK × 1 1/4inch PHONE
• REC/PAUSE × 1 1/4inch
FADER START
• MINI PHONE JACK
TT-LINK
• TTM-1 CONTROLLER


Input and Output section

The analog input/output section comes with variable connections. Simply plug in your mic, electric guitar, turntable or CD player directly into MIC/INST or PHONO/LINE input and record. Output comes with MONITOR OUT and headphone connections.
CDR-07s digital connections come with COAXIAL digital input/output (IEC60958 TYPE II) and DIGITAL THROUGH OUT. This output not only sends out the digital input, but converts analog to digital allowing you to record with other digital devices at the same time.


Multi Track numbering system
This system enables DJs and musicians to number tracks during non-stop remixes and live performances. Auto level mode, which numbers tracks automatically by searching the start point of the track, and Time stamp mode which numbers tracks automatically at a set time. Also a footswitch can be used to increase the track number.
Recorder Section
The newly designed CD record mechanism has a 24bit A/D/A converter. Reads and plays CD-R, CD-R-DA, CD-RW and CD-RW-DA.
The rewrite section allows users to erase the whole disc or only the following tracks after the selected one and also un-finalizes discs with its un-finalize function for free music production.
Professional DJ Interface
Back cue, pitch bend and scratch with the touch switch JOG wheel. If you want specific nuances and control for scratching, connect TASCAM's TT-M1 to the TT-LINK on the rear panel and attach it to PDX turntable. You will have full control of the sound source and the CD with the turntable, like you always do with vinyl.
Pitch Control & Independent key control
Pitch ranges are selectable from (0, +/-6, 10,50, 100%), equipped with a 100mm stroke pitch fader.
The JOG wheel has +/-10% key control that allows you to adjust the sound in the mix, and to give vocal sounds a harmonized effect.
Disc Memory
A feature beloved by mobile DJs that saves up to 100tracks worth of track lists, CUE points and LOOP points. The data recalls instantly when the same CD is played again. (Savable Data: DISC ID, CUE points, LOOP points, BRAKE, Master tempo, Play mode and TAP)
Master Tempo
8 secods sampler, can be used over the playing track
4 cue points can be set

CUE 1,2,3 can be played instantly with the CUE play mode, just like using a sampler.
MP3 readable with the 320kbps MP3 encoder.
Digital effector and BPM counter
Flanger, Filter and Digital Delay (max 3.5sec) effects built in.
With EFFECT SYNC, the auto BPM counter counts the BPM and synchronizes the effects to the beat.