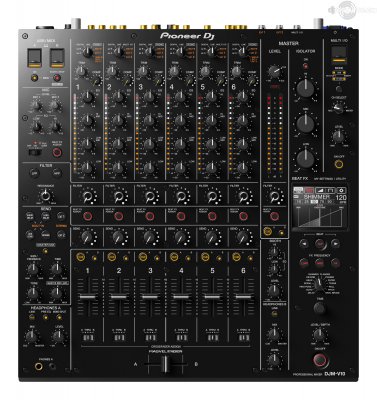 Today Pioneer DJ launches a new top-end mixer, the DJM-V10. The DJM-900NXS2 stays in our assortment, the V10 is the new top-model.
The DJM-V10 is a 6 channel club/touring mixer with 4 band EQ and is positioned above the current DJM-900NXS2. A lot of attentions is given to the mixer during development to give the mixer a warm and naturlal transparent sound. The V10 uses 96kHz/64bit internal procession and has high quality 32bits AD/DA converters. Each channel has a digital input, there are 4 turntable inputs and every channel can be used as a return channel for your effects. So on top of the internal or an external effector you ca use the effects build in the V10.
The Master Isolator is modelled to the DJM-1000 and then fine tuned to fit todays audio landscape, so on top of EQ per channel you have EQ isolators.
Every channel has LPF/HPF filters independent of the normal filter/Send FX and LPF&HPF filters. The Filter/Send FX is comparable with the Color FX of current models and can be used on top of the LPF/HPF filters. Big difference is that the parameter per channel work from the 0 position (left bottom) and not from the 12 o'clock (center top) position. There are also 4 parameters you can set for the Filter FX.
With Master Mix the filters are applied to the master directly, when Master Mix is not selected you can return the effect on any channel that you want.
There is the possibility to connect 2 external effectors that can be used with the Filter/Send FX controls. BPM effects are now assigned with a push button instead of the rotary selector that we've been using for years. The BPM Effects have a touch screen display to show information and to control the effect parameters, also there is a new effect called Shimmer. Also the settings on the mixer can be stored and loaded to a USB so setup the mixer after a DJ change is easy.
There is a compressor on each change that can be used when you are playing vinyl rips in the mix with modern mastered tracks to bring the level in balance. You can better keep it deactived for modern mastered tracks at those are effected only a little bit. There are also 2 completely separate headphone connection with both their own selector and controls.
Other Features
4 Color FX + 2 Send FX per channel adjustable
14 BPM Effects
Compatible with Showkontrol, Rekordbox DVS, Traktor DVS and Serato DVS
Magval Crossfader
Monitor output with loq/high eq setting
MIDI output
VU meter logics are redesigned for better adjustment of the levels
Improved faders, also Crossfader assign switches now have white background for better visibility in the dark.
Price and availability
The DJM-V10 has a SRP of 3299,- euro INCL
The V10 will be available from March 2020