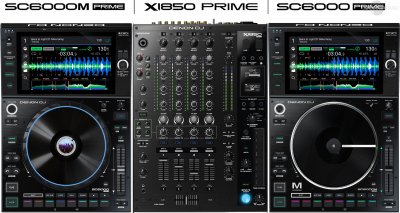 Denon DJ has just announced their new SC6000 and SC6000M professional DJ media players and un-compromised X1850 PRIME Mixer. Both standalone media players feature a 10.1-inch touchscreen, Wi-Fi streaming, internal HDD drive bay, large 8.5-inch jog-wheel plus performance pads with sophisticated design illumination. The technologically advanced, DJ-booth centrepiece X1850 mixer represents an incredible technical and creative experience for 4-channel, pro-grade audio, mainstage DJ mixing.
Advanced Touchscreen UI
The SC6000 and SC6000M PRIME feature a stunning, high-definition 10.1-inch touchscreen with gesture support. DJ's can navigate, reorganise, filter and search their music with an on-screen keyboard plus view dual-layer playback of track waveforms.
Wi-Fi Enabled Music Streaming
Both SC6000 and SC6000M have built-in Wi-Fi and wired internet connectivity enabling DJs to play music from partnered music streaming services, Beatport*, Beatsource*, SoundCloud* and TIDAL (customers receive a FREE 3-month trial subscription to TIDAL HiFi).
Ever-Evolving software
ENGINE OS is the performance power inside the SC6000 and SC6000M, packed with industry first standalone features like on-the-fly music file analysis, on board track preview, plus class-leading timestretch and musical key change algorithms. With a proven track record of continuous feature upgrades, ENGINE OS is unmatched in the DJ industry.
Jog Wheel Essentials
The SC6000's solid, 8.5-inch platter brings a large, 'hands-on' surface area for positive and tactile ease-of-use, plus has a precise-feel, smooth tension adjustment for customising to a DJ's preferred response.
SC6000M – Legacy DJ Vinyl Platter Control
The SC6000M has a die-cast aluminium 8.5-inch motorised platter with newly-designed, 'quick-release' vinyl. It offers turntablists ultra-responsive platter control, powered by a brushless DC electric motor, customisable with adjustable torque range adjustment.
X1850 PRIME - Command the Mix
The rugged all-metal build, X1850 4-channel mixer has multi-assignable digital and analogue inputs to handle any mainstage DJ gig. With a defined high-visibility EQ section, 16 enhanced Pro-Club BPM Effects, Filter/Sweep and new FX Quantise control, DJs can easily sculpt beat-grid accurate sonic elements. The X1850 channel faders have positive tension, smooth throw and optimal stability. In addition, dual-USB inputs and two dedicated mic channels add to the essential DJ workflow features with the crisp, OLED screen handling FX parameters and customisable performance options.
Control Serato DJ Pro Both
SC6000 and SC6000M bring advanced control of Serato DJ Pro. This enables touchscreen navigation and flexible hardware control of all Serato DJ Pro FX, filter and performance features (future update).
SC6000/SC6000M Features

Flagship standalone professional DJ media player powered by Engine OS


HD 10.1" touchscreen


Built-in Wi-Fi and wired internet connectivity for music streaming


Responsive rubber button performance pads with sophisticated design illumination


Built-in internal HDD drive bay to store music onboard


8.5" jog wheel with large surface area for platter manipulation


Locking IEC connector for secured power cable


Best-in-class timestretch and musical key change/sync algorithms


Standalone Track Preview


Serato DJ Pro controller mode (future update)


Internal, on-board analysis of music files (including Rekordbox™ collections)


Dual-layer playback with independent analogue/digital outs


StagelinQ connection for Event/Pro DJ lighting and video control


Plays uncompressed audio formats (FLAC, ALAC, WAV)
SC6000M adds


8.5'' motorised-platter with torque adjustment


New vinyl design with quick release lock


Motor spin on/off control
X1850 Features

4-Channel, multi-assignable input, Pro DJ Club Mixer


24-bit/96kHz digital output for uncompromised audio quality


16 pro-level BPM FX with new FX Quantise control


MIDI-Start-with-Clock feature for syncing external instruments


Defined visibility, expressive 3-band EQ section


Rugged, smooth channel line faders


Channel dedicated Sweep FX and Filter


Crisp, OLED screen for FX editing and preference adjustments


Tension adjustable, Denon DJ 'Flex-Fader' Crossfader


Dual-USB audio connections for software and audio devices


Serato DJ Pro upgrade ready (future update)


(2) dedicated XLR (¼" combo) mic inputs with EQ/Level/talkover


5-Port LAN Hub for network & StagelinQ Event lighting/video connectivity
Gearbase : Denon X1850, Denon SC6000, Denon SC6000M