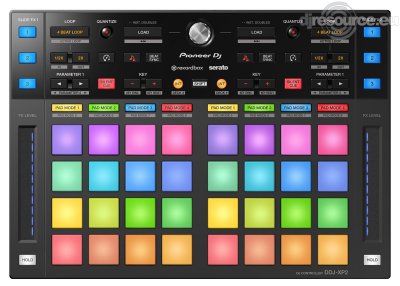 Today Pioneer DJ announces the successor of the DDJ-XP1, the DDJ-XP2. The new DDJ-XP2 has all the features and possibilities of the XP1 but supports both Rekordbox DJ and Serato DJ Pro.
The DDJ-XP2 is a controller for software on a computer and adds additional controls that can be used for several performance features.
The XP2 has 16 performances pads per deck that can be linked to different features like: Hot Cues, Pad FX, Beat Jump Sampler and such.
You can assign the functionality of the performance pads with the row buttons above them. The biggest optical differences with the XP1 is that on the DDJ-XP2 the names of these assign buttons do not carry the names of these functions but have a more generic naming. This makes it easier for the controller to be used with different software platforms.
Also the Performance pads can be used for the new Transport Mode, with this mode the pads can be used for playback functions like: Play, Pause, Pitch up/down and such.
The DDJ-XP2 itself oes not have an audio card build in so other than the XP2 you also need something that can send out sound like a NXS2 setup or anyu other controller like DDJ-800 or DDJ-1000(SRT).
The XP2 is shipped including a license for Rekordbox DJ.
Price and availability
The DDJ-XP2 has a SRP of 329,- euro including VAT (EAN 4573201241740)
Available from October 2019