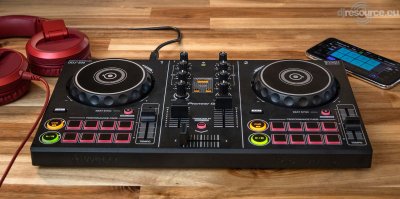 Today Pioneer DJ announces our latest and most compact controller in the range, the DDJ-200. The DDJ-200 is comparable with our bigger controllers in terms of layout and is the successor of the DDJ-RB, our smallest controller. The DDJ-200 is primary designed to be used with a smart device. A phone or tablet can be used to mix tracks from iTunes with WeDJ, our mobile DJ app.
Also with the DDJ-200 you can stream music, subscription available separately, from the new Beatport Link or Soundcloud Go+. If you use the Djay app from Algoriddim you can also stream tracks from Spotify. Not only Djay and our own app are supported, there is also support for Algoriddim Djay, Edjing etc.
Ofcourse you can also use the DDJ-200 with the Performance mode of Rekordbox DJ, the DDJ-200 unlockes the dj features of rekordbox as soon as you connect it to the computer via USB. This is what is meant with the USB Dongle feature. The DDJ-200 does not have a sound card onboard so you always need to select an external soundcard (like the one of your phone or computer)
Features WeDJ
Tutorial Mode (Pop Hint): A lot of features have an in-app explination for what this feature does, to activate it, in WeDJ first click the question mark button, followed by the button you need more information about. This information will show up in a tooltip/popup.
Transition FX, the crossfader shifts the sound of one channel to the other, Transition FX does not only shift the volume from channel one to two but also applies one of the selected transition effects (filter, Echo, etc)
Phrase Sync, a brand new feature, the DDJ-200 is the very first controller to have support for this feature. Phrase Sync is a mix-supporting feature like Beat Sync. The Beat Sync automatically matches the tempo of the track with the tempo of the track in the master deck, and Auto Gain automatically sets the volume of the track. Phrase sync also matches the section of the track to it matches that the new tracks start at a switch of section in the track (like the start of a break or begin of the drop).
Just like for a lot of other new products, also for the DDJ-200 we have made a carry case.


Price and Availability
The DDJ-200 controller will be available from end of may 2019
The SRP of the DDJ-200 is 159,- euro incl. VAT
The SRP of the DDJ-200 BAG carry bag is 49,- euro incl. VAT