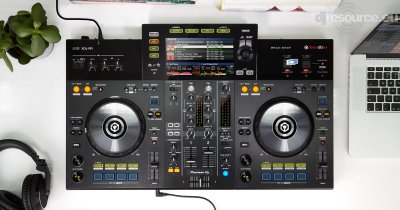 If you want to make the transition from playing at home to performing at parties, bars and eventually clubs, our new XDJ-RR 2-channel all-in-one DJ system for rekordboxTM is the ideal piece of kit for you. The system inherits all the basic features from our club-standard NXS2 set-up and packs them into a lightweight, portable body that's easy to take to parties and gigs as you progress through the DJ ranks.

The XDJ-RR offers you flexibility, so you can practise and perform however you prefer. It's compatible with our professional performance application rekordbox dj (licence included) but if you don't want to use a PC/Mac, you can export your rekordbox-analysed music to USB storage devices, plug them into the controller and play tracks directly from them.

Keep an eye on all the information you need thanks to the XDJ-RR's 7-inch full-colour screen and use performance features and FX inherited from the NXS2 set-up – such as Hot Cues, Slip Loop and Beat FX – to craft unique mixes on the fly.

A licence key for rekordbox dj worth €139 is included with the XDJ-RR so you can plug it into your PC or Mac straight out of the box and start mixing. If you already own rekordbox dj, upgrade to the latest version to use the XDJ-RR.

To help protect your XDJ-RR on the road, the DJC-RR BAG will be available from early October (EMEA only) at an SRP of £109. The high-quality bag is perfectly sized to snugly fit the all-in-one DJ system and features a Durashock moulded body and ballistic polyester to prevent damage from knocks and vibrations.

The XDJ-RR will be available from early September at an SRP of € 1.149,- including VAT.
Features of the XDJ-RR
Layout and features from club-standard NXS2 set-up
The XDJ-RR inherits its layout design and many of its performance controls, features and FX from our flagship CDJ-2000NXS2 professional multi player and DJM-900NXS2 professional mixer set-up. You can play rekordbox-analysed tracks directly from USB storage drives or connect your PC/Mac to the XDJ-RR and use rekordbox dj – our professional performance application. You also have the option to use Link Export mode.


Dual USB-A ports and single USB-B port
Connect your PC/Mac to the USB-B port at the rear of the XDJ-RR and plug USB drives into the dual USB-A ports on the top of the system to ensure seamless handovers between DJs.


7-inch full-colour screen
Browse and select tracks quickly and intuitively via the 7-inch full-colour screen, using the GUI design and large rotary selector from the CDJ-2000NXS2 multi player. Get a quick visual reference of track information such as playback position, BPM and waveforms for more accurate mixing and scratching.
Performance controls
Enhance your sets using dedicated controls for performance features:

Hot Cues – mark points in your tracks and instantly play from them by hitting the Hot Cue pads. Create live remixes by triggering Hot Cues in unique sequences.
Beat Loop – loop a section of a track and the XDJ-RR automatically sets the loop-out point based on the BPM. You can also chop up loops on the fly.
Beat Jump – easily change the way a track develops by jumping backwards or forwards by the number of beats you choose.
Slip Loop – switch on Slip Loop and tracks keep playing silently in the background when you're scratching or using other performance features. Then, when you're ready to drop the track back in, it plays from exactly the right place.


Mixer section with professional FX
Perform smooth, precise mixes using the EQs and channel faders, which feature curves equal to those on the DJM-900NXS2 professional club mixer. You can spice up your sets with FX also inherited from the flagship mixer:

Beat FX – change the sound in sync with the beat: Echo, Reverb and Flanger
Sound Color FX – add texture and tension by simply turning the knob: Filter, Noise, Dub Echo, Pitch


Lightweight and portable
Take the XDJ-RR wherever you want to practise or perform thanks to its portable design. It's compact and weighs just 5.2 kg – almost 4 kg (43%) less than the XDJ-RX2 – making it perfect for carrying to your next house party or gig.


All-in-one design enables simple and speedy set-up
External audio input : Play music from external sources or mobile devices thanks to the AUX input.
Link Export mode for rekordbox
Includes rekordbox dj licence key