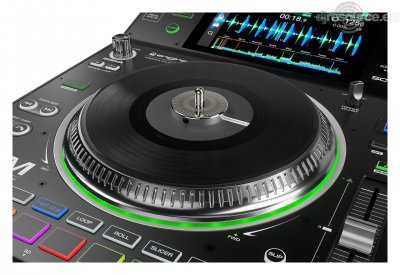 Denon DJ today announced the introduction of their revolutionary SC5000M Motorized Platter, DJ Media Player. Based on the multi tech award-winning SC5000 Prime, the new SC5000M Prime brings DJs the true essence of vinyl-based turntable performance, combined with ultimate creative control over their digital music files.
DJs and Turntablists wanting motorized control on a Pro media player will applaud the SC5000M's ultra-high-resolution platter response and authentic vinyl experience, in both the live gig and studio environment. The added benefit of 'Instant-Doubles' delivers the digital dream to a DJ's fingertips, so they can immediately duplicate their currently playing track, in its precise point in the timeline, onto another layer or deck—thus enabling even the most adventurous performers to get the best of both vinyl and digital worlds!
SC5000M Features
Motorized platter with real 7" vinyl
Adjustable vinyl tension for slip/scratch control
2 variable torque settings (low/high)
7" HD display with multi-touch gestures
24-bit/96kHz digital audio outputs
Dual-layer playback with individual audio outputs
Plays uncompressed audio formats (FLAC, ALAC, WAV)
8 multifunction trigger pads for cues, loops, slices and rolls
Customizable RGB color around the platter
(3) USB and (1) SD input for music playback
LAN output to link to up to four players
Includes Engine Prime music management software
The SC5000M takes a prominent place within the renowned Denon DJ Prime Series line-up.
"The new SC5000M takes its rightful place in the Prime Series lineup by adding a 7-inch motorized platter to the already amazing performance capabilities of the SC5000", said Paul Dakeyne, Creative Director for Denon DJ. He added, "For professional DJs and turntablists who want a no-compromise media player with authentic vinyl-feel motorized control, there's really nothing else like this, anywhere."
The SC5000M will be available late 2018.
More details : Gearbase > Denon SC5000M