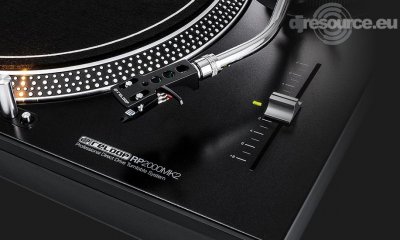 Reloop relaunches an old model, the renewed Reloop RP-2000MK2. They used this model earlier (old Reloop RP-2000MK2) and modernized the design. The quickest way to notice the old versus the new model is to look at the Play/Stop button. The old one has rounded edges and this new model has sharp corners and is more square.
The RP-2000 MK2 is a dependable turntable for prospective DJs. The MK2 version features several improvements, including a newly developed top panel construction and improved metallic buttons with enhanced feel.
Compared to belt-driven turntables, the RP-2000 MK2 transfers its motor force directly to the drive hub – this way a higher torque generates power faster on the precision-engineered platter with minimal wow and flutter. The adjustable pitch control with a range of ±8 % is suitable for the finest pitch adjustments.
The RP-2000 MK2 features a statically balanced s-shaped tone arm with hydraulic lift and anti-skating mechanism. Thanks to the universal SME connection, a large number of pick-up cartridges can be connected.
A dust cover is optionally available.
The new deep-black metallic top panel is equipped with metallic buttons for start/stop and speed settings. The improved touch upon hit offers a clear haptic feedback. With the push of a button the aluminium target light can be extended, so that the needle position can be seen in dark surroundings. The sturdy construction with optimized damping features and shock-absorbing feet improve isolation from unwanted vibrations.
The RP-2000 MK2 comes with the high-quality OM Black pick-up, handmade by Ortofon in Denmark, pre-fitted to a headshell ready for immediate playback.
See all the details in the Gearbase : Reloop RP-2000 MK2