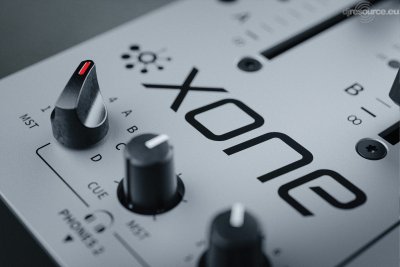 Xone:96. The long-awaited follow-up to a genuine club classic (Allen & Heath Xone:92). A new, uncompromising analogue DJ mixer, destined to be the heart of your creativity, Xone:96 takes the legendary soul of the acclaimed Xone:92 and redelivers it, enhanced, and with state-of-the-art digital connectivity.
It's all here. The huge, detailed, space-shaking analogue sound that only Xone delivers. A refined, precision 4-band EQ. Unrivalled dual Xone:VCF filters with CRUNCH harmonic distortion. And a dual 32-bit USB soundcard (24 Channels @ 96kHz) with Traktor Scratch certification right out of the box. Xone:96 lets you connect your whole rig, from laptops and turntables, to pedals, synths and drum machines.
Two dedicated FX sends, four stereo input channels (with 4-Band EQ), two stereo input channels with all new 3-Band Parametric EQ + two auxiliary stereo return channels. And a separate master insert for your outboard hardware.

Analogue Remastered
Xone:96 draws on our rich heritage to create our most advanced analogue mixer yet, engineered from the ground up to deliver the legendary Xone analogue sound in the most flexible, powerful format. Xone:92 users will feel instantly at home with the Xone:96's layout. All four main stereo input channels feature the latest incarnation of our industry standard Xone 4-band EQ, the choice of countless international DJ artists. Stereo Return channels A and B are fully-featured, and incorporate an all-new 3-band parametric EQ design, giving you even more control over how you style your sound.

Dual 32-bit 24 Channel Soundcard
Unlock a world of creative possibilities. Xone:96 features two independent USB connections, each with 6 stereo inputs and outputs giving you a myriad of routing options. State-of-the-art 96kHz/32-bit processing ensures the highest audio quality is passed between your laptops and the analogue engine. Additionally the Xone:96 soundcard supports DVS control of Native Instruments' TRAKTOR SCRATCH PRO 2 DJ software right out of the box.

Dual Xone VCF Filters With CRUNCH
Nothing comes close to the sound and power of the Xone VCF filter. In Xone:96 we've refined this classic design, preserving its unmistakable sonic signature while taking its performance to the next level. Alongside the classic HPF, BPF, LPF, resonance control and frequency sweep layout, there's CRUNCH, a controlled harmonic distortion that sits pre-filter in the circuit to give you a powerful new effect. Xone:96 lets you route all six main channels to either filter.