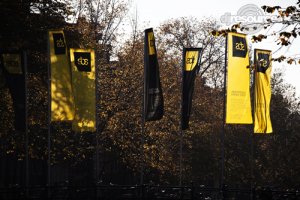 Amsterdam Dance Event 2012 expands its Conference/Festival format with ADE Playground. ADE Playground offers visitors of ADE Festival an assortment of daytime activities, most of which are exclusive and entry-free to ADE Card holders. ADE Playground transforms Amsterdam into the biggest pop-up store on the planet, a veritable playground for visitors of ADE Festival. The ADE Festival Lounge at Stanislavski/Stadsschouwburg on Leidseplein functions as festival pavilion and central meeting point for ADE Playground visitors.
ADE Playground is the third ?leg? of ADE, complementing ADE Conference and ADE Festival. Part of the ADE Playground program is entry-free to the general public. Another part is open exclusively to ADE Card holders. The ADE Card retails for ? 10 at the ADE Playground website (in the weeks leading up to ADE) and the ADE Festival Lounge (during ADE); the ADE Card is limited. Apart from exclusive entry to a number of ADE Playground events, for the duration of ADE the ADE Card provides a 20% discount in J.C. RAGS flagship store, a 10% discount at FOUR menswear store and a 20% discount on ADE Merchandise at the ADE Festival Lounge.
ADE Playground offers ADE Festival visitors a dance-related daytime program full of surprises. A selection: Pioneer, Native Instruments and Akai Professional/Numark set up ?open shop? at various locations in Amsterdam?s canal area, presenting gear demonstrations and workshops, supplemented by performances by Miss Nine (Pioneer) and dj sets by AKA AKA and Broombeck (Akai Professional/Numark). Red Bull offers studio masterclasses at the Red Bull Studio Amsterdam and SAE is home for three days of the Meat M Up Studio Soundclash. A wide selection of music-related movie screenings is on offer at Melkweg Cinema, Path? City Theater and Odeon. Various exhibitions expound aspects of dance culture, including?Vom Bleiben? by Gieseman & Schultz, and renowned acts like Tiefschwarz, Maceo Plex and Estroe spin in-store deejay sets in, among others, J.C.RAGS flagship store, In Deep 'n' Dance Records and FOUR.
Participating ADE Playground locations are ADE Festival Lounge, Amsterdam Roest, The Amsterdam View, Backstage Hotel, Caf? Speijk, Club Up, CoX, FOAM, FOUR, In Deep 'n' Dance Records, J.C.RAGS flagship store, Melkweg Cinema, MINI brand store, Oz., Path? City Theater, SAE Studio, Smirnoff Cube, Stanislavski/Stadschouwburg, Ten Haaf Projects.
The ADE Playground program will be updated in the weeks leading up to ADE. For the complete program, as it stands, check
www.amsterdam-dance-event.nl/playground