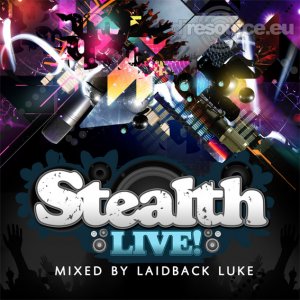 Deze compilatie komt uit op 10 november 2008 en is de eerste 'Stealth Live!' Compilatie in deze reeks. De CD is LIVE gemixed door de grootste goochelaar op de Pioneer's :
Laidback Luke
.

46ste in DJMag Top-100
Als er iemand interresante tricks kan uithalen in een set dan is hij het wel. Hij maakte dit jaar zijn re-entree in de DJ Mag top 100 op de
46ste plaats
.
Live Opnames
De opnames van deze CD vonden plaats op 21 september op de Stealth Live! Closing Party van de strandtent Bloomingdale. Het publiek wat deze avond aanwezig was komt op de CD terug zodat de live-feeling behouden blijft.
In deze CD zit een prijsvraag waarmee je Pioneer gear kunt winnen... maar laat de kunsten van Luke de hoofdreden zijn om naar de platenzaak te rennen.
Video Preview
Wij waren aanwezig bij de opnamen van deze CD met onze video camera en maakte dit :
DJsounds.com : Laidback Luke @ recording of Stealth Live! in Bloomingdale
Geniet alvast van de preview in het filmpje en hou ook
LaidbackLuke.com
in de gaten.
Stealth LIVE! Is a brand new compilation series from Stealth Records bringing you the best recorded live sets from DJ's around the globe. Since two years Stealth has very successfully establihed it's events, hosting arena's on big festivals/conferences, such as Global Gathering, Mystery Land, WMC and the ADE.
Furthermore Stealth hosted nights in key clubs around the globe, such as: Pacha Ibiza, Catwalk Barcelona, Space Valencia, Bloomindale, Escape, Dreamers, Autodrome & Mansion Miami. These sell-out nights inspired us to bring a Stealth party as close to home as possible! Each mix CD will be recorded on a Stealth event, also recording the crowd noise, giving it the true LIVE! experience.
First up is Laidback Luke, who's profile has sky rocketed over the past year with a string of new releases, remixes and nearlt weekly plays with Pete Tong on Radio 1. Luke is one of the best live mixers we know, so we could not have chosen better to start this new series with him. Expect fast mixing, wicked tricks and and an overall dope mix!
01. Laidback Luke & Tom Stephan feat Romanthony - Show (Nari & Milani Remix)
Steve Angello & Laidback Luke – Be (Organ-a-pella)
02. Steve Angello - Gypsy (Laidback Luke's Gypsy Women Remix)
03. Laidback Luke & Roman Salzger feat Boogshe – Generation Noise (Afrojack Remix)
04. Rune R-K - Kosimo
05. Martin Solveig - I Want You (Laidback Luke Remix)
06. Niko De Luca & Brown Sugar ft. Dawn Tallman - Good Night (Sebastien Drumz & Rolf Dymann Remix)
07. Jeremy Sylvester pres. Juice String - Sex Weed (Laidback Luke Remix)
08. DJ Rockid - Girls
09. Idiots Savants - Whow!
10. Bingo Players - Get Up (Diplo Remix)
11. CLP - Ready Or Not (Diplo & DJ Sega Remix)
12. Steve Angello & Laidback Luke - Be (Laidback Luke Rave Edit)
13. Johnson Junior - In The Air (Alex Salvador & Sebastien Lintz Big Room Mix)
14. Roger Sanchez ft. Terri B - Bang That Box (Laidback Luke Remix)
15. TV Rock feat Rudy - It's Been A Long Time (Laidback Luke Remix)