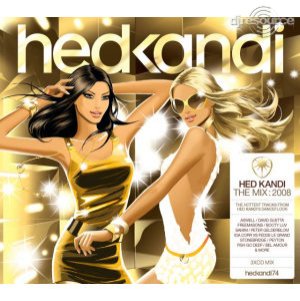 Release Date » 19/11/2007
Always looking forward and still combining the keen edge of cool with an accessible, inclusive musical ethos, Hed Kandi rounds up another phenomenal year with all the must-have tunes of the season and invites everyone to join the party. Three CDs mixed within the three most treasured styles of Kandi – Disco Kandi, Twisted Disco and Disco Heaven - with every track tried and tested on Hed Kandi's many dancefloors across the globe. This is Hed Kandi just the way the Hed Kandi faithful like and rely upon it!
CD1
, Disco Kandi, dishes up some true dancefloor bombs like Axwell's huge piano-monster It's True, the chart and genre-busting accordion-meets-minimal-techno that is Samim's Heater, plus the current hot potato from Dave Armstrong featuring H.Boogie, Love Is Gone. Kandi's own Booty Luv are here too with their self-penned endorphin homage, Some Kind Of Rush, set for release in December.
Big hitters continue on a slightly darker tip on
CD2
, Twisted Disco, the no.2 smash Ida Corr vs Fedde Le Grand's Let Me Think About It exemplifies the mood, Mobin Master's Show Me Love which had everyone clambering for the white label version when it first hit clubland features too, and there's David Guetta's return to pop life with Love is Gone.
CD3
Disco Heaven transcends all that has gone before with a purifying sweep of heavenly vocals, strings, pianos and disco-fabulous grooves. Todd Terry Allstars bring some Strictly Rhythm slickness with Get Down, Soul Providers provide the Kandi turntable classic Rise and there's Belezamusica's brilliant reworking of Odyssey's Inside Out. Two prodigal Kandi sons return on this release too – vocalist Peyton is back with 2 new bombs: him vs Audiowhores with an update of Kiki Dee's Music In Me and Never Give Up with Rhythm Republic, then there's producer/legend StoneBridge, the man responsible for HK's first-ever top ten hit featured here with his latest offering You Don't Know with Hott22 cranking up the heat on the remix.
The hoards of Hed Kandi faithful await these mix albums with the same excitement as HK clubnights, while the uninitiated can be confident of the name when it comes to making those Xmas present decisions. With a full-force series of festive-season events themed round this album and the accompanying TV campaign in the UK, this release is set to fly. Mixed to perfection, The Mix 2008 is another quality addition to the HK catalogue, irresistibly infectious and the most stylish way to usher out the old year and welcome in the new.
CD1 – Twisted Disco
1. Samim - Heater
2. Axwell – I Found You (Remode)
3. Peter Gelderblom - Waiting (Hi_Tack UK Club Mix)
4. Ida Corr Vs Fedde Le Grand - Let Me Think About It
5. Static Revenger Feat. Taj Bell - Everything Is Beautiful
6. David Guetta - Love Is Gone (Eddie Thoneick's Ruff Mix)
7. Dennis Christopher Feat. ROCQ-E - Music Is My Life (Dennis Christopher Club Mix)
8. Eddie Thoneick Feat. Berget Lewis - Forgiveness (Eddie Thoneick's Lifted Mix)
9. Boogie Army - Sex, Drugs, Rock n Roll
10. DJ Delicious Presents Phunk-A-Delic - Rockin
11. Erick E - Boogie Down 2007 (Original 2007 Edit)
12. Funk Marauders Feat. Rosie Gaines - Rock My Body (DJ Simi & Master Keys Club Mix)
13. Holmes Ives Feat. Avalon Frost - 8 Letters (Starkillers Dirty Girl Remix)
14. Liquid - Sweet Harmony (Spoon & Talk Mix)
15. Hugh Gunnell & Paul Gardner Feat. Jamie Principle - Your Love
CD2 – Disco Kandi
1. Freemasons Feat. Bailey Tzuke - Uninvited
2. Booty Luv - Some Kinda Rush
3. Bel Amour - Bel Amour 2007 (Part 1) (Paul Emanuel Remix)
4. Axwell & Sebastian Ingrosso Vs Salem Al Fakir - It's True
5. Raw Feat. Amanda Wilson - Intoxicated (E-Squire Remix)
6. Eddie Thoneick Feat. Bonse - Together As One
7. Hott 22 Feat. Bonnie Bailey - No Promises
8. Dervish Feat. Mike Davis & Inaya Day - Blessed (Majhong Extended Mix)
9. Mobin Master Feat. Robin S - Show Me Love (Safari Mix)
10. Doc Da Funk - Real Love
11. Sucker DJs Feat. Wray - Salvation
12. ReLOUD - Love To The Stars
13. Cloudburst Feat. Culture Girl - 40 Miles
14. Wawa & Herd Feat. Amanda Wilson - The Right Way
15. Sergio Flores Vs Mitomi Tokoto - Hold On (That Piano Track) (Sergio Flores Vocal Mix)
CD3 – Disco Heaven
1. Fish Go Deep Feat. Tracey K - The Cure & The Cause (DJ Memê Philly Suite Mix)
2. Todd Terry All Stars Feat. Kenny Dope, DJ Sneak, Terry Hunter & Tara McDonald - Get Down
3. Belezamusica - Inside Out (DJ Memê Remix)
4. Dos Palomas Negras - Don't Wanna Go Home
5. Perky & Ashman Feat. Anita Kelsey - Good Lovin
6. Paul Johnson Feat. Candi Staton - Doo Doo Wap
7. Soul Providers Feat. Michelle Shellers - Rise (Born To Funk Amsterdam Mix)
8. Dogsax Feat. Rietta Austin - Love Is On My Mind (Soul Survivors Remix)
9. Nowak Feat. D'Layna - Stand Up (The Guitarness Extended Mix)
10. Audio-Fraud Vs Peyton - Music In Me
11. Raul Rincon & Terri B. - Sometimes
12. StoneBridge - You Don't Know (Hott 22 Remix)
13. Jill Jones Vs Funky Junction - Someone To Jump Up (Funky Junction & Korovin Mix)
14. Chanel - Dance (Fish & Chips Remix)
15. Ron Gelfer Feat. Tiger Lily - Your Beat Sounds Like
Listen now!