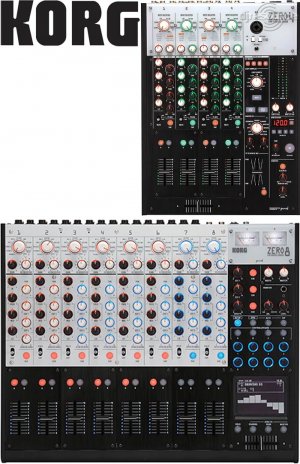 ZERO LIVE CONTROL MIXER is an all-in-one "core station" designed for live performance artists, remix producers, and serious computer musicians providing a digital mixer, audio I/O, MIDI controller, and effect processor all in a single unit.
Each channel can be switched between sources such as a turntable, CD player, microphone, computer, instrument, MIDI controller, or MIDI controller + audio to implement a sophisticated live mixing setup with the simplicity of a FireWire connection. This gives you an incredibly powerful and flexible tool designed specifically for live performance and remix production.
Two models are available: ZERO4 is a four-channel version designed for the needs of the modern DJ, and ZERO8 is an eight-channel version covering the needs of advanced laptop musicians, studio remixers and DJs requiring more channels.
ZERO LIVE CONTROL MIXER delivers truly professional-spec audio. It supports 24-bit 48 kHz high-resolution audio as standard, and can support up to 24-bit 192 kHz audio that's equivalent to DVD audio fidelity. Along with the digital domain, analog components such as the input/output circuitry and power supply have been designed with painstaking attention to high-quality sound. The internal power supply design delivers plenty of headroom and excellent audio quality.
The mic preamps are an ultra-low impedance design by Peter Watts, a veteran designer of numerous professional mixers throughout his tenure at the Trident Corporation in the UK and as chief designer and vice president for product development at Mackie Designs in the USA. Finally, the power supply is a universal design that does not require an AC adapter, ensuring that the world-traveling professional can get to work immediately, assured of the highest level of performance.
The EQ Selector is a completely new idea, providing an EQ section with eleven different simulation types. They cover needs ranging from corrective equalization to boldly creative sound-shaping, giving you a variety of EQ responses and curves, filter characteristics, and even isolator modeling that can be switched independently for each channel as needed. The stereo four-channel ZERO4 provides one unit that is shared by all channels.
ZERO LIVE CONTROL MIXER contains a FireWire interface that lets you process and mix audio sources digitally, at the same time as performing MIDI control. Since ZERO LIVE CONTROL MIXER contains everything else you need (audio interface, mixer, effect processor, MIDI controller), setup is simple, making it an extremely convenient choice for the mobile computer-based professional.
One particular advantage of the ZERO series is its powerful effect system. On the stereo four-channel ZERO4, there are Insert effects for independent use on each channel, plus a Master effect connected to sampler/effect buss.
The ZERO4 also contains a loop sampler that can synchronize to the BPM. This makes it easy to sample or play back loops (or one-shot samples) in perfect time with the current tempo, giving you the flexibility for complex mixes or dub mixing.
Power Supply
AC Local Voltage
Power Consumption
To be determined
Dimensions (wxdxh)
300 (W) x 402 (D) x 105 (H) mm
Weight
5.5 kg
Frequency Response

10 Hz ~ 20 kHz dB @ fs 44.1 kHz,
10 Hz ~ 22 kHz dB @ fs 48 kHz,
10 Hz ~ 44 kHz dB @ fs 96 kHz,
10 Hz ~ 88 kHz dB @ 192 kHz

Signal/Noise Ration
100dB
Distortion

0.02% THD

A/D Conversion
24-bit, 64-time oversampling
D/A Conversion
24-bit, 128-time oversampling
Input Impedance
10 k Ohms
Inputs
Phone Jacks
40k Ohms impedance
Mic Input
XLR type connectors, 48V Phantom Power
10 k Ohms / -40 dBu @ GAIN = 0 dB
Guitar Input
1/4" Jack / -30 dBu @ GAIN = 0 dB
Outputs
Master
XLR type connectors, 150 Ohms @ +4 dB
Booth
1/4" Jack / 150 Ohms @ +4dB
Phones
1/4" Jack / 100 Ohms
S/P DiFF
coaxial, 24-bit
Firewire
IEEE 1394 6-pin connector
MIDI
DIN 5-pin connectors
Accessories
power cable, CD-ROM