OK we understand you don't like ads (so don't we) but,


Please consider supporting us by disabling your Ad Blocker.


Or become a Gold Member, they don't see ads.
Archives from previous years
08-09-'15
Numark releases new TT250USB turntable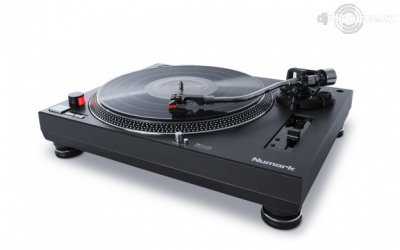 TT250USB is a professional direct-drive turntable perfectly suited to heavy-duty DJ-ing and music playback. Its quartz-controlled direct-drive motor delivers virtually perfect speed accuracy when playing back records, and its high torque motor provides the ideal amount of resistance and feel for scr...
31-01-'15
Numark NS7III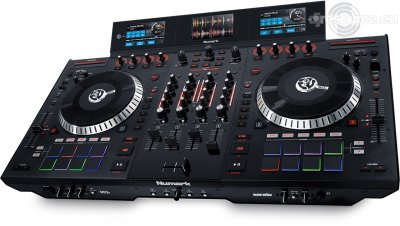 Numark announces NS7III, the premier four-deck controller for Serato DJ. Featuring three high-resolution color screens with a stackable waveform display and an interactive control surface, the NS7III empowers a kinetic connection between the crowd and the music. Building upon the acclaimed NS7II, ...
08-02-'11
Numark NS6
14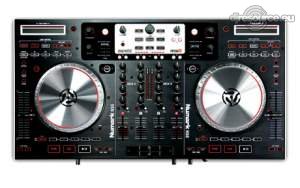 Introducing the NS6 DJ controller for Serato ITCH. THIS CHANGES EVERYTHINGNS6 is a 4-channel Digital DJ controller with complete built-in mixer and four decks of software control. NS6 is the first truly pro-grade DJ controller and standalone 4-channel mixer with effects. Simply put, there has ne...
25-07-'10
Numark iDJ3
9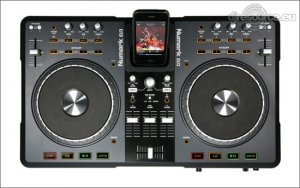 Numark iDJ3iDJ3 is a complete DJ system that works with the music on your Mac or PC and your iPod. Its designed to directly connect to your computer so you can mix your favorite tracks with performance DJ controls. Plus, you can dock your iPod or iPhone and play tracks or record your mix. iDJ...
23-06-'10
Numark Mixtrack midi controller
4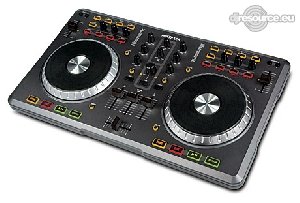 COMING SOON FROM NUMARK! Compact control, massive mixing. MIXTRACK is a powerhouse controller in a compact chassis for performing and producing with DJ software. The familiar layout works just like two decks and a mixer so whether you're a seasoned professional or building your DJ skills, MIXTR...
09-05-'10
New version, Numark CUE 6.0.7
10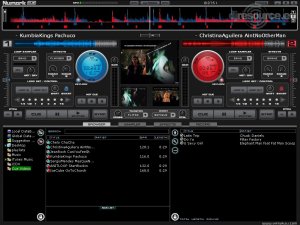 A new version of CUE is now available and it features support for the NS7, NS7FX, V7, MIXDECK and NDX800, Windows Vista support and a new interface. Other than that there is a complete new graphical shell for improved eye-candy.Key Features Reliable, intuitive DJ software for mixing audio and videoM...
01-04-'10
Numark's two-channel mixer for V7.
5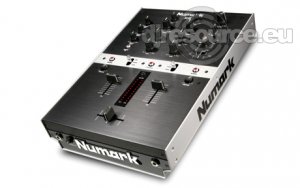 Numark, creator of the first 100% digital DJ mixer, continues to develop digital mixing with X5. This two-channel, 24-bit, high-resolution mixer contains high-end analog-to-digital and digital-to-analog circuitry and powerful look-ahead limiters at the master, booth, and headphone outputs to deliver...
01-04-'10
Announcing M6 USB from Numark
21
M6 enables you to step up to a four-channel mixer. This club-style design not only works with any standard audio sources including turntables and CD players, but it also has a USB computer connection. When connected to your Mac or PC, the plug-and-play connection empowers you to mix in audio in from...
23-01-'10
Numarks starts manufacturing speakers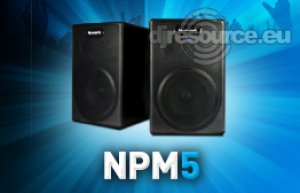 NPM5 is a complete speaker system that's perfect for practice studios and small setups. You'll enjoy NPM5's sound that accurately plays the deepest bass and the brightest highs in your music. NPM5 is a self-contained, active speaker system with built-in amplifiers so all you need to do is plug in yo...
23-01-'10
Numark V7 – Turntable evolved
23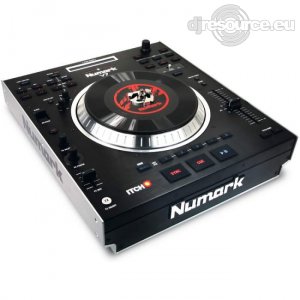 Motorized Turntable Software Controller Is The Turntable For Todays DJ Numark, the worlds leading manufacturer of DJ technology, announces V7, its new motorized turntable software controller. Numark developed V7 in strategic partnership with software developer Serato.V7 is the turntable for today...
23-01-'10
Numark Announces X7 Premium Club DJ Mixer
3
NUMARK ANNOUNCES X7 PREMIUM CLUB DJ MIXER Four-Channel MIDI and USB Digital Mixer Is Most Advanced In Numarks HistoryNumark, the worlds leading manufacturer of DJ technology, announces X7, its new premium club mixer currently under development. X7 is the ultimate companion to the Numarks new V7 ...
23-01-'10
Numark announces the PHX USB headphone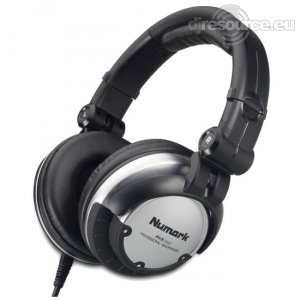 NUMARK HEADPHONES ENABLE ANALOG AND USB CUEING PHX USB Headphones Enable DJs to Cue From Analog Gear or Computer via USBNumark, the worlds leading manufacturer of DJ technology, announces PHX USB, professional DJ headphones with dual cables for analog and USB connections. PHX USB professional DJ ...
23-01-'10
NUMARK LAUNCHES NDX800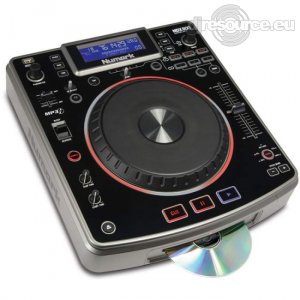 NUMARK LAUNCHES NDX800 PROFESSIONAL MP3/CD/USB PLAYER AND SOFTWARE CONTROLLER Digital Deck Enables DJs to Play, Scratch and Effect CD, MP3, USB and SoftwareNumark, the worlds leading manufacturer of DJ technology, announces NDX800, the professional MP3/CD/USB player and software controller. NDX800...
23-01-'10
Numark reveals digital club mixer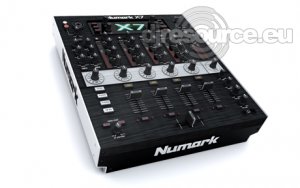 X7 is a four-channel, digital club DJ mixer. This groundbreaking MIDI and USB mixer is the ultimate companion to V7, the motorized DJ-software turntable controller. You can link V7s and X7 using X7s elegant and powerful communication protocol, which enables system connection to your computer wi...
23-01-'10
Numark new single table top software controller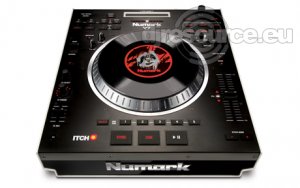 V7 is the turntable for todays DJ. V7 delivers outstanding feel and unprecedented power in a single-platter digital DJ controller. V7 is based around the acclaimed adjustable torque, motorized-platter design from Numark's NS7 and delivers a host of professional features including real vinyl and...
23-01-'10
Introduction NDX-800 at NAMM
17
NDX800 is high-performance control for DJs who blend different kinds of music sources. Whether your music is on CDs, MP3 CDs, USB flash drives, or your computer, you can play and manipulate it with NDX800. This digital deck has the feel and layout youre used to, with a twist of Numark innovatio...
28-10-'09
Numark NSFX efx controller voor NS7
5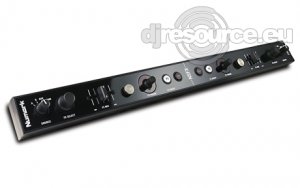 Deze maand introduceert Numark de NSFX, de effects controller voor de NS7.NS7 DJ's kunnen nu de overstap maken naar het gebruik van Serato ITCH effecten met NSFX. Het is ontworpen in een samenwerkingsverband tussen Numark en Serato voor het ITCH syteem zodat het perfect aansluit op de NS7. Hierdoor ...
28-08-'09
Numark CDN22 MK5 dual deck available in stores
5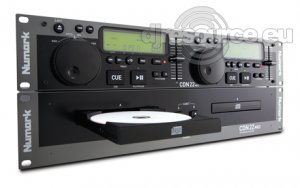 Numark's new, basic, dual-CD player, CDN22 MK5 made its debut in Numark's stand, B 21 in Hall 5.0 at Musikmesse, April 1 - 4, 2009. Held in Frankfurt am Main, Germany, Musikmesse is the world's largest fair for musical instruments, live music and the music business.CDN22 MK5 is a straightforward, du...
28-08-'09
Numark CDN450 mp3/cd is available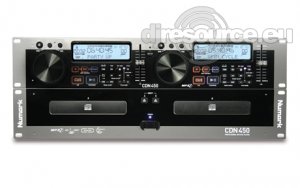 The CDN450 rack-mount dual MP3/CD player was launched at Numark's booth, at the Summer NAMM Show held at the Nashville Convention Center, July 17 19, 2009.CDN450 is a highly reliable, dual-deck MP3/CD player. DJs will enjoy performance features, easy operation and rock-solid reliability. With adva...
22-07-'09
New Numark table top cd players NDX200 & NDX400
9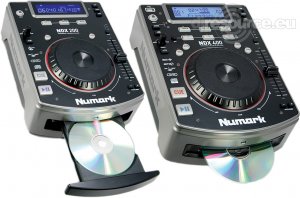 The Numark NDX400 is an advanced scratch MP3/CD player that can also play from a USB flash drive for cutting-edge performance. Numarks Anti-Shock buffered skip-protection technology keeps music playing, even when vibrations might cause other players to skip. Three hot cues and large scratch wheel ...
26-05-'09
Numark PRO SMX scratch mixer now available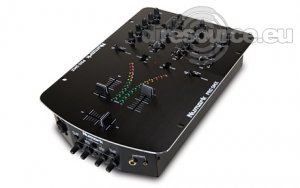 PRO SMX is the most powerful, best-sounding DJ battle mixer Numark has ever made. Designed in conjunction with world-famous DMC champions, PRO SMX features a 100% analog audio path to preserve the natural warmth of vinyl.The uncompromising build quality of PRO SMX is highlighted by its rugged, thick...
15-05-'09
Numark's NS7 Now available in stores
3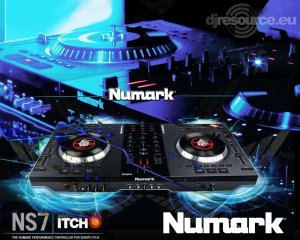 The Numark NS7 gives you that precision control you demand when DJing with software. A dedicated controller for Serato ITCH - which it includes a copy of - the NS7 Controller is ready to control the DJ program of your choice, including Numark's Cue. Two high-torque motorized 7' platters provide the ...
19-06-'08
Numark announces PT-01USB portable vinyl archiving system
1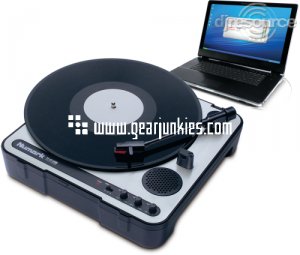 Numark announces the release of PT-01USB, the companys portable vinyl archiving system. The PT-01USB permits users to listen to and transfer their vinyl records to digital MP3 files anywhere and anytime thanks to its convenient, rugged design and ability to run on either wall or battery power. An RC...
19-06-'08
Numark announces X-series scratch mixers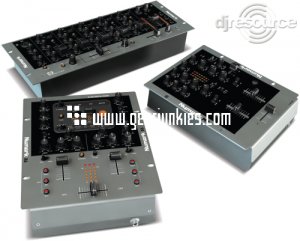 Numark announces three new series of DJ mixers: the C-series of rack-mount club mixers, the M-series of tabletop DJ mixers, and the X-series of 100% digital tabletop DJ mixersEach series includes mixers incorporating technologies and functionalities introduced by Numark, including the world's ...
19-06-'08
Numark announces LP 2 CD USB turntable
3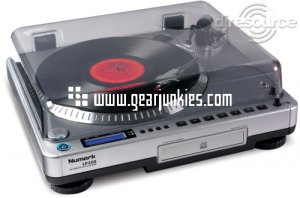 Numark announces LP 2 CD, an advanced USB turntable with internal flash memory and CD recorder studio-grade digital archiving.LP 2 CD is a professional tool for fine-quality conversion of vinyl recordings to CD, WAV or MP3, with or without a computer. Digital files can be used in any CD player, iPod...
19-06-'08
Numark announces iDEC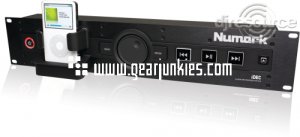 Numark announces iDEC, a professional rack-mount solution offering playback and recording for iPod.iDEC allows DJs and musicians to integrate iPod audio and video into any 19-inch equipment rack. With high-performance digital audio and video playback, quality digital audio recording, and a convenien...
27-04-'08
Numark DDS80 complete DJ system
4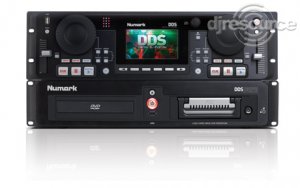 OverviewDDS80 is the complete DJ system for live performance with the industry's fastest, most intuitive interface. The DDS80 delivers everything you need so you can perform your set while leaving your laptop at home.DDSNumark's DDS is a rack-mountable media player created for DJ performance and is ...
27-04-'08
Numark and Serato Enter Strategic Partnership
6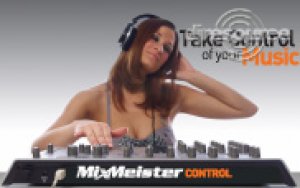 Not hot news, but this might be of interrest : Numark, the world's leading manufacturer of products for the DJ market, announces the formation of a strategic partnership with Serato™, the world's leading provider of DJ software. The agreement marks the first joint effort between Serato a...
20-02-'08
TTi USB Turntable with Pitch Control & Universal Dock
13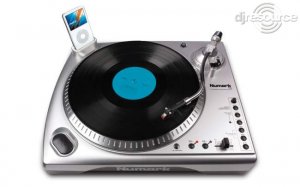 RECORD YOUR FAVORITE VINYL RECORDS TO YOUR COMPUTER OR iPodLegendary Numark turntable performance, USB connectivity and the convenience of your iPod are fused together for the first time in the Numark TTi. This USB turntable with built-in universal dock for iPod easily transfers your old vinyl colle...
15-06-'07
Black Freefloats soon available
13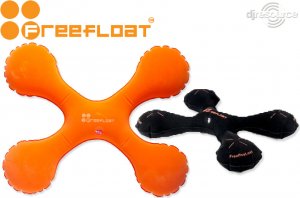 Tegenwoordig kent iedereen ze wel, de Freefloats. Of je er nu van houd of niet, ze horen nu eenmaal bij het draaien met draaitafels. De Freefloats gaan feedback tegen die via de tafel > voetje > plaat > naald over de speakers te horen kan zijn. Het enige wat je kunt doen als DJ om het tegen...
05-02-'07
Numark Dj i/o
1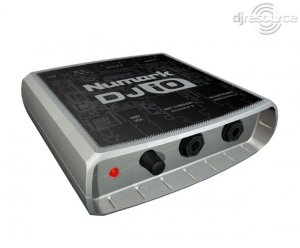 FOR THE ON–THE–GO SOFTWARE DJ AND PRODUCERS. bag, but powerful enough to provide solutions for a wide range of audio I/O needs. The DJ i/o gives software–based DJs, performers and producers a range of options for outputting their final audio, whether in the form of a live mix or a...
05-02-'07
Numark DMC2 Software Controller
3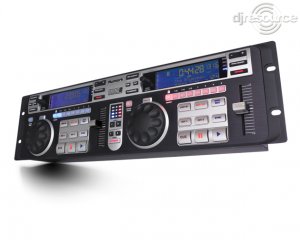 TAKE YOUR PERFORMANCE TO THE DIGITAL AGE. The new DMC2 is Numark's top–of–the–line professional DJ software controller, featuring a rugged metal frame that can be used in a 3U rack–mount setting or as a tabletop unit. With a form factor based on CD players such as the CDN95 ...
05-02-'07
Numark KMX02 Dual Deck
8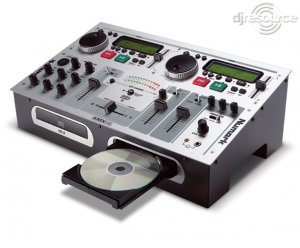 THE ULTIMATE KARAOKE MIX STATION. The only all–inclusive system of its kind, the Numark KMX02 features dual CD+G drives with an integrated mixer. It's the perfect all–in–one solution for DJs and clubs to add karaoke to their entertainment mix. Offering 3 microphone inputs with ...
05-02-'07
Numark VM03-MKII 3x Video Display
6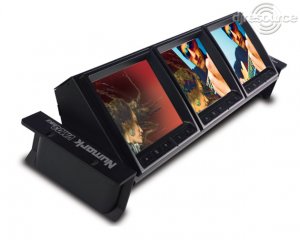 FULL–TILT VIEWING FOR YOUR VIDEO OUTPUT.The Numark VM03–MKII is a 3–screen/6–input LCD video display monitor designed for any video monitoring application. The advanced design of the VM03–MKII allows the user to monitor video sources in either a rack–mount (3 rack...
21-01-'07
Numark Total Control
17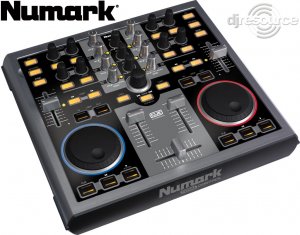 Professional DJ Software Controller: The missing link for software DJ'sA tabletop controller for DJs who yearn for the control they left behind when they switched from traditional mixers to the multi–processing power of laptop DJing. This fully class–compliant USB MIDI device is the ulti...
17-10-'06
Preview Numark's CUE DJ software
8

Cue Professional DJ Software Do it all with CUE. Mix, scratch, juggle and sample with the new standard in DJ software. Play audio and video files at the same time including: DVD, MP3, WMA, ACC, OGG, VOB, WMV, DIVX, MPG, WAV, AVI, Karaoke (CDG) files and more. Innovate on the fly with stability and r...
04-10-'06
Numark komt met de iCDX
31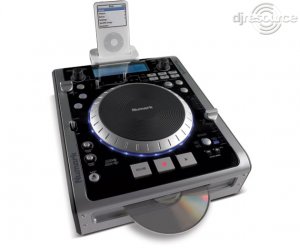 Nieuw, de Numark iCDX Binnenkort leverbaarTabletop CD/MP3/Data DVD speler met USBDe iCDX is niet alleen een compacte CD/MP3 speler maar ook een machine om vanaf een extern opslag medium zoals een IPOD, MP3speler, USB stick enz... muziek te spelen en te manipuleren.De Numark iCDX is voorzien van:Aanr...
14-07-'06
Numark AVM02 Audio/Video Effects Mixer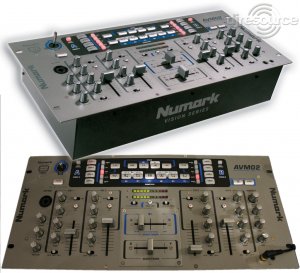 Designed for mobile DJs and club installations, Numark's AVM02 Audio/Video Mixer with effects delivers numerous features optimized for live performance. The AVM02 offers separate, replaceable DJ crossfaders for audio and video with linked mode operation and slope control, Chroma Key (blue screen) an...
15-05-'06
Numark iDJ 2
1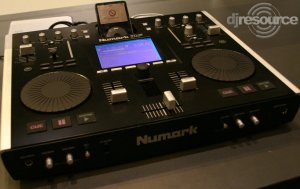 iPod mixing consoleFollowing the highly successful introduction of the world's first iPod mixing console, Numark is pleased to announce the introduction of the iDJ2. The Numark iDJ2 is the only iPod mixing console that provides full control of your music with real-time scratch, pitch, se...
15-05-'06
Numark x2 Hybrid Turntable... or CD Player ?
3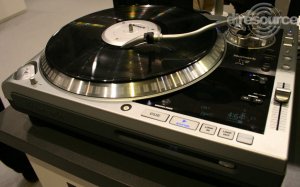 A little bit of bothNumark proudly announces the X2 (pronounced X-squared) Professional Direct Drive Turntable / MP3 CD Player, a new concept in professional DJ equipment. Equipped with a full size 12-inch aluminum platter, tone arm, and CD drive, the X2 is the one piece of equipment capable of cont...
15-05-'06
Numark iCDX
15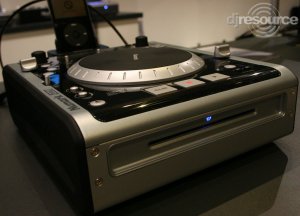 Tabletop CD/HD PlayerNumark is proud to announce the iCDX Tabletop CD/HD Player and DJ controller. With its built-in CD/DVD drive, USB ports for connecting any USB mass storage device such as iPods, hard drives, memory sticks and computers, the iCDX provides an indefinite amount of song selection an...
15-05-'06
Numark NuVJ mixing Audio and Video simultaniously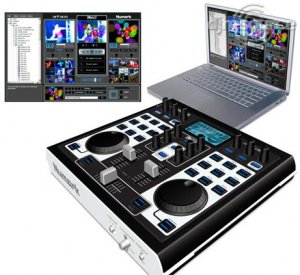 NuVJThe NuVJ allows DJs to incorporate images and video clips in much the same way as mixing music. With the NuVJ, the VJ can trigger images and video clips, add effects to them, mix them through an onboard DJ style crossfader and tweak them in order to create unique and spectacular shows. The hardw...
15-05-'06
Numark Virtual Vinyl gets vinyl in control of your PC
Virtual Vinyl Virtual Vinyl is Numark's premier DJ hardware and software solution that lets you scratch, mix and sample digital audio and video files using your computer and any analog turntable or CD player. Using a traditional turntable or CD player (sold separately) and included control ...
14-05-'06
Numark HDMix-es your tracks and clips from HDD
Performance WorkstationNumark is proud to announce the introduction of HD MIX, a complete professional DJ performance system with a built-in hard drive. Specifically designed for professional DJ applications, the HD MIX is the only performance workstation of its kind to centralize all DJ controls an...