1 votes for Favourite MIDI Controllers
Show Booths
2 times used in 2 DJ Booths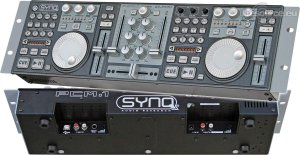 SYNQ's PCM-1 is a multifunctional "designed in Belgium" PC-Media controller. This compact 19"/3U DJ-controller is fully USB MIDI compliant so it can be used with any DJ-software available.
The PCM-1 can be used on any modern laptop or PC (Windows® XP/Vista and Mac® OSX)

58 buttons


7 digital encoders with push-to-select knobs


9 digital knobs for tone + volume control


5 digital faders, including 1 user replaceable crossfader


2 jog wheels for scratching


2 "magic" shift-buttons double the functions of each control!


Built-in 6channel soundcard (ASIO-compatible)
-Mixed master output (internal mixer)
-Decks A and B with separate outputs and fader start inputs (use with external mixer)
-6.3mm Jack headphone output for PFL


Synq PCM-1 comes packaged with a new DJ Software called 'Deckadance -House edition'

Decadance Software


Includes 8 samplers (recording/saving samples, volume, beat sync, pitching, effect, PFL, looping, &hellip


Provides 2 Relooper editors each with effects and 3 fully editable patterns to slice your tracks in perfect beat sync!


Can load any VST-compliant effect to ensure that your creative mixing skills become virtually unlimited!


Can run as a standalone program or as a VSTi plugin


Deckadance plays MP3, WAV and OGG
Content is © DJResource 2018.
Adding Content, Downloading and sending Messages on DJResource is for members only !
Registeration
Create your account to get involved with the Community