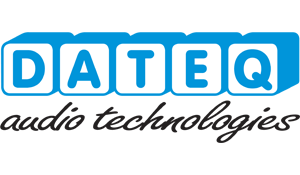 Vote :
Nobody votes this as Favourite yet.
Equipment not yet in use by any of our members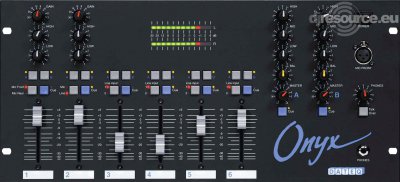 OK we understand you don't like ads (so don't we) but,


Please consider supporting us by disabling your Ad Blocker.


Or become a Gold Member, they don't see ads.
In many clubs and similar establishments, there is a need to send 2 different signals from the mixer to 2 different rooms (zones) within the establishment, or to have separate volume and tone control in these 2 zones. The ONYX is a compact mixer tailored to meet this need.
Features
12 inputs 6 channels
The ONYX has 6 channels, with 2 inputs per channel. A total of 3 microphones and 9 line signals can be connected to the mixer. The first 2 channels are provided with a microphone preamplifier with 2- band equalizer and gain control for optimum speech intelligibility. One of channel 1's connectors is situated on the front panel to permit a microphone to be plugged in quickly. Channel 2 can be switched from microphone to stereo line sensitivity; the other 4 stereo channels are provided with dual line input, permitting connection of audio sources like CD or MD players, tuners, video etc. A turntable can also be connected, if a preamplifier is used (like the DATEQ MD2). Channel 6 also has a jukebox input, which can be given priority by suppressing the other channels.
2 zones
The ONYX has a unique zone system permitting 2 different signals to be extracted from the mixer. This is done with the aid of 2 switches on each channel which allow the signal carried by that channel to be sent to zone A and/ or zone B. This makes it possible e.g. to play a CD in the bar, while the same mixer is used for a meeting in the rear conference room. Of course, the same signal can also be sent to both outputs, so that e.g. general announcements will always be heard throughout the building.
Talk over
The ONYX is provided with a talkover switch on the front panel. When this is switched on, the input signal on the microphone channel is given priority over all other channels. The response level (threshold) is adjustable, so that important announcements are always heard clearly.
3 band equalizer
The ONYX has 2 fully independent stereo outputs, each output is provided with 3-band equalizer permitting accurate tone correction. The output of master A is balanced, making it possible to use long signal cables so that the amplifier of this group can be placed as close as possible to the speakers. Master B has unbalanced outputs.
Master
The ONYX is provided with clearly readable LED VU meters showing the master signal levels, and with CUE facilities on each channel. In addition, handy little LEDs are now placed next to all switches so that the operator can see at a glance which circuits are in use. Thanks to their rugged construction, excellent design and careful choice of materials, ONYX users are guaranteed years of faithful service. Even under the most extreme circumstances, this multifunctional mixer ensures the right mix.
Specifications

Headroom : 30dB


Channel Separation : >65dB


Equalizers : 12kHz(15dB), 1400Hz(12dB), 50Hz(15dB)


Frequency Response : 20-25kHz


Power Supply : 220-240VAC 50-60Hz


Dimensions (WxDxH) : 483(19'') x 221(5HE) x 105mm


Cutout (WxD) : 445 x 217mm


Weight : 3.7kg
Do you like the Dateq ONYX ??
DJResource / Dateq © 2020
There are 1 Comments

zee-eend
wrote on
29-08-2010
@ 21:00
very good mixer
it's strong
'beer friendly'
but except the dateq qualitie, it has not enough specifications.
no eq at every channel
Create your FREE ACCOUNT now !
Using an account on DJResource has a lot of advantages such as:
Adding Content, getting Notifications, Like content, Downloading and Uploading Images and much more.
Sign Up
Create your account to get involved with the Community