This is one of the DJResource DJ Topics © 2019
Pioneer DJ SE-450 Downloads
The Pioneer SE-450 was originally designed to be a consumer-use headphone. It has no special features, but one :
it doesn't break down
. The DJ's began to find out about this feature around 1994 and a
new industry standard standard
was set.
For years the
SE-450
was THE headphone to use; for any DJ in any style. Almost every major DJ used this model because it's reliability. The SE-450 can resist a fall from stairs or the DJ stage. Almost every credible DJ has his own story that is related to this type of phones.
---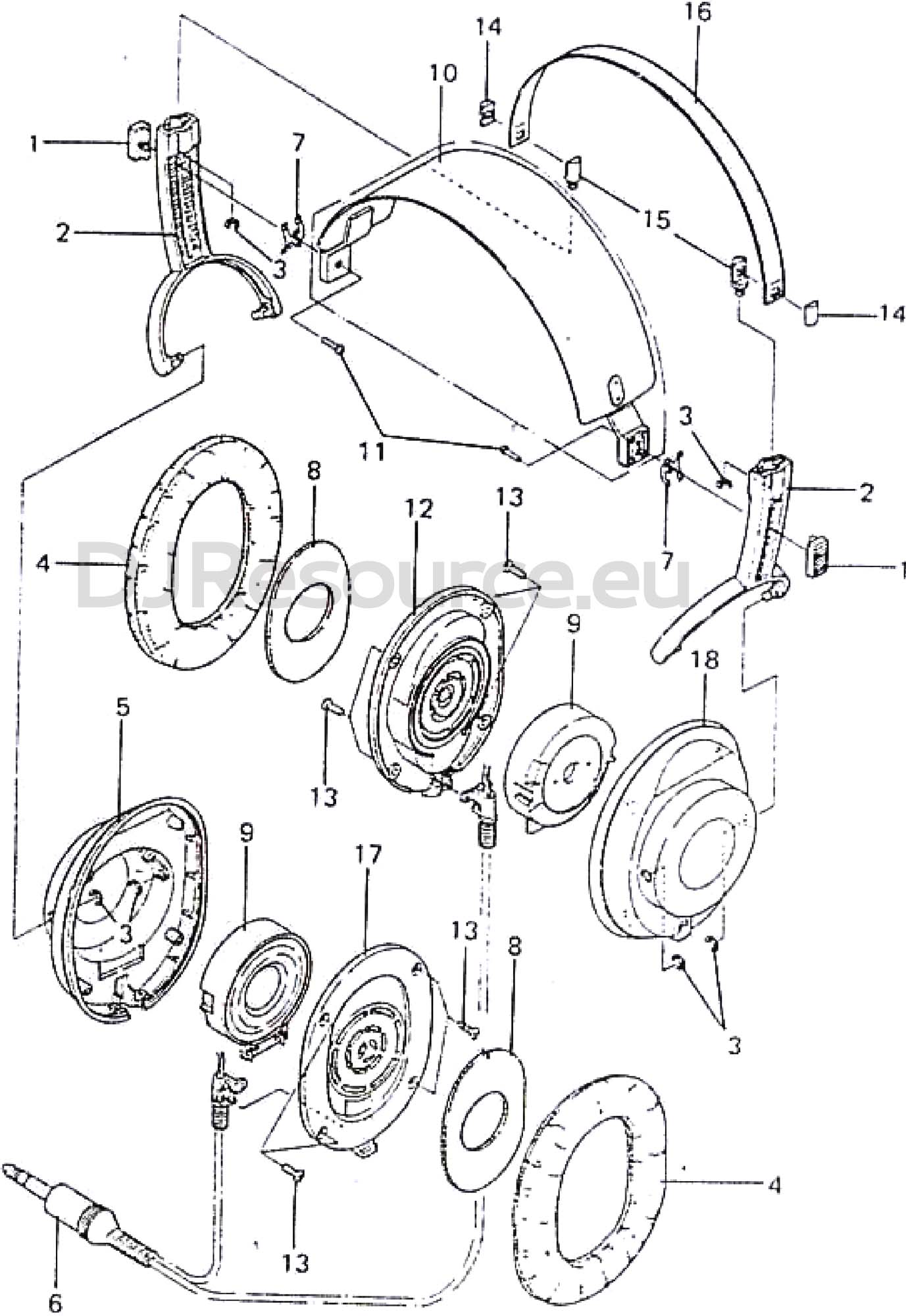 In the year 2000 the industrial mall in Pioneer's factory broke down. Reproduction cost of a new mall (to create the shell in which the speakers are housed) are to high. So the decision was made to discontinue the production of this model. A model that was running in the product line without a known change in designs for almost 6 years !
And today some of the parts of this model are still available through the Dealer network and at Pioneer Customer Services. You can contact your national Pioneer office to inform about the way to achieve these parts. If you are a resident from the Benelux (Belgium, Netherlands, Luxembourg) you can contact Pioneer
HERE
.
In the following table are the part numbers as they are known in Europe (Benelux). Most are still available although all stocks will run out when time passes. If you look at this exploded view you can figure out the part number to look for.
| | | |
| --- | --- | --- |
| 1 | Band Catch A | WNK-198 |
| 2 | Hang | WNK-194 |
| 3 | Washer | YE30FMC |
| 4 | Ear Pad | WNV-027 |
| 5 | Case L Assembly | WXA-081 |
| 6 | 3P Plug Y-Cord | WDE-031 |
| 7 | Plate Spring | WBH-012 |
| 8 | Sponge | WMT-007 |
| 9 | Speaker | WXX-011 |
| 10 | Cushion Assembly | WXA-083 |
| 11 | Screw | PMK-20-P-070-FZK |
| 12 | Base R | WNK-202 |
| 13 | Screw | CTG-30-P-080-FZK |
| 14 | Adjuster B | WNK-197 |
| 15 | Adjuster A | WNK-195 |
| 16 | Head Band | WNA-085 |
| 17 | Base L | WNK-201 |
| 18 | Case R Assembly | WXA-082 |
DJResource / Pioneer DJ © 2019
There are 11 Comments