Submitted by
Lead

on 08-03-2008 @ 16:21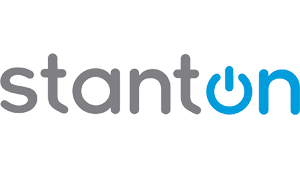 Vote :
1 member likes this
3 votes for Favourite Turntable
Show Booths
19 times used in 11 DJ Booths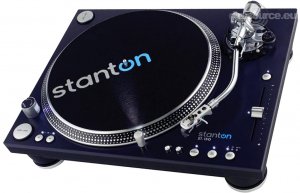 OK we understand you don't like ads (so don't we) but,


Please consider supporting us by disabling your Ad Blocker.


Or become a Gold Member, they don't see ads.
In creating this ST.150 (Curved Arm) and the Stanton STR8.150 (Straight Arm), Stanton went back to basics and re-engineered everything. These 'no nonsense' turntables have everything professional DJs need, and nothing they don't. That's why the ST.150 (standard S shaped tone arm) and STR8.150 (skip-proof straight tone arm) are built first, and foremost with quality in mind. Both models offer durable construction designed to minimize feedback, industry-leading torque motor - up to 4.5 Kgf-cm, and an ultra-stable platter and tone arm.
Features

World's Strongest Torque Motor (4.5 Kgf-cm)


Heavy Duty Steel Construction


Ultra Stable Platter and Tone Arm


Start/Brake Speed Adjustment


Digital Output [S/PDIF] Plug straight into CD-R or computer sound card


Key Correction


Selectable Phono or Line Output (Key correction works on line output only)


Dual Start/Stop Buttons


Height Adjustable Tone Arm


Reverse Play


3 speeds [33,45,78]


Quartz Lock


Selectable pitch control [+/-8%,+/-25%,+/-50%]


Motor Off Feature


Removable Target Light


Adjustable Feet


Includes slipmat and 'L' shaped cables


Includes Stanton 680HP cartridge mounted on headshell


Turntable Platter 332 mm diameter Aluminum die-cast
Specifications

Starting Torque More than 4.5kgf.com


Motor Direct Drive/16pole, 3phase, brushless DC motor


Braking System Electronic brake



Pitch Controls +/-8%, +/-25%, +/-50%



Wow & Flutter Less than 0.1% WRMS (JIS WTD) with 33 1/3rpm


S/N Ratio More than 60dB


Channel Separation More than 15 dB
Do you like the Stanton ST.150 ??
1 member likes this
DJResource / Stanton © 2020
There are 1 Comments

richard_35
wrote on
29-11-2013
@ 10:10
Hello,

The missing information is the problem with this deck, i have two of them, the heavy weight of the table is 'placed'in the metal upperdeck, instead of the underdeck, which is the standard oem-plate, so in combination with the ruberized feet, it gets quite fast unstable.
That's why i tighten all four feet and use hard plastic to set the deck flat, which ain't have to be a lot if your underground is allready set horizontal.
It's too bad they didn't used some extra weight in the lower deck, instead of everything i the upperdeck.
And with most oem-turntables, i'm still amazed that they are deliverd with a non calibrate tonearm and you have to do that yourself.
I have replaced some cheap parts on the deck, like the pre-amp of the line out and the ic's which are used for the powersuppl of the motor, replaced for a couple with more overhead and a larder coolingblock. But that ain't really a 'have to do'thing.... Only when recording the records i'd like to have a clean sound. Scratching goes perfectly, using the 44-7 and qbert and lately i mostly use analogue and the seldom skip.

I like the standard 680.v3 on a headshell where it comes with. Sounds very clear and it's not some cheapass unit, which often comes with a unit.
Looks are nice and with a suzuki slipmat it's a nice scratch table. I bought both for 380euro's a piece, which is a bargain...
Personally i think the 599euro's where it's often sold for a too high price, cause it's just another oem and i've had a synq oem, which also did the job fine...same torque,engine,tonearm,enz...Only without a digital output, but the a/d converter is also cheap in the stanton, s why use it....

It's a great looking deck....

gr.richard
Create your FREE ACCOUNT now !
Using an account on DJResource has a lot of advantages such as:
Adding Content, getting Notifications, Like content, Downloading and Uploading Images and much more.
Sign Up
Create your account to get involved with the Community