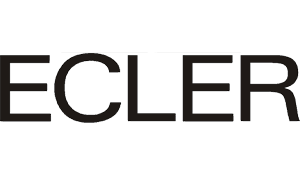 Vote :
1 votes for Favourite Mixer
Equipment not yet in use by any of our members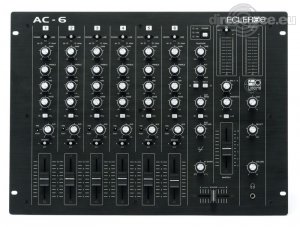 OK we understand you don't like ads (so don't we) but,


Please consider supporting us by disabling your Ad Blocker.


Or become a Gold Member, they don't see ads.
Although the origins of the company date from 1965, ECLER presented its first mixer back in the 70s: the A4, a simple 4 channel mixer oriented to Super 8 film sound edition. The company grew in the 70s with the boom of disco and tourism.

The AC-4 was a high fidelity mixer designed to meet the most demanding sound requirements in discos, theatres, cinemas, recording studios, conference rooms… The electronic circuits and the extreme selection of all components and transistors used, made the AC-4 a professional high quality mixer.

The new AC-6 is a tribute to those old school, simple, robust, reliable and great sounding mixers. The AC6 enables a new generation of DJs to enjoy the unique sound of those legendary mixers.
Features
High profile electronics
The AC-6 features today's best analog components available in the market. Its printed circuit boards have been designed to mount the latest generation of SMD components. Moreover, the AC-6 features and oversized internal power supply in order to provide the highest sound dynamics and an optimum signal/noise ratio.
Multiple inputs and connections
The AC-6 features 20 stereo inputs: 4 PHONO, 6 CD, 6 LINE and 2 balanced microphones (XLR3). Each channel includes a 3-position selector for PHONO/MIC, CD and LINE. Moreover, each channel includes a ±15dB gain control to adjust precisely the input signal level. The AC-6 includes as well 2 balanced outputs (OUT1 and OUT2), 1 unbalanced output (CUE) and 2 recording outputs (REC), all of them stereo.
Powerful EQ and FX Send control
The AC-6 has a full cut 3 band tone control with a -30dB a +10dB margin. This powerful EQ system allows to completely cut any of the selected bands, thus offering the DJ total versatility when mixing. Likewise, each channel includes an external effects send control (AUX) and a selector to operate in pre or post fader mode. Moreover, the DJ has general controls of effects send and receive AUX SEND and AUX RETURN.
Highest quality faders and crossfader
The AC-6 equips the highest quality 60mm ALPS faders, as well as a VCA studio quality ECLER PRO crossfader. Each channel includes an A/OFF/B selector to assign it to any side of the crossfader.The crossfader also includes a shape adjustment control to accommodate any music style, making it possible to do the typical house music long transitions or the fast cut transitions of scratch artists.
Versatile monitoring
The AC-6 includes a double VU-Meter that allows monitoring any input signal that has activated the PFL function, the mix signal, any of the two main outputs (OUT1 and OUT2), as well as the AUX SEND signal. Each channel also features signal present (SP) and a peak (PEAK) led indications. The acoustic monitoring, which is done through a powerful headphones output, allows pre-listening the mix or any of the activated PFL. Moreover, the PFL/MIX control allows us to adjust the level of these signals and we can also monitor the headphones signal on booth speakers through the CUE output.
High quality materials
The aesthetics of the AC-6 is inspired by the old AC-4 mixer, launched in 1973. ECLER has revised and updated that design, combining traditional and contemporary elements. The front panel is made of the highest quality black anodized brushed aluminum. Lettering and markings are made through a selective anodized technique that makes it ultra resistant to any wear and tear and will stand the test of time. ECLER has also taken special care that the new VU-Meter is bright and precise, and the rotary knobs and faders extremely ergonomic for a better sound control.
Specifications
EQ


Low : -30/+10dB


Mid : -25/+10dB


High : -30/+10dB


Frequency Response : 10-40kHz


Distortion (THD) : <0.02%


Signal to Noise : >95dB


Power Adapter : 18VDC/5mA max


Power : 90-264VAC/47-63Hz


Dimensions (WxDxH) : 482 (19'') x 355 x 142.5 mm


Weight : 7.3 kg
Do you like the Ecler AC-6 ??
DJResource / Ecler © 2020
Create your FREE ACCOUNT now !
Using an account on DJResource has a lot of advantages such as:
Adding Content, getting Notifications, Like content, Downloading and Uploading Images and much more.
Sign Up
Create your account to get involved with the Community