1 votes for Favourite MIDI Controllers
Show Booths
4 times used in 4 DJ Booths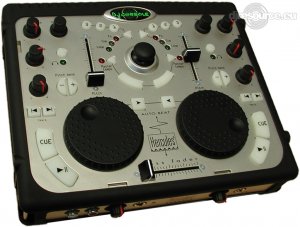 Fun, easy Mixing and Scratching dual vinyl-like Wheels
Mix, scratch and control digital music in real time: AIFF, WAV, CD-Audio, MP3 and MP4/AAC
Solid design with phosphorescent keys for use under low-light conditions and parties
Tactile controls for vastly superior DJ mixing than with a computer keyboard
Dedicated version of Traktor DJ Studio : Hercules DJ Console Edition
Dedicated version of the Trakor DJ Studio, the acclaimed DJ software of Native Instruments.
Traktor DJ Studio - Hercules DJ Console Edition takes benefit of the DJ Console to replace the turntables and the mixer with a more flexible solution, which simplifies the work of the DJ, so that it can be set up quickly at home, at any party or club
Play simultaneously 1 stereo mix for the audience while playing another stereo file in the headphones for the DJ to prepare the next mix
Add voice with a microphone while music is playing with Hercules DJ Console talkover attenuation and the volume button dedicated to the microphone input
Features

Scratch audio files and CDs


Adjust cue points to create great loops


Adjust BPM (Beats Per Minute) for smooth transitions between your audio tracks


Speed up/slow down the music


Totally Portable: bring it Anywhere!


Includes a protective cover that doubles as an inclined base


Includes a shoulder strap for easy transport tranportation
Specifications

Advanced Sound Board


16 and 24-bit/48 KHz sampling, 24-bit ADC/DAC


5.1 audio channel output


High-quality connectors :


Digital optical/coaxial In/Out


MIDI In/Out


5.1 output with 1/8 jack (3.5mm) and cinch connectors


Stereo cinch line input


¼ jack (6.35mm) stereo microphone input


¼ jack (6.35mm) stereo headphone output


USB bus powered device: no external power source required


Dimensions (WxDxH) : 235x200x65mm (cover included)
Content is © DJResource 2018.
Adding Content, Downloading and sending Messages on DJResource is for members only !
Registeration
Create your account to get involved with the Community