Submitted by
Lead

on 12-07-2018 @ 02:33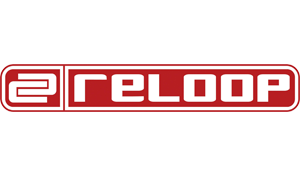 Vote :
Nobody votes this as Favourite yet.
Equipment not yet in use by any of our members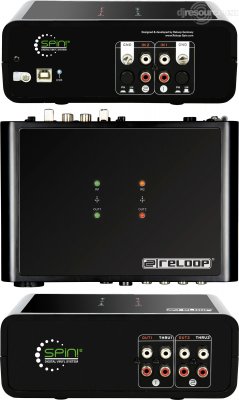 OK we understand you don't like ads (so don't we) but,


Please consider supporting us by disabling your Ad Blocker.


Or become a Gold Member, they don't see ads.
With Spin! 2 Reloop presents the evolution of its digital vinyl system. Spin! 2 is Reloop's basic package for sophisticated and comfortable next-generation timecode deejaying. Sensationally beautiful and simply functional are the attributes of the newly developed Spin! 2 interface: Inside the compact, high-quality chassis with rubber paint finish you can find a 4x4 sound card with USB 2.0 that is convincing due to its extremely low latency.
Beneath the cover panel made of noble acrylic the LEDs for the input and output signals are shining. Besides switchable inputs for line sources and a turntable the Spin! 2 interface comes with a microphone combination-socket with phantom power for studio condenser microphones. A direct connection can be activated for latency-free monitoring. Thanks to the proper thru outputs it is possible to quickly switch between timecode and real vinyl.
The Spin! 2 software is also a milestone in the field of digital vinyl emulation: Many basic functions like Master Tempo, Speed Mode, Beat Loop, Track Selection, Quick Search and the Beat Match View have been fundamentally upgraded. At first glance the visual surface shows that you are dealing with a totally renewed system: Spin! 2 is able to display album covers and it offers an individual workspace design, looking as hot as it sounds with the black Spin! 2 skin. Due to the four-four time display and the tone pitch adjustment, perfect and harmonic mixing become as easy as never before.
The new Spin! Juggle function means explosive turntablism - it loads and synchronizes the track on the opposite deck at the push of a button. Spin! 2's Free MIDI Learning facilitates perfect teamwork with any hardware controller. Spin! 2 is the new all-in-one system for the introduction to professional timecode deejaying. The unique new interface and its well-engineered software make Reloop Spin! 2 already a classic among digital vinyl systems.
Features

Professional digital vinyl system Interface


Full-blown, newly developed professional USB timecode interface (4x4 sound card)


New: Rubber paint finish and brushed aluminium cover panel


New: Phono/line inputs (RCA)


New: Grounding screws and phono pre-amp for the connection of a turntable


New: Thru outputs for looping-in the vinyl signal (RCA)


High-speed USB 2.0 data transfer


ASIO drivers for extremely low latency


Signal LEDs for inputs and outputs


2 high-quality black RCA cords


1 black USB cord
Revised software with new features


New: Extensive software flow improvement, among other things for Master Tempo, Speed Mode, Beat Loop, Track Selection, Quick Search and Beat Match View


New: Newly improved system stability


New: Album artwork display with zoom function


New: Black Spin! 2 skin


New: Optimized performance skin with maximized Spin! library


New: Free MIDI Learning allows the use of external hardware controllers


New: Spin! Juggle loads and synchronizes the opposite deck's track for beat juggling at the push of a button


New: Beat bar display counts the four-four time in the improved Beat Match View for a balanced complete-mix


New: Key mode tone pitch adjustment for harmonic mixing


3 selectable playback modes (Classic Spin, Advanced Spin, Jog Spin)


3 master effects: Flanger, Delay, Filter


Supported audio formats: WAV, MP3, WMA, OGG Vorbis, Audio CD


Spin! library and Spin! list organizer


Vinyl sound engine for authentic scratching and warm sound


Auto gain and compressor/limiter for outstanding sound characteristics


Scratch and needle-drop function for authentic turntablism


Master Tempo, BPM counter, graphic beat offset display and beat match assistant for comfortable mixing


3 wave form analyzers (Complete View, Zoom View, Beat Match View) and vinyl label monitor


6 marks for scratch, beat juggle and cue points per track


Seamless beat looping for creative remixing


Manual looping with reloop function
Specifications

Mains adapter


Dimensions: 180 x 84 x 130 mm


Weight: 0.70 kg
Do you like the Reloop SPIN 2 ??
DJResource / Reloop © 2020
Create your FREE ACCOUNT now !
Using an account on DJResource has a lot of advantages such as:
Adding Content, getting Notifications, Like content, Downloading and Uploading Images and much more.
Sign Up
Create your account to get involved with the Community