Submitted by
Lead

on 03-06-2018 @ 21:46

Nobody votes this as Favourite yet.
Equipment not yet in use by any of our members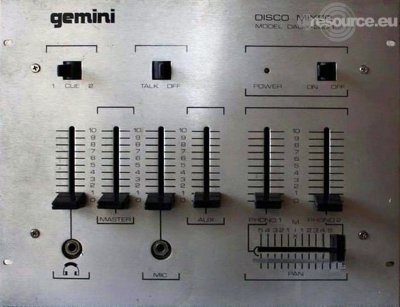 This is the model of mixer that Grandmaster Flash used in the famous kitchen scene from the 1983 film 'Wild Style', directed by Charlie Ahearn. Iin the video clip how they grayed out the name and model. In the book, 'Hip Hop DJs and the Evolution of Technology: Cultural Exchange, Innovation, and Democratization' there is info about the Flash® brand name and its value to the DJ product industry, specifically with the Flashformer and then the Empath (source).
Features

4 Channel Mixer


Cross fader


Talk Over
Specifications

Outputs (1) : Master Out


Inputs (3) : 2x Phono, 1x Mic
Content is © DJResource 2018.
There are 1 Comments

Lead
wrote on
13-06-2018
@ 02:08
A legendary mixer for sure !
Adding Content, Downloading and sending Messages on DJResource is for members only !
Registeration
Create your account to get involved with the Community