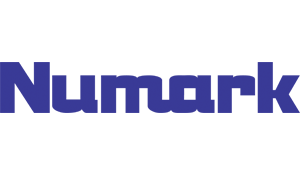 Vote :
Nobody votes this as Favourite yet.
Show Booths
10 times used in 7 DJ Booths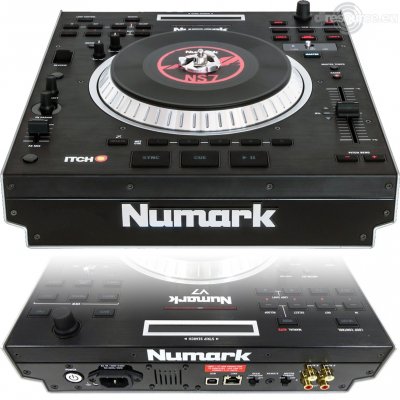 OK we understand you don't like ads (so don't we) but,


Please consider supporting us by disabling your Ad Blocker.


Or become a Gold Member, they don't see ads.
V7 delivers outstanding feel and unprecedented power in a single-platter digital DJ controller. V7 is based around the acclaimed adjustable torque, motorized-platter design from Numark's NS7 and delivers a host of professional features including real vinyl and a slipmat that analog turntablists will love, plus turntable control at ten times the resolution of standard MIDI, mouse-less library navigation, and Strip Search virtual-needle drop. V7's link function enables you to combine two V7s.

V7 has a seven-inch, motorized, high-torque aluminum turntable platter. The turntable features modern and classic settings that alter the feel to model the feel you prefer. A seven-inch, legit vinyl record with 45RPM adapter sits on a real slipmat. There's no simulation here – V7 is the real deal.

We used premium, rugged, rubberized buttons and knobs for an unquestionably high-quality feel. Its recognizable, professional appearance is supported by clean design in matte and glossy black. V7 is housed in a heavy-gauge, industrial-strength metal casing that is ready for the torture of travel.

Forget the mouse. Forget the keyboard. V7 renders software perfectly simple to operate, with its click knob and large, backlit buttons navigating though your music library. You'll spend less time looking at the screen and more time enjoying performing thanks to the visual feedback you get from V7's extensive LEDs and hands-on controls.

V7 is the first digital DJ system that enables two DJs to transition or play at the same time, on the same computer-based setup. That means that, with a pair of V7s, you can play your set, and continue spinning while the next DJ plugs into the other V7, mixes in with you, and allows you to unplug. The music never stops and the transition is seamless. With a four-channel mixer, two DJs can play side-by-side with two computers using just a pair of V7s. It's easy to assign Master and virtual-deck designations using V7's intuitive deck-select controls.

Precision Control
V7 sends control information over USB at more than ten times the standard MIDI rate. This innovative communication technique yieldsextremely high-precision, low-latency control.

There's nothing like dropping the needle on a record for quickly locating a point in the track. We took that idea and developed our own modern take on it with Strip Search, the unique virtual-needle-drop touch strip. You can locate a point instantly within the track using the on-screen waveform and Strip Search.

Five hot-cue-assign buttons on each deck digitally mark your cues on the track. These marker points are recallable in ITCH, and you can even load Scratch LIVE cue points in ITCH.

We developed an extensive loop-controls section for creative remix capabilities. You can choose between manual and auto-loop functions and an automatic BPM analyzer further assists loop makers. Creating automatic smart loops of any measure length is a breeze, and you can mutilate and modify to your heart's content with a variety of controls such as Doubling, Halving, Shift, and manual controls. Multiple loop banks make V7 a great choice for scratch and club DJs alike.

Beat matching is straight ahead with 100mm, smooth, stiff pitch sliders and plus and minus buttons, by popular request, for bending. There's a zero-point LED, so it's easy to know when you're in the middle.
Features

High-resolution turntable software controller


Direct-drive, motorized turntable platter with high and low-torque settings


Includes Serato ITCH software, compatible with Serato Scratch LIVE libraries


Works with all DJ mixers for custom system configuration


Extensive loop, cue, and track-access controls


Strip Search virtual needle-drop control


Complete effects controls for audio manipulation


Premium, rugged, all-metal construction with high-end knobs and buttons


Audiophile-grade audio circuitry with line inputs, system and cue outs


Industry-first handoff between two DJs using two different computers for up to four virtual decks


Link two V7s together or use a single unit to control two decks


Also works with VirtualDJ Pro and Torq (each sold separately)
Specifications

Sample Rate: 44.1 kHz


Bit Depth: 24-bit


Outputs : Deck A (RCA), Deck B (RCA)


Dimensions (WxDxH) : 320 x 268 x 111 mm


Weight : 7.43 kg
Do you like the Numark V7 ??
DJResource / Numark © 2020
Create your FREE ACCOUNT now !
Using an account on DJResource has a lot of advantages such as:
Adding Content, getting Notifications, Like content, Downloading and Uploading Images and much more.
Sign Up
Create your account to get involved with the Community