Submitted by
Danceflight794

on 19-08-2011 @ 12:55
Last edited by Lead

on 15-06-2018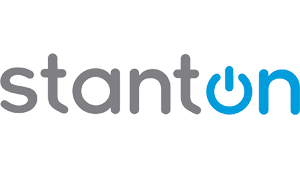 Vote :
Nobody votes this as Favourite yet.
Show Booths
2 times used in 1 DJ Booths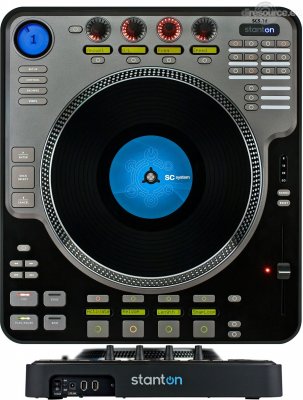 OK we understand you don't like ads (so don't we) but,


Please consider supporting us by disabling your Ad Blocker.


Or become a Gold Member, they don't see ads.
Compact controllers are great in some scenarios. But sometimes they're just not enough. Tiny, non-motorized platters just don't cut it when your goal is to try to emulate the vinyl experience. That is why we built the SCS.1d. The SCS.1d is the perfect crossover device for DJs that want to embrace the advanced features modern software offers, while still staying rooted in a traditional workflow.

Wheel of Steel
The SCS.1d has a 10inch motorized platter with a real slipmat and vinyl record. This means that our platter not only feels like a record on a turntable, it performs like one as well. There's plenty of room for your hand on the platter, and you are free to move naturally instead of being confined to a tiny area. Likewise, the platter under the record will feel totally natural, delivering the industry standard torque and edge texture that you're used to after years in front of traditional gear.

Motorized Pitch Fader
When you're dealing with software control, sometimes that software can change settings that don't get passed down to a traditional hardware controller. This means that as a user, you're left second-guessing whether moving that pitch slider is going to work correctly or mess up your mix. That isn't a problem with the SCS.1d. If you use one SCS.1d to control 4 decks in Traktor, every time you switch decks, all of your controls (including the pitch fader) will move to the correct values for that deck.

Rotary Controls (aka Super Knobs)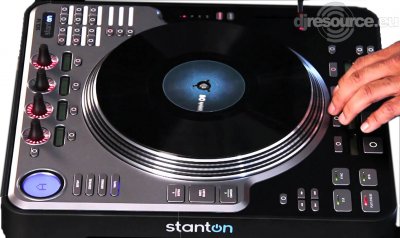 SCS.1D PanelBeyond basic mixing and control, the SCS.1d makes a radical departure from traditional controllers via four rotary encoders (virtual knobs) with LED rings and corresponding LCD Scribble Strips. These fully assignable encoders can be mapped directly into functions in the DJ software while providing visual feedback of knob position, even in low-light settings. Underneath, the LCD scribble strips confirm the software parameter being adjusted by each encoder, without the need to check your laptop. Of course, common assignments for these encoders can be saved as presets for fast recall.

Superior Build Quality
Unlike other DJ control surfaces, the SCS.1d Platter Controller offers truly professional, no-compromise build quality. Every knob, fader, LED and LCD is of utmost quality, and even the heavy chassis is designed for years of real-world use in demanding live and studio environments.
A DJ setup that is build from Stanton SCS.1d combined with the Stanton SCS.1M Mixer is also calles SC System 1.
Features

Flagship deck controller for laptop DJs and remixer / producers


Adjustable high-torque 10" motorized platter with vinyl surface and superior tracking


100mm motorized pitch fader with recall for sync with software


Velocity-sensitive pads assignable to loops, cue points, etc.


Assignable Encoder section with 360° of LED feedback


LCD "scribble strips" for two-way communication with selected software


Familiar Transport section for direct music control


Perfect for adding maximum control capabilities into existing DJ software


Easily controls multiple virtual decks for powerful multi-channel mixes
Specifications

4 Virtual-pots with 18 segment LED rings (MIDI CC or Incremental CC)


1 100mm Motorized fader (MIDI CC)


4 Multicolor 8 character alphanumeric LCDs with contrast control (MIDI SysEX controllable)


1 Cue position display with current deck indicator (MIDI SysEX controllable)


4 Velocity sensitive trigger pads (MIDI Note On)


46 Momentary backlit push buttons (MIDI Note On)


Platter Motor Type 16 pole, 3 phase, brushless DC motor


Speeds 33 1/3 rpm, 45 rpm


Starting Torque >4.5 kgf.cm


Starting Time 0.2 sec


Braking Time 0.2 sec


Power Supply : 24V DC / 3.0 A


Dimensions (WxDxH) : 368 x 465 x 82.5 mm


Weight : 6.29 kg
Do you like the Stanton SCS.1D ??
DJResource / Stanton © 2020
Create your FREE ACCOUNT now !
Using an account on DJResource has a lot of advantages such as:
Adding Content, getting Notifications, Like content, Downloading and Uploading Images and much more.
Sign Up
Create your account to get involved with the Community