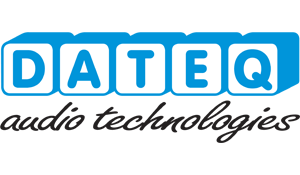 Model : GPM 8.3
Brand : Dateq
Brand website : &nbspwww.dateq.nl
Category : Mixer
Available : 1999 - 2017
This product has been discontinued
Vote :
1 votes for Favourite Mixer
Show Booths
4 times used in 4 DJ Booths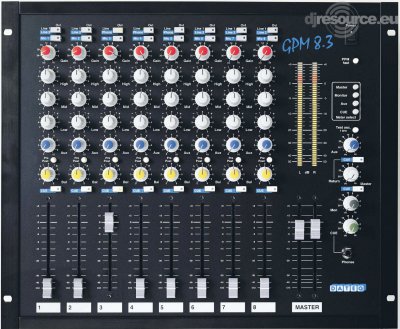 OK we understand you don't like ads (so don't we) but,


Please consider supporting us by disabling your Ad Blocker.


Or become a Gold Member, they don't see ads.
The GPM8.3 is a very versatile, 8 channel stereo mixer with an extraordinary high quality.
Predecessor : Dateq GPM 8TI
At least 16 stereosignals and 8 microphones can be connected simultaneously. Herewith the GPM8.3 is introducing a new standard for professional audio.
Features
8 Channels, 25 Inputs
Each channel can handle three different audiosignals. By pressing the button you can switch between a microphone or a line input. When the line-input is selected a second button makes it possible to switch between line 1 and line 2 input. However channels 3, 4 and 5 have one line and one phono-input. This means you can have 24 audio-inputs within reach!

Balance control, Phantom power,40 segements LEDs
Another typical professional application is the balanced stereo master output on a XLR-Male connector; besides this connector there is a cinch-connector.
Another nice feature of the mixer is the stereo AUX. This output contains the mixed pre or post-fader signal of any of the modules.
The large 2x40 segment VU-meter is switchable between master, monitor, AUX and CUE. All microphones have an internal jumper to enable or disable the 48V phantom power. The master has a noise-gate which can be disabled with an internal jumper.

Modular Setup
Thanks to the internally modular set-up, the extreme solid construction and by using only high-performance components we made the GPM8.3 an ideal partner for 'on the road'. Of coarse the GPM8.3 has the specific characteristics of a 'real DATEQ mixer', which means years of satisfactory mixing! Because of the universal design the GPM8.3 has a wide area of applications. A perfect house-mix, AV-post production, disco or a multifunctional audio installation: The GPM8.3 can handle it...
Specifications

Inputs (25) : 13 Line (RCA), 3 Phono (RCA), 8 Mic (XLR)


Outputs (4) : Master (XLR, RCA), Monitor (RCA), Record (RCA), Cue (RCA), Return (RCA), Headphones (Jack)


Equalizers : 12kHz(15dB), 1400Hz(12dB), 50Hz(15dB)


Frequency Response : 20Hz - 25kHz


Signal to Noise : 92dB


Power Supply : 230VAC 50Hz


Power Consumption : 40W


Dimensions (WxDxH) : 448 x 378(8HE) x 112mm


Cutout (WxD) : 448 x 378mm


Weight : 8.0 kg
Do you like the Dateq GPM 8.3 ??
DJResource / Dateq © 2020
There are 1 Comments

Yorick
wrote on
12-05-2012
@ 12:31
One of the best mixers!
Create your FREE ACCOUNT now !
Using an account on DJResource has a lot of advantages such as:
Adding Content, getting Notifications, Like content, Downloading and Uploading Images and much more.
Sign Up
Create your account to get involved with the Community