Submitted by
Lead

on 08-03-2008 @ 16:21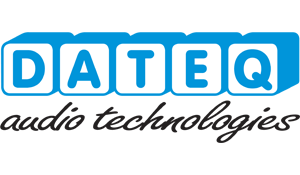 Model : VIBE
Brand : Dateq
Brand website : &nbspwww.dateq.nl
Category : Mixer
Available : 2006 - Today ?
This product has been discontinued
Vote :
4 votes for Favourite Mixer
Show Booths
9 times used in 9 DJ Booths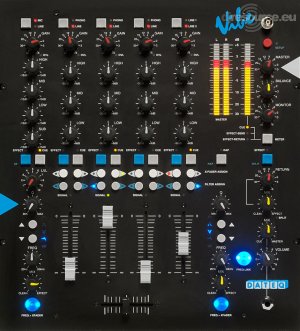 OK we understand you don't like ads (so don't we) but,


Please consider supporting us by disabling your Ad Blocker.


Or become a Gold Member, they don't see ads.
Many of the top-DJ's wishes have resulted in the refreshing new Vibe mixer. DATEQ's new sensation on the dancefloor! The DATEQ Vibe is build to form an affordable, better, and more reliable alternative to the established mixers in the DJ scene.

This mixer has four channels; where both line and phono inputs can be connected, and one additional vocal/ line channel with a dedicated tone control. Programmable crossfader, two VCF filters and a sophisticated effect routing circuitery make this mixer one of the most versatile as well as one of the best sounding mixers around.
Features

10 inputs 4 channels
Four extra smooth 60mm VCA controlled faders, ten inputs, with one dedicated mic/ line channel makes this flexible mixer the best choice for every demanding DJ. A total of three turntables, and six line sources (CD-players, computers etc.) can be connected simultaneously.



3-Band E-Kill-Izer
The DJ's skillful hands can tune the Vibe into a very effective tone-bender. Each EQ band is capable of cutting the level by 32dB, or give a safe boost of 8dB at maximum at 60 Hz, 1 kHz and 12 kHz. The first mic/ line channel is specially designed for vocal use and is equipped with a 4-way tone control. These controls are active within a range of +/- 15 dB per band.



Assignable FX router
The digital router makes it possible to be very flexible in using and monitoring an external effect unit. You are able to direct each channel to the FX processor, or let the channels be routed to the master output.



Programmable Crossfader
The 50mm crossfader is also VCA controlled, and its curve can be programmed to suit your playing style the best. This way you can play each style from house to the ultra fast scratch work.



CUE
Of course cue facilities are provided on each channel. The cue signal is fed to a powerful headphones amplifier featuring a split function. This unique DATEQ function enables the cue and master signals to be heard simultaneously over the headphones. To mix even more precise an additional VU meter shows the cue signal as well as the effect send/ return signal. Watching these levels, distortion can be prevented quite effectively.



Built-in Limiter
A built-in sound pressure limiter can be selected to keep the level optimised. A 0dBu level can now easily be maintained, and will be a guarantee for the best sound quality possible. Better for both man and machine.



Master Section
There is no shortage of outputs on the Vibe. The master output is balanced XLR and also provided with unbalanced cinch connectors. Furthermore the Vibe has a monitor out and a record out for direct recording facilities. Two 6.3mm headphone jacks are mounted to monitor the desired signal. Last, but not least, the link connector can establish a direct connection to another mixing desk.



Voltage Controlled Filters
Equipped with two stereo Voltage Controlled Filters you can create lots of useable effects with an extraordinary high creativity level. These classical filters can be found on early generation synthesizers. Modern state of the art techniques makes these filters a hot item. These five types of filters, a.o. HPF, BPF & LPF, can work together to create the most extreme tonal variations. By using the resonance Q control knob, you can create effects ranging from very subtle to very aggressive.
Specifications

Frequency Response : 20 Hz ~ 25 kHz -1 dB


Power consumption : 25 W


THD+N : 0.04% IEC-A bij nominaal gebruik


Channel Separation : >65dB @ 1kHz


Lamp connection : BNC 12 VDC / 3 W


Dimensions : (WxDxH) : 320 x 354 (8U) x 90 mm


Weight : 4,5 kg
What do you think about Dateq VIBE ??
Vote :
DJResource / Dateq © 2019
There are 1 Comments

Adrien1989
wrote on
24-08-2008
@ 02:30
A mixer that is underestimated. When it was released there where some problems with the filters. Big misstake of Dateq to release a product with problems. But those problems have been taken care of now. The filters work perfectly.

Just like other Dateqs this think alsmost can't be broken. Great sound quality, great building quality. Also a realy nice effect router, in my oppion it works more easy than at DJM models.

Disadvantaged are that you've to learn to work with filters. Filters are not a simple effect like a flanger. Also you really have to know how to do the digital configurations.

Beside that it's a really nice mixer to work with ones you've mastered the filters. Lovely Dateq EQ, great feeling etc. My favorite at the moment.
Create your FREE ACCOUNT now !
Using an account on DJResource has a lot of advantages such as:
Adding Content, getting Notifications, Like content, Downloading and Uploading Images and much more.
Sign Up
Create your account to get involved with the Community