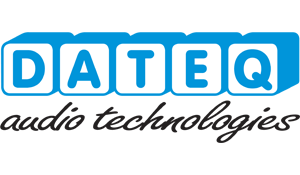 Model : XTC
Brand : Dateq
Brand website : &nbspwww.dateq.nl
Category : Mixer
Available : 1996 - 2007
This product has been discontinued
Vote :
3 votes for Favourite Mixer
Show Booths
30 times used in 30 DJ Booths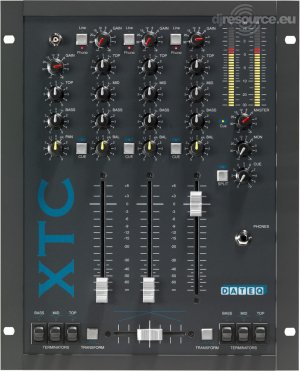 OK we understand you don't like ads (so don't we) but,


Please consider supporting us by disabling your Ad Blocker.


Or become a Gold Member, they don't see ads.
The XTC is a unique mixer developed in close consultation with a number of top DJs. The experience they built up in the dance scene led to the implementation of several important requirements, which formed the basis for the development of this mixer.
Successor : Dateq XTC II
The XTC has proved to be a real winner in practice. Extremely compact, purely functional and as sturdy as a mule, this mixer is guaranteed to serve you well through years of intensive use.
XTC from Holland, boundlessly popular in the USA, the absolute standard for demanding DJs.
Features

4 channels 7 inputs
The XTC is Technics turntable-sized and has 4 channels, including 1 microphone channel which can be mixed with the unit's own equalizer and gain signals. The other 3 channels are fader channels (100 mm ALPS) and have 2 inputs each, so that 3 line signals (e.g. CD, MD, sampler or keyboard) can be connected in addition to 3 turntables. A push-button next to each channel's gain control can be used to switch from input 1 (phono) to input 2 (line), so that the time-consuming unplugging and plugging in of equipment is a thing of the past.

3 band equalizer
DATEQ is famous all over the world because of it's sound quality. This is achieved by using only high-quality components.
- Top : 12 kHz ±15 dB, Shelving
- Mid : 1.4 kHz ±12 dB, Bell
- Bass : 50 Hz ±15 dB, Shelving

Kill Terminator
To boost the speed and ease of operation during mixing, the XTC is fitted with 'terminator' switches which can be used to remove the bass, mid or top from the crossfader in a fraction of a second. The terminators kill with -18dB.

cross fader
The X fader is connected between the XTC's outermost fader channels and, like the channel faders, is VCA-driven to prevent malfunction and guarantee years of problem free operation.

transform
The 'transform' buttons are used to add music fragments from one side of the X fader on to those on the other side.

cue
Cue facilities are of course provided on each channel. The cue signals are fed to a headphone amplifier with 'power split'. This unique Dateq function enables the cue and master signals to be heard simultaneously over the headphones.

master
There is no shortage of outputs on the XTC. The master output is balanced and provided with XLR plugs, allowing it to be directly coupled to an amplifier. In addition to this balanced output, an unbalanced cinch connection is also provided.
Furthermore, the XTC has a Monitor out, a sub low out for driving an (active) subwoofer and a secondairy headphones connector on the backside, to few people know this and/or use it.
Specifications

Frequency Response : 20 Hz ~ 25 kHz -1 dB


Power consumption : 20 W


Lamp connection : BNC 12 VDC / 3 W


Dimensions : (WxDxH) : 286 x 355 x 107 mm


Cutout size : 250 x 336 mm


Weight : 3.9 kg
Do you like the Dateq XTC ??
DJResource / Dateq © 2020
There are 1 Comments

Adrien1989
wrote on
24-08-2008
@ 02:16
Really nice mixer with which every retard can work. This is as simple as it gets. It's also a mixer that almost can't be broken. You can trow it out of your window at the second floor and it will still work. ( Is tested in real with an Apollo:P.) With the long faders you can really mix very smooth and for faster work you can also use the crossfader. Nice EQ to work with, but I prefer the EQ of the Vibe and XTCII, which is a little bit better, which should be because the EQ in those is a improved version of the EQ of the XTC. Just love the looks of the mixer with the big XTC letters shouting. Only misstake is the placing of the phones output at the deckplate, I'm always fucking around with the cord of my HP when it's plugged in at the front. Luckely there is also an output at the back.

Great mixer, one of my favorites all time.


Create your FREE ACCOUNT now !
Using an account on DJResource has a lot of advantages such as:
Adding Content, getting Notifications, Like content, Downloading and Uploading Images and much more.
Sign Up
Create your account to get involved with the Community