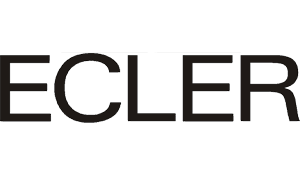 Model : NUO 5
Brand : Ecler
Brand website : &nbspwww.ecler.com
Category : Mixer
Available : 2004 - Today ?
This product has been discontinued
Vote :
3 votes for Favourite Mixer
Show Booths
35 times used in 35 DJ Booths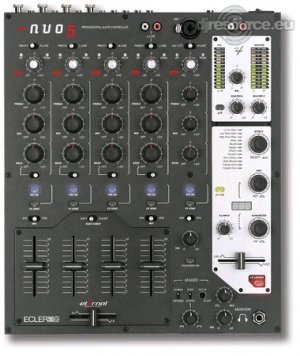 OK we understand you don't like ads (so don't we) but,


Please consider supporting us by disabling your Ad Blocker.


Or become a Gold Member, they don't see ads.
The NUO5 is a high end professional 5 channel DJ mixer combining the most demanding club sound requirements, the most creative studio effect tools and the most performance-proof robustness.

The NUO5 is installed in top clubs all over the world and endorses artists like Ricardo Villalobos, Michael Mayer, Misstress Barbara, Luciano or Antoine Clamaran to name a few.

High profile electronics
The NUO5 simply features today's best analog components available in the market. The circuit boards of the NUO5 have been designed with the latest generation of Surface Mounting Technology (SMD). The line faders are 60mm high-end Ecler slide potentiometers. Last but not least, the NUO5 employs an oversized internal power supply providing the best sound dynamics and rating the most excellent signal/noise ratio.

Ergonomic equalization system
Extra large ergonomic knobs for a better tone control. Three band equalization with an adjustment range of -30dB to 10dB for bass and treble frequencies and -25dB to 10dB for mid frequencies. This powerful equalization system allows to completely cut off the frequency bands and gives and incredible versatility to the mix on stage.

ETERNAL crossfader
The NUO5 features the award winning Eternal inductive crossfader, based on a contactless magnetic field control. Its shape adjustment allows both smooth transitions and extreme scratching thanks to the additional cut-in-time and reverse controls. The Eternal crossfader has a 5 year warranty. Whatever the deejay playing, the NUO5 accommodates all music styles: house, hip hop, techno, breakbeat…

Superior effects processor
Built-in processor with double DSP featuring 2 manual filters and 10 effects with BPM synchronization. Includes a DRY/WET crossfader taking your effects control to the next level: activate and deactivate, fade in to the level of your choice… Allows routing every single channel to the module independently. Features control of TIME and PARAMETER and a friendly user selectable panel. Effects consists of:

· LFO Filter
· Low Pass Filter
· High Pass Filter
· Delay
· Reverb
· Flanger
· Phaser
· Vocoder
· Pitch Shifter
· Echo Reverb
· Filtered Echo
· Flanger Echo

Edi:lab software
The built-in effect processor is reprogramable in real-time with the edi:lab software (included). The user can load a new effect set-up in the NUO5 mixer and play it stand-alone without any need of the computer. An effect library is available in the edi:lab software in order to save the different user set-ups.

MIDI out
The NUO5 includes a MIDI output and features start and stop commands to activate and deactivate your devices and a clock to adjust the tempo.
Do you like the Ecler NUO 5 ??
DJResource / Ecler © 2020
Create your FREE ACCOUNT now !
Using an account on DJResource has a lot of advantages such as:
Adding Content, getting Notifications, Like content, Downloading and Uploading Images and much more.
Sign Up
Create your account to get involved with the Community