Submitted by
Dolivieira

on
30-04-2008
21:01
Last edited by Lead

on 12-08-2018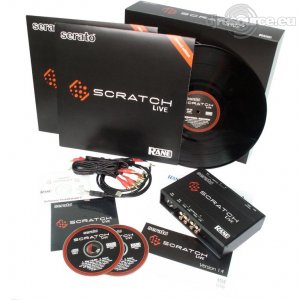 Model : SERATO SCRATCH LIVE
Brand : Rane
Brand website : &nbspwww.rane.com
Category : Software
Vote :
6 votes for Favourite Software
OK we understand you don't like ads (so don't we) but,


Please consider making this website possible by disabling your Ad Blocker.


Or become a Gold Member, they don't see ads.

Product Information
Scratch LIVE is the ultimate software and hardware solution for bridging the analog world of vinyl and the digital world of computer audio files. Using regular turntables or CD players, you can scratch and mix files from your Mac or Windows computer's CD or hard drive, add in a live mic input for scratching, and even bypass to standard vinyl if you wish. Scratch LIVE is the complete digital solution for the vinyl junkie -- take your entire collection wherever you go and leave your precious vinyl at home!

The SL 1 interface connects one or two standard vinyl or CD turntables to your computer. This extremely rugged, portable, high quality, bus-powered USB interface features two switchable phono or line inputs, a microphone input, two line outputs, and pass thru outputs for the phono/line and mic.

The included 12' vinyl records each have a Serato exclusive and unique control signal which allows Scratch LIVE to track the motion of the record, simulating the same movement with digital audio. Due to Serato's proprietary control scheme, the result is a feel and sound indistinguishable from playing vinyl. As a producer and DJ, the track you finished today can be played on a real turntable tonight. You'll never have to cut a dubplate again!
Features
Supported formats: Fixed and Variable Bit Rate MP3, AIFF, WAV, OGG Vorbis, CD Audio and direct from the mic input.

Easily import your playlists and iTunes library.

Import files easily by dragging from Explorer (Windows) or the Finder (Mac) into the Scratch LIVE library.

You can play and scratch tracks direct from CD and CD-ROM.

Includes extensive keyboard shortcuts for fast access to key functions.

Built-in help and tips in multiple languages are accessible anytime.

It even gives you a low power warning when running off a laptop battery.

No preprocessing of MP3 files is required except to use the auto-BPM and auto-gain functions.

For tracks with no BPM information, a tap tempo button is displayed for entering your own.
Do you like the Rane SERATO SCRATCH LIVE ??
DJResource / Rane © 2022
Create your FREE ACCOUNT now !
Some parts of this website require you to login. Using an account on DJResource has a lot of advantages such as:
Adding Content, getting Notifications, Like content, Downloading and Uploading Images and much more.
Sign Up
Create your account to get involved with the Community